Indian athletics' High Performance Director Volker Herrmann quits | More sports News
NEW DELHI:
Athletics
Federation of India's High Performance Director
Volker Herrmann
, whose contract has been extended by the Sports Ministry till the end of 2024 Olympics, has quit from his post, saying he "could no longer meet the self-imposed expectations coming along with the role."
An AFI source confirmed that Herrmann resigned a few weeks ago but said he did not give any "specific reason".
The German was appointed to the post in June 2019 for a term till the end of the postponed Tokyo Olympics in 2021. In September, the ministry extended his contract till the end of 2024 Olympics but AFI sources said he did not sign the new contract.
"After one-and-a-half fruitful and inspiring years in India, the day has come when I could not any longer meet the self-imposed expectations coming along with the role of AFI's high-performance director, which is why I resigned from my position three weeks ago," Herrmann wrote on his Facebook page.
"Working in high-performance sports requires a high level of expectations. Numerous athletes and teams all around the world, supported by their coaches and staff, are competing with the one goal to be the best at a particular date. The only one will succeed."
Herrmann said athletics in India has a great future ahead.
"It requires a conducive and likewise sustainable infrastructure to support its countless talented athletes and coaches. It also needs players with a strong, confident, and independent mindset to succeed at world stage."
The AFI source said the federation tried to persuade Herrmann not to quit but to no avail.
"He did not give any reason. He wanted to leave and go back (home). AFI tried to stop him till the Olympics but he told he has decided to go back," the source told PTI.
"Otherwise, there is no problem between him and the AFI and the SAI."
Herrmann said his stint in India "has enriched" his life in many ways and "makes me look back on a very positive note."
"I might change my perspective but I am still looking forward to watch the further development of our athletes and coaches and their coming successes," he said.
Herrmann was the second person to become
Indian athletics
' High Performance Director after a short stint by American Derek Boosey, a 1968 Mexico City Olympian, who was appointed in October 2015 ahead of the Rio Olympics but resigned after seven months in charge.
Australia vs India: India's 'fabulous five' can overcome pink-ball inexperience: Ravi Shastri | Cricket News
NEW DELHI: India coach
Ravi Shastri
acknowledged his team lack Australia's pink-ball experience but is convinced their "fabulous five" pacemen can bowl the tourists to a second successive Test series victory Down Under.
Australia have played seven day-night Tests, the most by any country, since 2015 and won each of them.
India were late to embrace the innovation and played their only
pink-ball Test
against Bangladesh in Kolkata last year.
A mouth-watering four-Test series between the top two teams in the World Test Championship standings will get underway with a pink-ball contest at Adelaide from Dec. 17.
"We begin with pink-ball cricket where we lack experience," Shastri told the Sportstar magazine.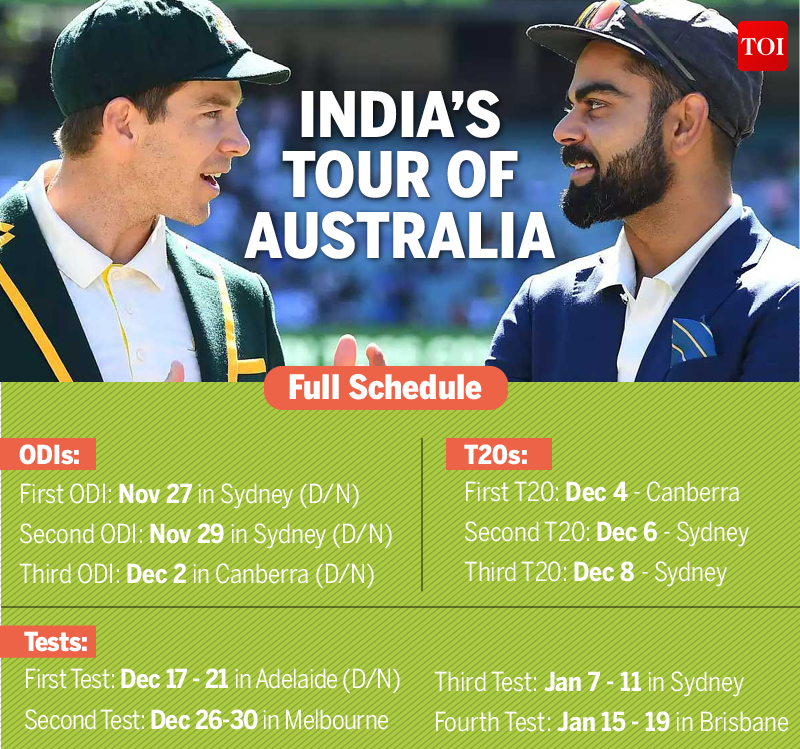 "We have played just one pink-ball Test, but there is a qualitative difference between them (Bangladesh) and Australia. It is like cheese and chalk.
"Our boys have not played much of pink-ball in domestic cricket, but I just want them to go and enjoy their game."
Skipper Virat Kohli, who led India to their maiden Test series victory in Australia two seasons ago, will return home after the Adelaide Test to attend the birth of his first child.
While it would take some sheen off India's batting line-up in the last three Tests, Shastri was confident India's five-member pace attack, which includes Jasprit Bumrah and Mohammed Shami, could defend decent totals.
"We have a fabulous five … You put up runs on the board and watch these fast bowlers hunt the opposition. They can beat Australia in their own den."
There was no pressure on the team and India would play "fearless cricket" against an opponent Shastri considered the toughest.
"Ask any international player and he will tell you that it is different. It is challenging. Toughest used to be the West Indies in the '80s and post that it has been Australia."
Indian Premier League: Despite coronavirus, advertising revenue from Indian Premier League crosses Rs 3,100 crore
Synopsis
Despite the Covid-19 outbreak, the broadcaster was expecting the IPL to outperform all previous records this season and had held on to ad rates, asking Rs 12.5 lakh for a 10-second slot on TV. The 13th season of the IPL, which was initially scheduled to be played in April-June, was pushed to September due the pandemic, which also forced the Board of Control for Cricket in India (BCCI) to take the entire tournament to the UAE.
MUMBAI: Star & Disney India generated more than Rs 3,100 crore in television and digital ad revenue from the recently concluded Indian Premier League despite the global pandemic, a sluggish economy and an entire season being hosted outside India, which could not diminish the popularity of the tournament or its attractiveness to marketers.The broadcaster's revenue from the 13th edition of the league was 30% higher than last year.Star India
GIFT ARTICLE

FONT SIZE

AbcSmall

AbcMedium

AbcLarge

SAVE

COMMENT
To Read the Full Story, Become an ET Prime Member
Sign in to read the full article
You've got this Prime Story as a Free Gift
Access the exclusive Economic Times stories, Editorial and Expert opinion
Already a Member? Sign In now
Why ?
Sharp Insight-rich, Indepth stories across 20+ sectors

Access the exclusive Economic Times stories, Editorial and Expert opinion

Clean experience with
Minimal Ads

Comment & Engage with ET Prime community

Exclusive invites to Virtual Events with Industry Leaders

A trusted team of Journalists & Analysts who can best filter signal from noise

Pro Volleyball League: Baseline Ventures wins arbitration, Volleyball Federation asked to pay Rs 4 crore
MUMBAI:
Sports marketing firm Baseline Ventures
, which organised the first season of the
Pro Volleyball League
in February 2019, has won the wrongful termination case against the
Volleyball Federation of India
(
VFI
).
Justice (Retd) K Kannan, the Madras high court-appointed arbitrator, has awarded Rs 4 crore plus interest as damages and legal fees to Baseline Ventures in its dispute against VFI for the 'wrongful termination' of the 10-year contract for Pro Volleyball League.
VFI had terminated the agreement with Baseline Venture on November 18th, 2019, alleging financial irregularities and manipulation by the firm.
After almost 10 months of arbitration, Kannan ruled against VFI stating that there was no ground to terminate Baseline's contract, and moreover, the federation did not follow due process to terminate the contract.
The arbitrator has also dismissed all allegations made by VFI against Baseline pertaining to the breach of contract.
In its order, a copy of which was accessed by ET, the arbitrator noted that if VFI had the players interest in mind and wanted to foster the sport as a popular entertainment, it ought to have known that closing all options and terminating the agreement was too big a price to pay.

"In the light of my finding that the respondent's (VFI) termination of contract was not justified, the claim for damages estimated based on initial projections is not tenable. The respondent killed the goose that laid golden eggs," Kannan said while dismissing the counter claim of Rs 14.93 crore made by the VFI against Baseline Ventures.
"This judgement is a total vindication of the fact that the VFI had absolutely no grounds to terminate the contract after a successful season," said Joy Bhattacharjya, VP at Baseline Ventures, who led the first edition of the league as its CEO. "It's important that they are held accountable not just to us, but to all the volleyball players and coaches who were the most impacted by their wilful actions. This is a victory for fair play in Indian sport."
The arbitrator has also asked Baseline Ventures to hand over the IPR of the Pro Volleyball League to VFI.
Tuhin Mishra, co-founder and MD, Baseline Ventures, said, "When we started legal proceedings, we had the option of whether we wanted our rights to conduct and market the league reinstated apart from the damages which we were looking at."
However, he added that given the "capricious nature" of VFI's actions over the past year, the company had absolutely no confidence that this nature of event would not happen again considering the "blatant display of malafide intent" on the federation's part.
"So we voluntarily gave up the option of reinstatement of our rights even before the proceedings. We are happy to hand over the logo rights to VFI, we just want our damages to be paid before any commercial agreements are executed by VFI," Mishra said.
VFI had cited a report by one of the big four audit and consulting firms, which it claimed corroborated the manipulations of the accounts by Baseline and VFI had used that report supposedly to terminate the agreement with Baseline.
However, the firm in question later backtracked and forwarded an application to the arbitrator to eschew the report on the ground that it was meant to be confidential by the terms of their engagement by the respondent (VFI).
There had been a disclaimer that it was not meant to be an auditor's report and they had only examined whatever documents were presented by the respondent and it's views did not have any legal standing.
The firm had not even consulted Baseline while verifying the documents which VFI had given them.
Based on an earlier judgement, VFI had to pay up Rs 2.25 crore to Baseline, which was received by the company in February 2020.