India vs Australia: Smith denies accusations of gamesmanship during third Test | Cricket News
SYDNEY:
Australia
's
Steve Smith
has denied trying to erase
Rishabh Pant
's guard in the batting crease during the third Test against India on Monday, saying he had been marking centre as he always does.
Video footage from the stump camera of Smith dragging his boot across the crease on a tense final day of the match went viral on social media and some former players accused him of gamesmanship at best, cheating at worst.
After drinks break Aussie comes to shadow bat and scuffs out the batsmen's guard marks. Rishabh Pant then returns… https://t.co/uwtAHhSZdM

— Cricket Badger (@cricket_badger) 1610325033000
Smith told News Corp on Tuesday that he was "shocked and disappointed" by suggestions he had tried to gain an unfair advantage.
"It's something I do in games to visualise where we are bowling, how the batter is playing our bowlers and then out of habit I always mark centre," he added.
"It's such a shame that this and other events have taken away from what was a great batting performance by India yesterday."
Skipper Tim Paine said Smith, who was stripped of the Australian captaincy and banned for a year in 2018 for his part in the Newlands ball-tampering scandal, had merely been indulging one of his many idiosyncrasies.
"If you've watched Steve Smith play Test cricket, that's something that he does every single game five or six times a day," Paine told reporters on Tuesday.
"He's always standing in the batting crease shadow batting. As we know, he's got those many Steve Smith quirks and one of those is he's always marking centre.
"He was certainly not changing (Pant's) guard and if he was that's something that the Indians would have kicked up a bit stink about at the time," added Paine, who also apologised for his own conduct after sledging Ravichandran Ashwin.
Pant's heroic knock of 97 set the platform for India to save the Test after being set a daunting target of 407 to win, with Hanuma Vihari and Ashwin thwarting Australia's attack over the last three hours to secure a draw.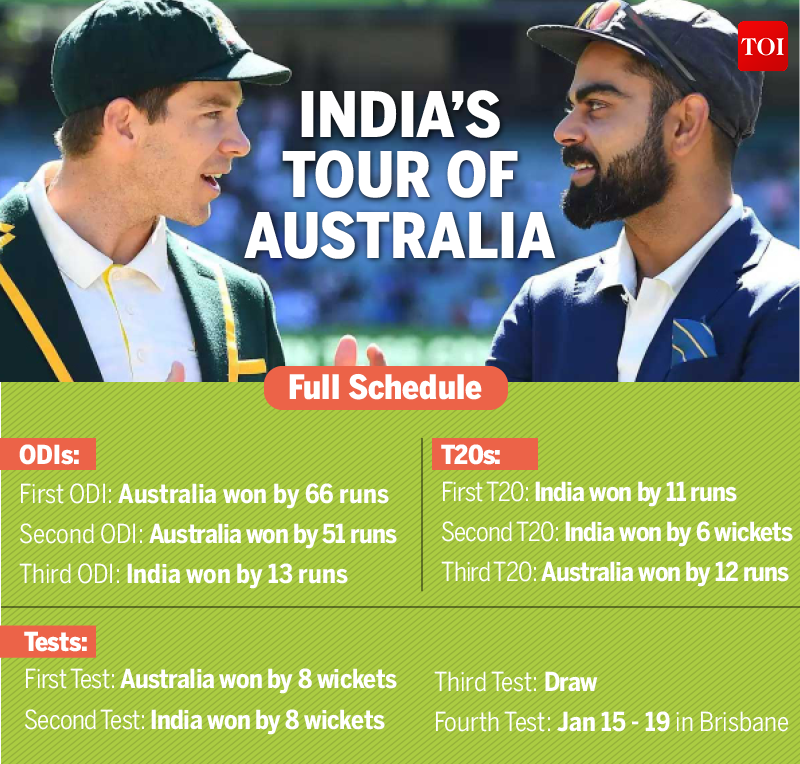 Paine said Smith might have to give up the practice given how it was interpreted.
"It's something that he might need to look at because of the perception of it," Paine said.
Natarajan receives 'hero's welcome' at native village Salem | Cricket News
SALEM (Tamil Nadu): After winning the
Border-Gavaskar Trophy
, most of the Indian stars landed in the country on Thursday and every star continues to be welcomed with open arms. Pacer
T Natarajan
was no exception and he received a hero's welcome at his native village in Salem.
Natarajan had made his Test debut during the fourth match against Australia at the Gabba and he even went on to take three wickets in the first innings.
Upon reaching his native village Salem, Natarajan was welcomed with 'dhols' and shehnais. The Indian pacer was surrounded by a huge crowd and he then stepped onto a chariot.
People did not stop there and he was escorted by a huge crowd and the Indian pacer basked in the much-deserved glory.
As India won the Border-Gavaskar Trophy against Australia 2-1 on Tuesday, pacer T Natarajan had said that playing Test cricket for the country was always his dream.
"The last couple of months have been surreal. My time with #TeamIndia has been the best of my life. Playing Test cricket for India was a dream. We have overcome many hurdles on this tour to win this series. Overwhelmed with your support," Natarajan tweeted.
The last couple of months have been surreal. My time with #TeamIndia has been the best of my life. Playing Test cri… https://t.co/3eoGVVb3to

— Natarajan (@Natarajan_91) 1611066922000
Natarajan was chosen as a net bowler for the Australia series, but the left-armer went on to represent the country in all three formats of the game. In his debut Test, Natarajan also went on to take three wickets, including the likes of Marnus Labuschagne and Matthew Wade in the first innings.
The last time a visiting team came out triumphant from the Brisbane Cricket Ground was back in November 1988 when the mighty West Indian outfit under the leadership of Viv Richards thrashed Allan Border's team by 9 wickets.
Virat Kohli had also returned home after the first Test as he along with wife Anushka Sharma were expecting the birth of their first child. Kohli announced that they have been blessed with a baby girl on the very day when the Indian team played out of its skin to draw the third Test at the Sydney Cricket Ground.
In the first Test against Australia, India was bundled out for 36 and there were many pundits who said the visiting team will face a 4-0 drubbing. But proving every critic wrong, the Ajinkya Rahane-led side registered famous victories at Melbourne and Brisbane. The side also recorded a famous draw at Sydney and at every step of the way, this line-up overcame adversity.
Inside Team Room: Wear that 36 all out like a badge, R Sridhar recalls 'Raviship' and more | Cricket News
NEW DELHI: He "aged 10 years in about one hour" thanks to
Rishabh Pant
and
Washington Sundar
.
Team India's long-serving fielding coach
R Sridhar
was in the thick of things as the side battled adversity after adversity before their "unreal" Test series win over a mighty Australia. And in an exclusive conversation with PTI, he opened up about the emotional roller-coaster that the tour was.
"When Rishabh and Washy (Washington Sundar) were batting, I wasn't able to cope up with tension," Sridhar said after reaching his home in Hyderabad, still trying to calm the nerves after that surreal final day in Brisbane.
"My heart rate was 120 on fitness app and couldn't help telling Rohit that main ek ghante mein 10 saal buddha ho gaya," he joked.
An integral part of the Indian team set-up, Sridhar opened about the tour in an elaborate chat, asserting it will be difficult to surpass what the team went through in the past one month — from hitting the nadir to reaching the zenith.
He touched upon the many highlights of the intense trip — from coach Ravi Shastri's inspiring speech after the 36 all-out disaster in Adelaide to Hanuma Vihari's "miracle" batting at Sydney to the stunner in Brisbane.
36 all out and the aftermath:
"After 36 all-out, you didn't know what's next. Then Ravi (Shastri) bhai gathered the team and said: 'Wear this 36 like a badge on your sleeves and you will be a great team'.
"After 40 days, it was gospel truth. Also we had five meetings in two days after the Adelaide Test finished on the third evening. Virat (Kohli), Jinks (Ajinkya Rahane) and the coaching staff discussed the combination and Virat gave some lovely suggestions for the MCG Test before leaving.
"I don't think there could have been a better execution in Melbourne," he recalled the events leading up to the turnaround in Melbourne, where India won to draw level.
Hanuma Vihari and the Sydney Heist:
"At tea time in Sydney, Vihari had his feet stretched wide as Nitin Patel strapped his hamstring and other physio administered painkillers. I went up to him and told Vihari, 'You owe the next two hours to your team as this team has backed you at every juncture.'
"…and after those 250 balls when he came back, he could barely walk, he fell down on the chair as I went to hug him. He said: 'Sir you asked for it. This is the best I could do in this situation.' I could just mutter 'thank you.'
Sridhar said Vihari's fitness took a hit as he wasn't a part of the IPL like most other Indian players last year.
"His hamstring injury is multi-factorial. Firstly, he wasn't playing IPL like others, so general fitness level was a bit less than other guys which I told him and then he stood at short leg for three Tests which also contributed to injury. But what he did in Sydney gave us belief that we could do it in Brisbane.
"Vihari is an intense, young man. He is not your normal, jovial kind of a guy. He can go into a shell very soon, and that's his strength also and it helped him in Sydney.
"Despite being on heavy dose of painkillers, which could make you a bit drowsy, he actually pulled off a miracle in Sydney. So when we got there in Brisbane, we had the belief that we could do it."
The Brisbane Chase on final day:
"We didn't want to complicate anything with Rishabh and Washy and it was their own plan. They had very valid excellent plan which was based on their abilities and belief.
"When you see what they were executing, the last thing you want to do is send in information and at such times, less is more. Ajinkya and Ravi bhai said, 'Just leave these two alone. Whatever happens, we would take it, we came so far brilliantly'."
T Natarajan didn't carry his bat or pads to the tour:
"You know Nattu didn't carry a bat. He had his bowling spikes and trainers because he came as a net bowler and was supposed to bowl. He had to borrow one from either Washy or Ash (R Ashwin) when he was named in the squad.
"But that was the beauty. He was not any usual net bowler. (Strength and Conditioning coach) Nick Webb and (trainer) Soham (Desai) had proper strength and conditioning plan for all our net bowlers and they were an integral part of dressing room."
Talent called Washington:
"We kept him here after white ball games because we didn't want Ash to bowl too much at the nets but Nathan Lyon was always going to be an integral part of the Aussie line-up so we needed our batsmen to get net sessions.
"We used Washy to bowl into the rough. When Washy would bowl to our top order at nets, I would go and tell him 'Washy, give the ball over-spin because that's the need of the hour on Australian pitches, up (pitching it up) and over spin as you have to put your whole body behind the ball, because it requires energy.'
"We would tell Washy, that you may not be the lead off-spinner, but when India come back again in 2025, who knows you might be leading the spin attack with Kuldeep. Also even when he was not in original squad, he would bat for 30 minutes every day."
Leadership will now be known as 'Ravi Ship':
"Before the Brisbane Test started, Ravi bhai had one mantra, 'Nattu is no less than (Jasprit) Bumrah and Washy is no less than Ashwin, and that will be your mindset'. If you two are crossing that boundary line wearing that India cap, you are no less than the person next to you.
"Please quote me, it is unfair that you needed India's greatest Test victory to understand Ravi Shastri's contribution to Indian cricket. He was Indian cricket's 'Go To Man', when NCA needed restructuring in 2007, when IPL was conceptualised, when India needed a stop gap coach in 2007 after the World Cup exit, and also in 2014 when a Team Director was needed."
And finally, a Champagne spray and game of TT:
We had a flight next morning. So first we had to pack our bags and then we went to the team room for celebration. 90 percent people don't drink so it was just spraying champagne and then some games of table tennis which the boys enjoyed.
Cristiano Ronaldo scores 760th career goal, but is it a world record? | Football News
PARIS:
Cristiano Ronaldo
scored his 760th career goal in
Juventus
' 2-0 Italian Super Cup win over Napoli on Wednesday, prompting claims he is the top scorer of all time. However, doubts persist as to who actually holds the record.
With five goals for Sporting Lisbon, 118 for
Manchester United
, 450 for
Real Madrid
, 85 for Juventus and 102 for Portugal, there is little debate over Ronaldo's own tally.
The Portuguese forward, who turns 36 next month, is the undisputed holder of several records, easily the leading scorer for Real Madrid and his country, and above
Lionel Messi
in the
Champions League
goalscoring charts.
But uncertainty arises from the totals of his rivals from previous eras, with the likes of Brazilian duo Pele and Romario both claiming to have netted more than 1,000 goals.
The incredible @Cristiano has scored his 760th career goal tonight, overtaking Josef Bican as the highest goal scor… https://t.co/YMau4JHCSF

— Gary Lineker 💙 (@GaryLineker) 1611179890000
Last month Barcelona's Messi surpassed Pele's recognised total of 643 goals for a single club, but Santos swiftly countered saying the three-time World Cup winner racked up 1,091 goals for them including those in friendlies.
Pele's own Instagram bio notes he is the "Leading Goal Scorer of All Time (1,283)".
However, if just official matches are the measuring stick, the Brazilian is apparently still behind Josef Bican, who football historians calculated scored 805 goals between 1931 and 1955 playing for half a dozen clubs as well as Austria and Czechoslovakia.
"'Pepi', as he was known, is credited with scoring 805 goals in 530 games, giving him a career average of 1.52 goals per game," FIFA.com said in an article devoted to him last year.
Included in that number though are 27 goals for Rapid Vienna's reserve and amateur sides, in addition to some that were scored not in official international matches.
Discounting those strikes puts Bican on 759 goals from just 495 games, although international football research website RSSSF (Rec. Sport Soccer Statistics Foundation) says data is partially missing from the 1952 season in the Czech second division.
Pele is credited with between 757 and 767 goals in competitive matches over his career, which included 92 Brazil internationals and two seasons with the New York Cosmos.
He is listed third (767) by RSSSF behind Romario, who helped Brazil to the 1994 World Cup and ended with 772 goals.
Romario celebrated reaching a "personal count" of 1,000 goals in 2007, a total comprising strikes at youth level and in friendlies and testimonials.
Other reports and statisticians suggest Romario's official haul is just under 750 following a globetrotting career that included spells at PSV Eindhoven, Barcelona, Flamengo, Miami FC and Adelaide United.
As for Messi, who at 33 is two years Ronaldo's junior, he is on 719 goals for Barcelona and Argentina and will undoubtedly factor into the equation before he is done.
What is certain is that even if Ronaldo did not break the all-time record, the mark appears well within reach for a player who continues to score at a remarkable rate as he approaches his 36th birthday.