India vs Australia: India vs Australia: Vacancies open as India worry over fielding a fit XI for Brisbane Test | Cricket News
MUMBAI: Twenty one-year-old Washington Sundar, who made his white-ball debut for India in 2017 and was asked to stay back in Australia at the end of the ODI and T20I series to be part of the Team India nets for red-ball matches on this ongoing Australia tour, is likely to be drafted into the playing eleven for the last of the four Tests in Brisbane.
What's working in favour of Sundar is that he can bat, averages a decent 31.29 in first-class
cricket
and has held his own in the domestic circuit over the last four years.
"Ashwin is in a bad shape. It's a 40-60 for him, whether he can play. If he doesn't, then there's a chance India will go in with four pacers — Mohammed Siraj, Shardul Thakur, Navdeep Saini and T Natarajan," say those tracking developments.
"If Ashwin is fit, even then, including Sundar in the eleven will make sense because he can bat and gives an option in the bowling department (by dropping one pacer).
"Kuldeep can't bat and key at the Gabba will be putting runs on the board," they add, contemplating the right replacement for an invaluable
Ravindra Jadeja
.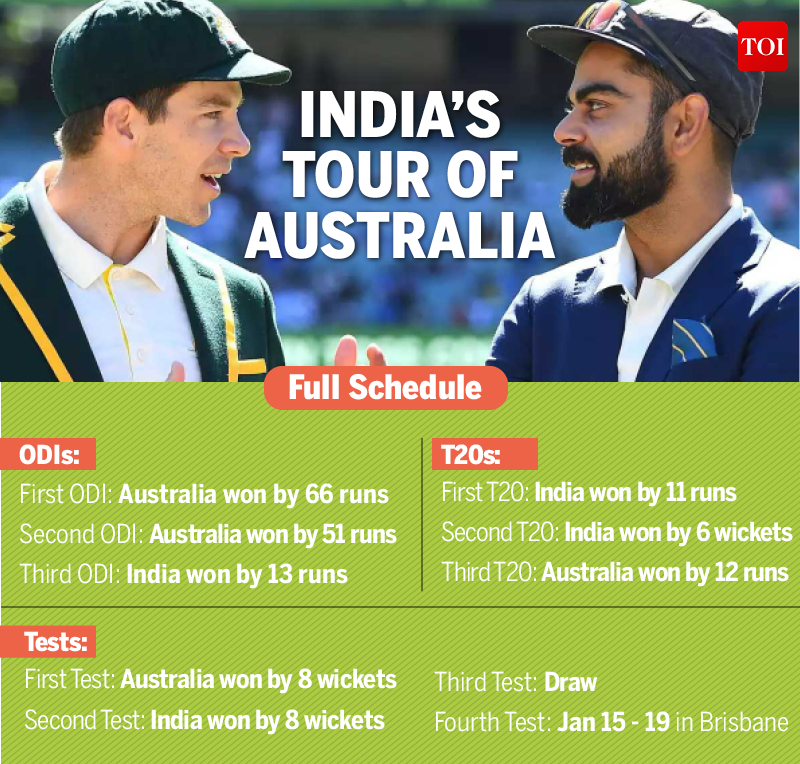 Ashwin, at the moment, is struggling with back spasms. Even if he's fit to play — chances don't appear very bright at the moment — the team management will have to consider what kind of workload he can take.
"He bowled almost 20 overs with a bad back and then batted a little more than two sessions, which is no mean feat. Sundar will be the apt replacement either way." That is how the team management sees things at the moment.
On the pace-bowling front, Jasprit Bumrah — 50% fit right now — is being ruled out of the Test. The team won't risk Bumrah for the fear that the tear can go worse, also given the series against England coming up at home.
Thakur and Natarajan will hit the nets at the Gabba on Wednesday with the big-picture of a four-pronged pace attack in mind.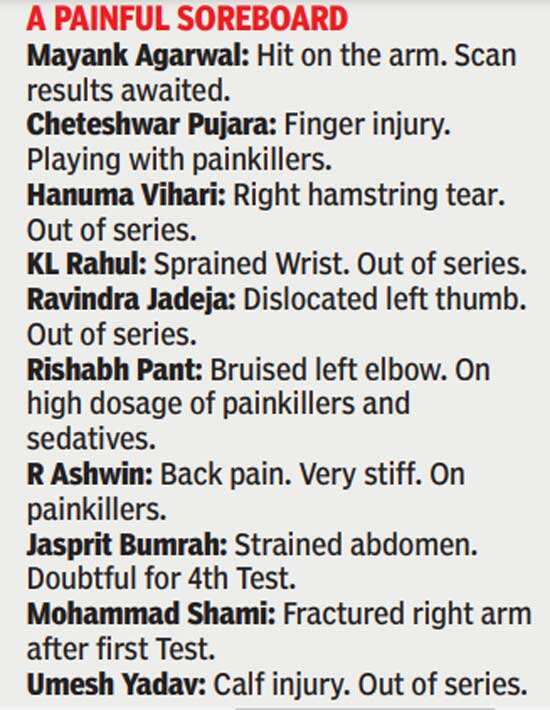 "The contemplation was never between Thakur and Natarajan. It's between Saini and Natarajan. The Gabba is going to have a bit of bounce and seam — so Saini comes across as the right choice. There has to be some amount of trust going into it. But if Ashwin doesn't play, the option of four seamers is going to be considered," say those in the know.
Thakur has played one Test match, even though he's bowled less than two overs. While that may not matter much in terms of experience, his ability to generate pace, derive bounce and some movement are factors the team will look to derive value from.
That leaves the middle-order to fill, with Hanuma Vihari being ruled out of the game.
"Ideally, Mayank (Agarwal) would have fitted that slot. But he took a knock in the nets. He's under observation. If Mayank is unavailable, Prithvi (Shaw) pads up. The rest of the line-up is more or less sorted, given the options," sources say.
That would mean, a Test match XI on the following lines:
Openers: Rohit Sharma and Shubhman Gill
No. 3 & 4: Cheteshwar Pujara and Ajinkya Rahane
No. 5: Rishabh Pant
No. 6: Mayank Agarwal / Prithvi Shaw
No. 7 / 8: R Ashwin and / or Washington Sundar
No. 9, 10, 11 / 12: Mohammed Siraj, Navdeep Saini, Shardul Thakur and T Natarajan (if Ashwin is out)
Serena Williams On Her Daughter Getting Into Tennis
Serena Williams' daughter is just three years old, but she already has her own signature tennis move.
Alexis Olympia Ohanian Jr., who Serena calls Olympia, has been getting pretty familiar with the tennis court over the past year. (And not just during her mom's matches.)
"She likes it," Serena said in a recent interview with Yahoo Entertainment, adding, "She's good at twirling when she hits the ball."
While Serena hasn't shared a video of Olympia's go-to move on social media yet, she has posted some adorable photos of her daughter in action.
"Turn, back, reach, head, follow through," Serena wrote on one photo of Olympia putting in some hours at the tennis court.
It was actually the pandemic that prompted Olympia to start playing tennis. "Really, the reason I started getting her into tennis a lot is because it's the only thing we could do that's socially distant," Serena explained.
"It's been a year of having to be distant, so I'm like — we can't sit in a house all day with a 2-year-old, she was 2 at the time she started playing. We can't put her in soccer or any other stuff. So we were like, this makes a lot of sense."
While Olympia clearly has moves, her tennis playing is just for fun. Serena is letting Olympia write her own future: "Whatever she wants [to do]."
Whatever that is, Olympia will have the support of her mom and dad!
BuzzFeed Daily
Keep up with the latest daily buzz with the BuzzFeed Daily newsletter!
Paes eyeing French Open comeback in record eighth straight Olympics bid | Tennis News
KOLKATA: Indian tennis icon
Leander Paes
on Monday said he is eyeing a
French Open
comeback this year in his quest to make a record eighth appearance at the
Olympics
in
Tokyo
.
Paes, 47, said he skipped the
Australian Open
as he is apprehensive of playing in a bio-bubble but is looking ahead to the French Open.
"Playing sport in a bio-bubble is very tough and may not be the best thing to do. I got a grand farewell at the Australian Open last year so I felt this year I would be sitting out and watching," Paes said.
The Olympic bronze medallist in singles and multiple-time doubles Grand Slam winners was speaking during the launch of a cricket tournament named after his father Dr
Vece Paes
, a bronze winner at the 1972 Olympics.
"I hope that by the time of French Open, by the end of May, Europe will get to a better position than now."
On the Christmas Day of 2019, Paes had announced his "One Last Roar" tagline, calling 2020 to be his last season as a professional player, culminating with the Tokyo Games that was pushed back by a year due to the COVID-19 pandemic.
"It's my goal to represent India in the eighth successive Olympics. I'm keeping myself in good physical and mental fitness which is not easy being away for 11 months.
"I've been practising hard, putting in three hours everyday and I'm in the last 100m sprint of a long career.
Tokyo Olympics
is important to make sure India remains in the record," Paes said.
The Dr Vece Paes Cricket Cup will be held between CC&FC and Doctors' XI at CC&FC on Tuesday.
The doctors of Kolkata wish to make the 75th year of Dr Paes and his achievements a memorable annual event by organising a cricket match which will be played by Paes and former India all-rounder Irfan Pathan.
"I'm very emotional about CC&FC. As a young boy growing up, this very ground where I grew up, learnt leadership, sportsmanship and camaraderie.
"It's an honour to be your son. I've tried to run it and play the game of life as best as I could. I hope I have done you proud," the tennis great concluded.
Olympics would be 'extremely difficult' for unvaccinated athletes: France | Tokyo Olympics News
PARIS: Athletes who have not been vaccinated against Covid-19 would face "extremely difficult" conditions at the
Tokyo Games
this summer, the president of the
French National Olympic Committee
(CNOSF) said on Monday.
Unvaccinated athletes who go to the Games in Japan face "quarantine of a fortnight" and "will have to undergo tests in the mornings and evenings," Denis Masseglia warned.
The issue of
vaccination
of athletes for the
Tokyo Olympics
, postponed last year because of the pandemic, is to be discussed Wednesday at a meeting of the
International Olympic Committee
(
IOC
) Executive Committee.
The IOC officially encourages the vaccination of athletes but says it cannot impose it.
Masseglia said there was no choice. In a video press conference, he said that "holding the Games is at stake".
"We are not alone," he said. "For our Japanese friends to receive athletes and accredited people from all over the world requires some precautions."
He said that the difficulties they would face could have "a dissuasive effect" for athletes who did not want to be vaccinated.
Masseglia said he spoke to IOC president
Thomas Bach
last week.
In France, nearly a million priority people have been vaccinated, but the pace of vaccination is extremely varied around the world. Some countries, including Japan, have not started yet.
The issue of vaccination of athletes also raises an ethical problem.
"It's out of the question that athletes should be given priority over other categories of population, but between now and the Games we can assume that it is possible to have them vaccinated without penalising other people," Masseglia said.
"I have taken a position in favour of vaccination, I hope that all French athletes will share this perspective," he added.