India vs Australia: Haddin praises Ajinkya Rahane's 'outstanding' captaincy | Cricket News
SYDNEY: Former Australia wicketkeeper
Brad Haddin
has praised India skipper
Ajinkya Rahane
's "outstanding" tactical move to elevate
Rishabh Pant
up the order, enabling the tourists to snatch a draw in the third Test.
The Indian batting unit displayed tremendous grit on Monday as it hung on for a memorable draw against Australia in the third Test to leave the four-match series levelled at 1-1.
"The way India performed yesterday when they could have just shut up shop and played for a draw, but the Pant tactical move by Rahane I thought was outstanding," Haddin told 'Sen Radio'.
Pant, who made a fluent 97 and raised hopes of an Indian win, was sent ahead of Hanuma Vihari at number five.
"If you have a closer look at it, he sent Pant out to try and move the game forward and Pant did exactly that.
"He played brave and he made Tim Paine make some decisions as captain on the last day which I thought tactically was really good.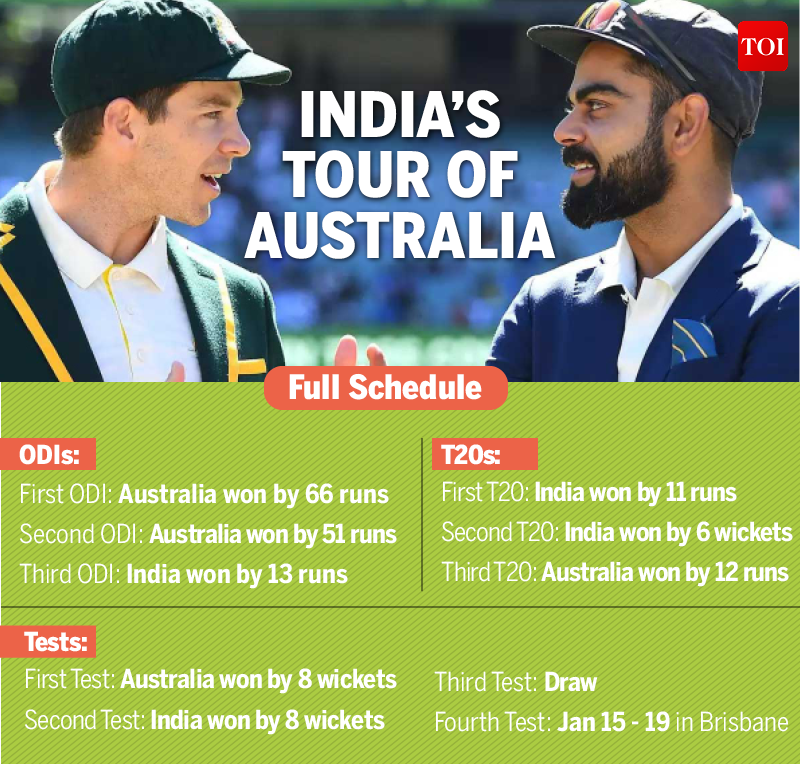 "Then Vihari came in, and he's a very similar player to Pujara, they can just shut the game down and that's exactly what he did," Haddin added.
The 43-year-old also praised the fight and character of the Indian team.
"Rahane hasn't lost the game as captain, he was really brave yesterday to give India a little sniff. I thought the runs were always too much for them, but he gave them a sniff."
The Indian team has been marred by injuries in the ongoing tour and entered the third Test here without the services of pacers Mohammed Shami and Umesh Yadav. Regular skipper Virat Kohli is on paternity leave.
During the match, Pant (elbow), Ravichandran Ashwin (sore back), Ravindra Jadeja (fractured thumb) and Vihari (hamstring) also suffered injuries.
"They're showing some really, really good character for this India team. They've got a lot of injuries, they've lost their captain, they've lost three fast bowlers, Jadeja's got a busted thumb. They're showing a lot of character," he added.
Spain's Carolina Marin breezes into Thailand Open final | Badminton News
BANGKOK: Spain's fifth seed and former world number one
Carolina Marin
breezed into the final of badminton's
Thailand Open
Saturday, beating South Korea's An
Se-young
21-19, 21-15.
The 27-year-old Spaniard, ranked sixth in the world, is aiming for back-to-back titles in this week's tournament the second of three consecutive events in Bangkok that culminate in next week's World Tour Finals.
Just one more step! Let's go! 💪🔥Sólo un paso más! Vamos! 🏸🐺#PuedoPorquePiensoQuePuedo #ToyotaThailandOpen… https://t.co/zM1XlBIz0Q

— Carolina Marín (@CarolinaMarin) 1611397967000
She came out on top last week against top-seeded Tai Tzu-ying, and continued her winning streak Saturday, maintaining her signature aggressive play against seventh-seeded An.
She spoke of the mental battle of motivating herself just days after being victorious.
"Sometimes it's tough for the mindset when you win a tournament just three days ago and you have to start a tournament all over again," the reigning Olympic champion said after the match.
The pair had already duelled in last week's tournament, with the more experienced Marin winning in a quick 21-18, 21-16 match.
An, an 18-year-old who was awarded "Most Promising Player" in 2019, was downcast after Saturday's defeat.
"I tried to respond to her smashes and tried everything," said the teenager.
"Unfortunately, it didn't go quite so well, so I'm a little disappointed."
Marin's signature yelps after each match point reverberated around the spectator less stadium a coronavirus precaution taken by Thailand as part of its biosecure "bubble" to accommodate players who flew in from across the world.
Despite the efforts of tournament officials, four positive cases have been detected so far, forcing an Indian player and an Egyptian player to withdraw.
Abu Dhabi T10: Classic cricket entertainment on the cards, says Gayle | Cricket News
ABU DHABI (UAE): Ahead of the upcoming
Abu Dhabi T10 League
, West Indies' opening batsman
Chris Gayle
has said that fans can expect classic cricket entertainment in the coming edition of the league.
Gayle will be seen donning the Team Abu Dhabi jersey and is expected to set the stage on fire.
"We are all very excited that the competition is just 5 days away. Can't wait to hit some big shots in the Abu Dhabi T10. Classic cricket entertainment is definitely on the cards this season," said Chris Gayle in an official release.
The biggest names in the world of cricket are going to take the field at the Zayed Cricket Stadium come January 28.
Gayle,
Shahid Afridi
,
Kieron Pollard
,
Dwayne Bravo
, Shoaib Malik, and the list goes on. These guys are established stars in their own right and come in with years of big-hitting experience.
Deccan Gladiators skipper Kieron Pollard too made his excitement known on Friday. "The thrill and excitement of T10 is limitless. But it's actually not too dissimilar to the kind of cricket I grew up playing. It's not about seeing the ball or hitting the ball. You need to be able to think on your feet, anticipate and execute plans without pausing too much. It suits me, to be honest, and my experience stands me in good stead when reading the opposition," he said in a statement.
The tournament is in its fourth season and the second one in Abu Dhabi. A brainchild of businessman Nawab Shaji Ul Mulk, the tournament is growing from strength to strength with every passing year. It is the world's only 10-over cricket tournament to be sanctioned by the International Cricket Council (ICC) and is licensed by the Emirates Cricket Board (ECB).
The fourth edition of the Abu Dhabi T10 is set to be held from January 28 to February 6.
Three cases linked to Australia Open carry highly virulent COVID-19 variant | Tennis News
MELBOURNE: Three people in hotel quarantine associated with the Australian Open
tennis
tournament have tested positive for the highly transmissible coronavirus variant linked to the United Kingdom, officials said on Saturday.
The three quarantined in Melbourne are not players, said the state agency responsible for quarantining overseas travellers. All have been in hard lockdown since their Jan. 15 arrival.
"Three quarantine residents associated with the
Australian Open
who tested positive for coronavirus have been found to have the UK variant of the virus," COVID-19 Quarantine Victoria said in a statement.
Victoria, Australia's second most-populous state, recorded its 17th day without any new local infections on Saturday as officials focus on keeping the community separated from staff and players here for the
Grand Slam
tournament.
As many as 72 players have been confined to their hotel rooms for two weeks upon arrival and unable to train for the Feb. 8-21 event after passengers on three charter flights tested positive.
The lockdown has led to complaints from some frustrated tennis players, although others have urged their fellow competitors to show more respect for the efforts by Victoria state, when the Australian Open is to be held. It went through one of the world's strictest and longest lockdowns last year to stamp out the virus.
Spain's Paula Badosa on Friday became the first player to confirm a positive test for COVID-19 while in quarantine in Melbourne. On Saturday, Spain's tennis federation apologised to
Tennis Australia
after complaining about the treatment of two Spanish players in quarantine.
The Victoria quarantine agency said there were 10 active positive cases linked to the tennis in quarantine.
Three cases were recorded among international arrivals in hotel quarantine in Victoria on Saturday, the state's health department said. One of those was associated with the Australian Open, the quarantine agency said.
Australia has fared better than most other developed economies in the pandemic through swift border closures, lockdowns, strict hotel quarantine for travellers and widespread testing and social distancing.
On Saturday, it logged a sixth straight day of zero coronavirus cases in the community nationwide. It has had 28,700 cases in total, the overwhelming majority in Victoria, and 909 deaths.