Idea was to design IPL broadcast version 2.0: Star India Sports Head | Cricket News
DUBAI (UAE): One of the biggest challenges in resumption of
cricket
in the post coronavirus-era has been integrating fans into the system. Despite being the biggest stakeholders, fans have been kept away from the stadiums with an eye on their safety. In fact, going into this year's
Indian Premier League
(
IPL
), players too spoke about how they would miss the constant cheers from vociferous fans.
But 27 days into the 13th edition of the IPL in UAE, one just cannot tell that this year's league is indeed being played inside empty stadiums. The buzz during the games seems as real as it gets and it is an outcome of some brilliant planning and execution by host broadcasters
Star India
.
And one man who has spent numerous sleepless nights overseeing the whole process from initiation to finally raising the curtains on what has been nothing short of a spectacle is
Sanjog Gupta
. But the newly appointed Star India Sports Head refuses to take credit and calls it a complete team effort.
POINTS TABLE
|
FIXTURES
Speaking to ANI, Sanjog threw light on the initial ambiguity over the venue, the challenges that came with organising the league with an eye on the virus and most importantly, ensuring that the reputation that the IPL has built over the years of being a visual delight remains unscratched.
Halfway into the tournament, Gupta says the biggest takeaway is when people think fans have been allowed into the stadiums.
"I will quickly tell you a story…There is a colleague of mine and I was chatting with him after the first week of IPL, and he told me that his parents are very keen to go for the finals. I said crowds are not allowed, and he said exactly, they didn't even know that IPL was being played to empty stadiums. They had full plans and didn't realise that the crowd wasn't there, now that is a compliment.
"It is a massive compliment for the entire team that has worked practically day and night to put this experience together. Both audio and visual. There is a guy who is our primary audio producer who had to sit through 100 matches over a two-month period to basically put together a library of audio references for different situations in a game and how the crowd reacts.
"So when MS Dhoni plays against Mumbai Indians and hits a six…it sounds a certain way, but when a KL Rahul hits a four against Delhi Capitals, it doesn't sound the same. So we had to create this library of audio references and then we had to re-record all the sounds, because we can't take the sound from the original match because it has too much of interference.
"And then, of course, using it, curating it and playing it live is another operation in itself, because you have to constantly watch the game and have to know where the fielders are to know that you're not queuing the wrong sounds. So we actually created a new workflow for it which allows the sound engineer and the audio producer to actually be able to see where the fielders are with a dedicated feed for them," he smiled.
"…We have got a lot of queries from broadcasters around the world on the workflow and the process and the systems that we have deployed, because what they have seen in the IPL, they have not been able to manage on any of their own broadcast. So again credit to the entire team."
Once pulled off, it does look spectacular. But talking about the challenges that the team faced coming into the tournament, Sanjog says there were four to five basic areas that needed attention and detailing.
"When we started, there were maybe five challenges. This is as of June-July when we started working with BCCI to see what was the possibility of having IPL happen. Then, have it happen in India or abroad depending on how the pandemic pans out. First challenge was the uncertainty itself.
"To accept the fact that, there will be uncertainty till the last minute where it is going to played. You know enough stories to know how it went back and forth — largely to no one's fault. It's just that the situation we were involved in with the pandemic. Probably the first thing was to just prepare ourselves for the ambiguity.
"As you can imagine, the schedule came less than a month before the tournament, which means we had to plan accordingly. We had to do a lot of preparations to be ready to act quickly, be nimble, be flexible and be able to move with very little notice and actually make things happen.
"The second one was more around the ecosystem — how do we get the ecosystem to align in favour of IPL and see the fact that this IPL is not just another sports tournament — it has the potential of being a game-changer, both for the sports ecosystem and national sentiment. It is likely to bring back joy to people's lives which is going to be desperately needed for a country that has been struck by the pandemic and has been in lockdown for so long — both to lift spirits and create a sense of togetherness that this is an important tournament.
"Third challenge was how do you communicate to a country that has been affected by a pandemic in a certain way — you know that something joyful and full of life and spirit is coming, and they are invited to come and watch. We don't want to be insensitive. You want to be empathetic because all of us have our own stories to tell about how we dealt with the pandemic and a lot of us perhaps have stories which pulled us down to some extent. In that context, how do you invite viewers to connect with something that is all about fun, joy and a sense of festival.
"The fourth was the conceptualization, design and deployment of the bio-secure bubbles. It is bit of a peculiar situation with IPL happening in UAE. Unlike any other global tournament, it is not one secure bubble — it's actually four different bio-secure bubbles. One in Mumbai, which is a central bio-secure bubble, one in Dubai, one in Sharjah and one in Abu Dhabi. How we set protocols which, firstly, keeps at bay any possible contamination of the bio-secure bubble and secondly in case there is a contamination, how do you control the contagion and make sure the infection doesn't spread.
"I think part of it was science and working with medical experts and the other part was to work with the production design itself to come up with protocols that still allow you to put together a great broadcast, but keep people safe.
"The final challenge was if you are not going to have fans in the stadium, how will you mind the broadcast in such a way that it doesn't look like a pale shadow of the IPL. The last thing you want is to create all this hype around IPL, get people to come in and have them complain about the fact that this doesn't feel like the IPL or feels like a downgraded version. So the final challenge was how do you design the broadcast in a way where we approached it in an interesting manner. We thought that we will not try and make up for everything that isn't there. We will redesign the game and how it's broadcast, from scratch.
"So, we started by imagining what the broadcast should look like if a game was being played in a field — and then worked the plan, instead of saying this is not there and that's not there. We said let's redesign IPL — can this truly be IPL Broadcast 2.0? Can it be a complete redesign of the IPL broadcast both in terms of video and audio, and in terms of consumer experience? It was a re-imagination exercise," he explained.
Touching on the sensitivity factor in the post-coronavirus era, while one can be wary of the impact social media can have if things don't go as planned, Sanjog says being responsible citizens and custodians of national sentiments is important.
"I don't think it's a social media thing as much. Yes, you are right that social media obviously amplifies the chatter that much more, but I think it's also being responsible citizens. More than anything else, we take our role as being the nation's storytellers and thereby to some extent, in a limited way, custodians of national sentiments very seriously, which is why we always tried to act responsibly and the same was the case with IPL.
"Whether it is a marketing campaign, which actively incorporated the situation with the pandemic in the creative by celebrating Covid heroes, common people who were Covid heroes for us, or by ensuring that every broadcast that we do, every match that we broadcast, has clearly re-established and reiterates the precautions that one must take.
"Even the commentators reiterate the message and we don't miss a single game because it's very easy otherwise for people at home to see a match being played even if it's as far away as Dubai is and get the feeling that everything is normal and that they don't need to wear a mask because their heroes are not wearing a mask," he pointed.
In fact, the Star India Sports Head used the example of Kolkata Knight Riders' co-owner and Bollywood superstar Shahrukh Khan.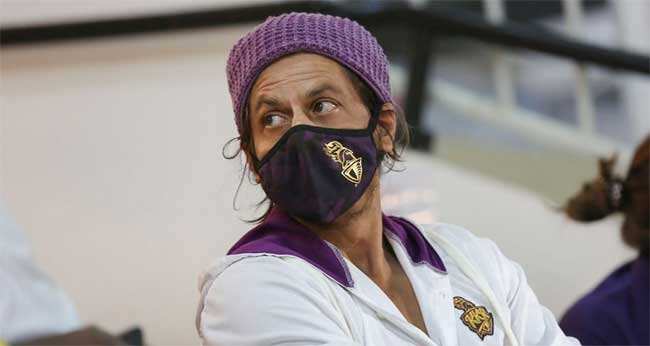 (KKR co-owner Shah Rukh Khan – BCCI/IPL/PTI Photo)
"Even when Shahrukh came to the stadium, he was wearing a mask, and we made sure that we conveyed the message that look, because Shahrukh is not in a bio-secure bubble, he is wearing a mask," he explained.
While the execution so far has been nothing short of astounding, Sanjog isn't willing to sit on the laurels.
"Look, we are always planning surprises and in fact some of these we dropped without making too much noise. For example, because Ravindra Jadeja started batting up the order, we re-created a chant for Ravi Jadeja. You know that chant that plays — Go Ravi Jadeja. We actually created that two weeks back and dropped it on the CSK-SRH game.
"So, one part of it is the constant evolution of an existing innovation that we have, that we don't want to just sit back and say 'this is the bank of sounds that we're going to use'. For example, the team is actually putting together a chant for Rahul Tewatia, because of what he's done in IPL.
"The idea is to keep re-creating because there's a need for freshness. That's one part. The other part is new innovations. So one of the things that we're going to be launching, hopefully next week, as part of the fan week is the first-ever live cricket quiz which will be played as part of the pre-show, where you as a viewer can actually participate in the quiz.
"So the questions are asked on the broadcast and you answer them on Disney+ Hotstar and every day there are a bunch of winners. The idea is for us to constantly find ways of offering new pieces of delight to viewers and which is what the endeavour is going to be even for the last three weeks," he signed off.
IPL 2020, MI vs RCB: Ignored Suryakumar makes statement, Mumbai Indians put one foot in play-offs | Cricket News
ABU DHABI:
Suryakumar Yadav
made a statement with an unbeaten 43-ball 79 as
Mumbai Indians
put one foot in the play-offs following their five-wicket victory over Royals Challengers Bangalore in an IPL match here on Wednesday.
Not considered for the tour of Australia despite his consistent run in domestic cricket and IPL, Suryakumar led MI's chase of 165 and helped the defending champions reach the target with five balls to spare.
Earlier,
Jaspirit Bumrah
(3/14) was his usual devastating self in the death overs as MI pulled things back to restrict RCB to 164 for six.
During the game, Bumrah picked up his 100th IPL wicket in the form of RCB captain Virat Kohli, who, incidentally, also was his first scalp in the lucrative event.
IPL schedule | Points table
The win meant that Mumbai Indians continued to top the table with 16 points. With another two games left, they are all but through to the play-offs.
The second half belonged to Surya, who plundered 10 fours and 3 sixes, and he not only took the team out of trouble after early jitters, but also took them home.
Hardik Pandya (17) played a useful cameo.
MI were in spot of bother at 72 for three, having lost openers Ishan Kishan (25), Quinton De Kock (18) and Saurabh Tiwary (5) cheaply.
But that did not deter Surya, who initially upped the ante in the 10th over, hammering a six and four off Yuzvendra Chahal (2-37).
Surya and Krunal Pandya (10) collected 13 runs off the 12th over and then he took on Dale Steyn, hitting him for three fours.
A determined Surya kept playing shots at will and hammered three boundaries in the 16th over as the equation came down to 35 runs from 24 balls.
He played round the park and fittingly finished the game with a boundary.
Earlier, Devdutt Padikkal pummelled the Mumbai attack into submission with a 45-ball 74.
Put in to bat, Padikkal, who smashed 12 fours and a six, added 71 runs for the opening wicket with Josh Philippe (33).
However, the RCB then suffered a middle-order collapse as Mumbai roared back into the game with lead pacer Bumrah doing the bulk of damage.
Padikkal began with a boundary over deep extra cover and then struck successive fours off Krunal Pandya, as RCB fetched 12 runs in the third over.
The two openers continued playing their shots, the highlight being Philippe's six over Trent Boult's head in the fifth over.
Padikkal then went on the offensive against James Pattinson, collecting two fours, as RCB raced to 54 for no loss in six overs.
However, leg-spinner Rahul Chahar (1/43) pulled things back for Mumbai, removing Philippe, who was stumped by Quinton De Kock.
Padikkal, who hit another two boundaries off Chahar, completed his fifty with another four.
Skipper Virat Kohli (9) perished early as RCB slipped to 95/2, but Padikkal continued his onslaught against Chahar, hammering a six and two fours, as RCB got 16 runs in the 15th over.
Mumbai then took four wickets in quick succession, removing AB De Villiers (15), Shivam Dube (2), Padikkal and Chris Morris (4), as RCB slumped to 138/6.
Gurkeerat Mann made a quick 14 but Mumbai Indians, known for their effectiveness in the death, allowed RCB only 35 runs in the last five overs.
IPL 2020: Suryakumar leads Mumbai Indians to five-wicket win over RCB
Mumbai Indians
(MI) on Wednesday took a two-point lead at the top of the
Indian Premier League
(IPL) table with a five-wicket win over
Royal Challengers Bangalore
(RCB).
Jasprit Bumrah's heroics with the ball restricted RCB to 164/6 wickets after which Suryakumar Yadav led his team to victory with an unbeaten 79 off 43 balls at the Sheikh Zayed Stadium.
Suryakumar hit the winning runs with a four and took MI to victory with five balls to spare. He hit 10 fours and three sixes in his innings. He anchored the innings after walking into the middle in the sixth over, notably putting up a 51-run stand with Hardik Pandya for the fifth wicket that all but sealed the win for MI.
Kieron Pollard faced just one ball after Pandya's dismissal, which he dispatched for four and thus left his team needing just three to win off the last over.
Earlier, were off to a strong start with openers Devdutt Padikkal and Josh Philippe putting up a partnership of 71 runs in 47 balls. Padikkal then struck up useful partnerships with RCB captain Virat Kohli and AB de Villiers but the team went into a tailspin after the latter's dismissal.
de Villiers looked like he was on his way to a big score before MI's stand-in captain Kieron Pollard dismissed him in the 16th over. Bumrah was then brought back for the 17th and the over ended up being a double-wicket maiden as he got Shivam Dube and the big wicket of Padikkal in the over.

Boult then dismissed Chris Morris in the 18th over after which Gurkeerat Mann Singh and Washington Sundar took RCB beyond the 160-run mark.
Brief scores: RCB: 164/6 wkts in 20 overs (Devdutt Padikkal 74, Josh Philippe 33; Jasprit Bumrah 3/14) lost to MI 166/6 wkts in 19.1 overs (Suryakumar Yadav 79 not out, Ishan Kishan 25; Mohammed Siraj 2/28) by 5 wkts
Jasprit Bumrah completes 100 wickets in IPL | Cricket News
ABU DHABI:
Mumbai Indians
pacer Jaspreet Bumrah became the 16th cricketer to scalp 100 wickets in the Indian Premier League (IPL) on Wednesday.
The speedster achieved the feat against
Royal Challengers Bangalore
(RCB) at the Sheikh Zayed Stadium. Bumrah picked RCB skipper
Virat Kohli
in the 12th over and reached the milestone mark. Incidentally, Kohli was also Bumrah's first IPL wicket. Bumrah also became the third-youngest to the mark having reached the feat at the age of 26 and 372 days. Piyush Chawla is the fastest having reached the milestone at the age of 26 and 117 days.
Bumrah's three-wicket haul helped Mumbai Indians restrict RCB to 164/6 in the allotted 20 overs.
A special wicket to complete 100 IPL wickets for @Jaspritbumrah93 👏👏#Dream11IPL https://t.co/JZvpFAfbZs

— IndianPremierLeague (@IPL) 1603898849000
Sent into bat first, RCB got off to a good start as openers Joshua Philippe and Devdutt Padikkal put on 54 runs inside the first six overs. Both batsmen eventually put up an opening stand of 71 runs.
The partnership was finally broken by Rahul Chahar in the eighth over as he had Philippe (33). Kohli then joined Padikkal in the middle and the duo stitched together a brief 24-run stand. In search of a wicket, Kieron Pollard brought Bumrah into the attack and the pacer did not disappoint as he bounced out Kohli (9), reducing RCB to 95/2 in the 12th over.
AB de Villiers then joined Padikkal in the middle and both batsmen changed the tempo of the innings by playing big shots consistently. Both batsmen put together 36 runs for the third wicket, but Pollard provided the crucial breakthrough of de Villiers (15), reducing RCB to 131/3 in the 16th over.
In the very next over, Bumrah sent Shivam Dube (2) and the set batsman Padikkal (74) back to the pavilion, and this put RCB's innings in a spot of bother at 134/5 in the 17th over. In the final overs, RCB kept on losing wickets at regular intervals and as a result, the side was restricted to under the 165-run mark.
For Mumbai, Bumrah scalped three wickets while Trent Boult, Deepak Chahar, and Pollard took one wicket each.