ICAI adamant on exams, students see red over Covid safety
MUMBAI: The chartered accountancy (CA) exams are scheduled to begin from November 21 at 1,100 centres across the country. However, thousands of students have raised questions on the safety protocols being followed by the Institute of Chartered Accountants of India (ICAI). They have flooded the social media with posts criticising the body's adamant stance on conducting physical examination, and pointed to rising cases and lockdowns in cities like Delhi and Ahmedabad.
A student said that company secretary and cost accountancy institutes have postponed the exams in view of the imminent second wave of Covid-19, but the ICAI is adamant on holding it despite students' petition to the Supreme Court.
Some students said when they visited the allocated exam centres, they found them not following the Ministry of Home Affairs guidelines restricting mass gatherings to maximum 200 people or 50 per cent of capacity, whichever is less. One exam centre in Gurgaon has made arrangements for 750 students at a time. An international school in Gorai has divided two floors in multiple blocks of 20, which will have 400 students in one building at a time.
"This is not a one-day exam. It will continue for 24 days and the ICAI has not communicated what happens if a student is found Covid-positive after two or three papers," a student said, pointing out that the ICAI has changed many centres in the last 72 hours. "Is it really going to be possible to sanitise these?" he asked.
Another problem, students said, is lack of transport in many cities. "The institute should be reassuring students by taking all safety precautions. Instead, they are giving us the option to opt out and reappear in January. If ICAI had to be so adamant, they should have conducted exams in May itself," said another Mumbai student.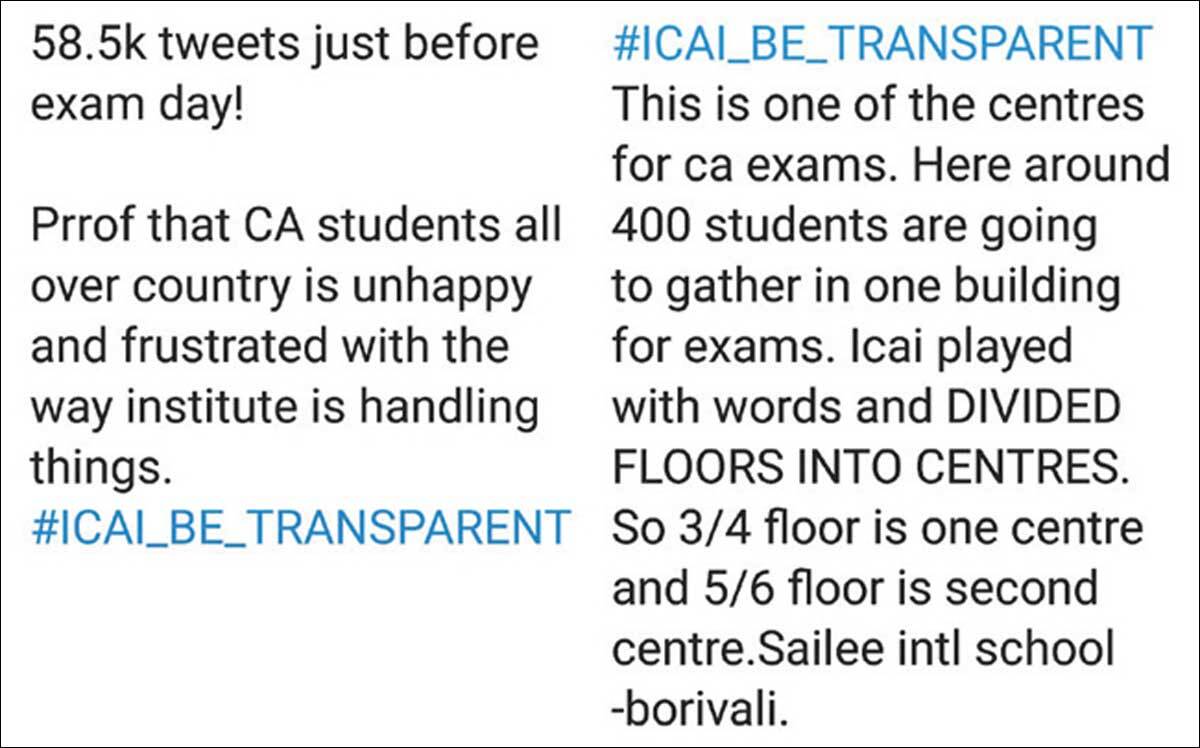 President of ICAI, Atul Kumar Gupta said the exams are being conducted after the Supreme Court nod, and by adhering to Ministry of Home Affairs guidelines for Covid-19.
He said ICAI is not the only one conducting exams, and that even UPSC is doing the same. "In UPSC exams, 400 plus candidates were appearing at one exam centre, but we have maintained 147 candidates. We have given the Opt-Out option to students both before and during the exam. Yet, students are raising questions, and abusing ICAI functionaries on twitter," he said.
On the question of exam centres being far off and being changed last minute, Gupta said, "We had 400 exam centres last year. Looking at the pandemic situation, we have increased them to 1,100 this time. If 25-30 centres are changed, they are changed because they are in containment zones. ICAI is working 24×7 to provide an alternative."
He assured students that a distance of six feet would be maintained. "We will also be providing masks, sanitisers and temperature guns at centres," he said.

Does NEP seek to end reservation policy? Yechury asks PM
NEW DELHI: CPI(M) general secretary Sitaram Yechury wrote to Prime Minister Narendra Modi on Monday, asking him if the new National Education Policy sought to end the reservation policy in the educational institutions.
In the letter, Yechury highlighted how the NEP had no mention of reservations for the Scheduled Castes, Scheduled Tribes and Other Backward Class communities, and the differently-abled.
Approved by the Union cabinet in July, the NEP replaces the 34-year-old National Policy on Education framed in 1986. It is aimed at paving the way for transformational reforms in school and higher education systems.
"I am writing this letter to highlight one particular issue which is causing great anxiety especially among SC, ST, OBC communities and the disabled," Yechury said. "It is truly shocking that NEP 2020 makes no mention of reservations for these sections, either for admissions or for appointments to teaching and non-teaching positions."
In fact, even the word 'reservation' does not appear anywhere in the policy document. This has led to widespread concern whether this act of omission is deliberate, conveying the intention to reverse many decades of efforts to integrate quality, quantity and equity in the education system, according to Yechury.

The CPI(M) leader sought Modi's response to a set of questions, which the former said were pertinent aspects that need to be discussed.
"Does NEP 2020 seek to end the policy of reservations for SC, ST, OBC and disabled in educational institutions? If not, could you please clarify as to why NEP2020 does not contain any mention of reservations?," Yechury asked.
He alleged that various elements of the NEP were being rolled out in different parts of the country in an ad-hoc "piecemeal manner" without discussing with important stakeholders — state governments (education is on the concurrent list), students, teachers, non-teaching staff and experts.
"This is creating grave uncertainties and confusion about the actual direction proposed for the Indian Education system under this new policy, by your government," he added.
IISER Pune team wins gold at the iGEM 2020 synthetic biology competition
PUNE: A team of 14 students from Indian Institute of Science Education and Research (IISER) Pune who competed at the 2020 international Genetically Engineered Machines (iGEM) contest, have won a gold medal at the International Giant Jamboree held virtually during November 13-22, 2020. The team also bagged the iGEMer's award, meaning they were officially voted the best undergraduate team project by all the other teams in the competition, said an official release from IISER, Pune.
The iGEM (International Genetically Engineered Machine) competition is an international competition organized to give high school and collegiate students a platform to use synthetic biology to tackle real life problems facing the world today.
Describing the challenge, the official release said, "The IISER Pune team worked on developing a multi-faceted approach towards eradicating Malaria. They aimed to develop a library of protein-based therapeutics to combat the disease and a simple, cheap and efficient diagnostic kit along with an awareness campaign aimed at informing the public about the methods of prevention and cure. "
Explaining the work behind the win, the release further said, "Working over 8 months, the team computationally designed short protein sequences that could be orally delivered as medication to stop the spread of Malaria in the human body. The team's diagnostic kit consisted of an easy to use software that they developed with an accuracy of 95.45% that uses images of blood smears to detect Malaria. These images can be cheaply and easily obtained using the existing technologies of a Foldscope (a foldable microscope) and a Paper Centrifuge which cumulatively cost under 100 rupees."

Karnataka schools reopening news: Karnataka COVID-19 panel against reopening schools in December
BENGALURU: The Technical Advisory Committee for COVID-19 in Karnataka has recommended to the state government not to reopen schools in December ahead of Chief Minister B S Yediyurappa's a key meeting on Monday to take a call on the matter. "After extensive deliberations it was unanimously resolved not to reopen the schools in December, proceedings of the COVID-19 52nd Technical Advisory Committee (TAC) meeting held on Sunday said. The COVID-19 scenario shall be reviewed in the last week of December to consider reopening of schools at an appropriate time subsequently, it said, adding that this recommendation was for the consideration of the government in the larger public interest of the state. The schools have remained closed since March when the national lockdown was first enforced to combat COVID-19. The proceedings of the meeting, headed by Chairman Dr M K Sudarshan, said, the current scenario of COVID-19 in the state was showing a declining trend with around 1,700 cases and 20 deaths reported daily.
It was important to consolidate gains made after great efforts in the last eight months to contain the disease in the state, the panel said, pointing to the spike or resurgence of cases in Delhi, Haryana, Gujarat, Rajasthan and others.
Besides, the months of December and January due to winter are cold and conducive to occurrence and spread of respiratory infections, including COVID-19, it said, adding that the epidemiological perspective based on a state survey done in September is that there may be a spike in cases in the districts with low prevalence.
Chief Minister Yediyurappa and Primary and Secondary Education minister S Suresh Kumar are holding a meeting on Monday with the Education Department and other government officials to discuss reopening of schools.

The government has also taken suggestions from parents, health committee officials and educational experts, and other stakeholders.
Ahead of the meeting Yediyurappa said, "After taking note of the opinion expressed in the meeting, gathering suggestions from every one, we will take a decision. We will discuss and let you know the outcome."
"Schools had to open in June, six months have gone. There are various opinions like not to open schools, to open for selective clases. Also government school students in rural areas are not getting the benefit of online classes," Kumar said.
There were also social problesms arsing with reports about child labour and child marrigaes, he said.
The graduate, post-graduate, diploma and engineering colleges have reopened on November 17 in the state with preventive measures for COVID-19, but the attendance of students is said to be very poor so far.