I Used to Go Here review – beguiling back-to-college comedy | Film
Film-maker and actor Kris Rey is the cream of the mumblecore generation. Her 2009 debut about young Americans travelling and looking for new experiences in Costa Rica deserves attention simply due to its genius title: It Was Great, But I Was Ready to Come Home. Now she has made a beguiling comedy of manners: exquisitely awkward and painful, but also with a lovably broad streak of farcical absurdity.
Gillian Jacobs is Kate, a thirtysomething woman who is intensely stressed because her first novel has just been published and also because her relationship has collapsed. In this crisis of self-belief, she is flatteringly invited to return to her old college to give a reading and meet students – the invitation coming from her creepy (and married) former creative-writing professor David, tremendously played by Jemaine Clement. She once had a crush on him, and his clearly unaltered interest in her is now queasily complicated by his starstruck reverence for her career, which has outpaced his.
The moment Kate arrives back at her alma mater, she is stunned at how utterly unchanged it is, how warmly she feels about it and how ready she is to luxuriate in its reassuring familiarity, while also feeling an agreeable ego boost at being the visiting celebrity. Jacobs cleverly shows how overwhelmed Kate is to be here, and how happy she believes herself to have been as a student compared to her current uncertainty.
Slowly but surely – and very, very weirdly – she starts getting involved in the lives of the students who now live in "her" shared student house, inexorably regressing to her former student self. What's so funny about the film is that it shows how very little divides your early-twentysomething self from your mid-thirtysomething self – you're never too old to be humiliated.
• I Used to Go Here is on digital platforms from 14 September.
Baby Done review – Rose Matafeo is wonderful in irresistible film about parenthood | Film
During an early moment in director Curtis Vowell's very enjoyable and sassy New Zealand comedy Baby Done, the protagonist, Zoe (Rose Matafeo), articulates her mixed feelings towards bringing another life into this world. "I want to have a baby," she says, "I just don't want to turn into a mum."
The Taika Waititi-produced film is not about the fear of being a bad parent, or even of being a parent per se, but rather how one's existence changes when a little person emerges – the start of the bub's life inevitably signalling the end of certain aspects of the parent's.
This of course requires kissing certain aspirations goodbye, or at least realigning expectations – which, for Zoe, an arborist, means ditching her plans to win a national tree-climbing competition: not exactly a widely relatable sacrifice, but each to their own. The film opens with her literally up a tree, before showing Zoe figuratively crashing down to earth in a medical clinic, when she incredulously receives a positive result on a pregnancy test.
More or less in a state of denial, Zoe initially conceals the news from her partner Tim (Matthew Lewis), who is also an arborist – because the couple that chop down trees together … stays together? They both consider themselves adventurers and are wary about living life according to the conventional trajectory. The title is dropped at a baby shower where, surrounded by people who have babies, are babies, or are pregnant, Zoe summarises that aforementioned trajectory in only four words: "Married, house, baby, done."
The scope of the film spans the journey from pregnancy to birth. For a fun companion piece picking up where it left off, with a not dissimilar outlook, viewers can go back across the Tasman and watch ABC TV's The Letdown, which explores what comes after birth: ie sleep deprivation, awkward social encounters and things that happen when you sleep in a car situated on a drug dealer's turf.
Baby Done's badinage-filled script, written by Sophie Henderson, inflates small moments into feelings and situations that mean more than what is spoken, sometimes in quite subtle ways. Instead of directly stating that Tim is afraid to be a father, for instance, Henderson has him greeting another person's toddler with an ear-to-ear Cheshire grin on his face, only for the kid to respond by bursting into tears. We've all been there, right, helpless in the face of infantile rejection?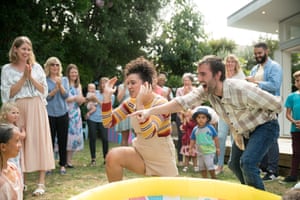 Matafeo's wonderful, compulsively affable performance is core to the film's irresistible good-naturedness: its spirit, pluck, bounce. You want to be her friend, and in a strange way you feel like you are her friend. She leans into you, invites you into her world, doing so in a way that seems almost able to read the audience's responses in real time – like a chatty seatmate on a plane, who can judge the mood and is somebody you actually want to talk to.
Matafeo's chemistry with Lewis (contributing another thoroughly likable performance as an unremarkable, every day sort of character) allows for a laid-back riffing. The pair's generally moderate temperaments make their relative explosions of impatience and anxiety funnier than they might have been otherwise. It's a good thing the writing, pacing and performances gel so well, because the film's nondescript production values serve to emphasise them, pulling us into the characters' lives without much showiness or flair.
Baby Done is sharper and pacier than Vowell's previous feature, 2013's Fantail: a scruffily textured drama about a young white petrol station attendant who believes she is Māori. In order to ratchet up dramatic stakes as the birth date approaches, Vowell and Henderson in Baby Done present a spin on the moth-eaten "will they or won't they" question, in a lurch towards formula which represents the writing at its most irritatingly conventional.
Still, the film coasts along just fine, switching from comedy to drama swiftly thanks to humour that's so invested in characters and feeling. The stakes are never high but you care for these people; you want them to be happy. Always there is lightness of touch, with many small situations triggering giggles and sometimes guffaws—from the appearance of Brian the "pregaphile" (Nic Sampson) to a confetti bomb detonation moment that well and truly tickled my ribs.
Baby Done is funny; it's sweet; it means something. Most of all it's charming.
• Baby Done opens in Australian and New Zealand cinemas on 22 October
Jamie Lynn Spears Auditioned For Twilight
"I'm not playing a vampire."
It's hard to picture anyone but Kristen Stewart playing Bella Swan in Twilight now, but back in 2006 actors like Jennifer Lawrence, Lily Collins, and Michelle Trachtenberg auditioned for the iconic role.
And, in a new interview with Nylon, Jamie Lynn Spears revealed that she also auditioned for the role — even though she really didn't want to.
"They had to force me. Force me," she said, speaking of her managers. "I remember just thinking like, 'Y'all are insane. I'm not playing a vampire. That is so stupid. Why would I do that?' But I went and read for that role."
"I remember sitting in this little room, and I think Lily Collins was there, and I felt so sick. Little did I know, I was pregnant."
Earlier this year, Jamie Lynn also spoke about her Twilight audition and thinking a vampire movie was "stupid" on Maria Menounos' YouTube show Better Together, concluding: "That just shows how much I knew. Those types of things, you just have to laugh at."
Fortunately, everything worked out just fine for Jamie Lynn, who's gearing up to release a remix of the immensely popular Zoey 101 theme song "Follow Me":
TV and Movies
Get all the best moments in pop culture & entertainment delivered to your inbox.
Most Jaw-Dropping The Boys Season 2 Moments
This entire montage was heavy, heartbreaking, and brilliant. It made a blatant callout to our current times and displayed how ultra-patriotic attitudes and media breed prejudice and xenophobia, proving that although The Boys takes place in an alternate world, our world isn't really that different.