How my Puerto Rican mother became an expert Indian cook | Food
When I was in sixth grade, my history teacher asked our class to bring in food that was reflective of our family's personal heritage as part of an exercise to experience one another's cultural backgrounds. The food could either be purchased or prepared with a parent.
In my predominantly white Long Island suburb, not far from New York City, most of my fellow students were planning offerings that featured common European fare (corned beef and cabbage, spaghetti, gyros) or classic American dishes (meatloaf, hotdogs, mashed potatoes.) A child of Indian, Puerto Rican and Italian descent, I wanted to offer a dish I had grown up with, but that I presumed none of my classmates had ever tried.
"How about pakoras?" my mom Loretta said to me that evening. Pakoras – chopped vegetables deep-fried in lightly spiced batter – were the perfect introductory snack into Indian cuisine. They weren't spicy and their appearance wasn't intimidating to someone who hadn't tasted our country's cuisine before.
The only thing was – my mother isn't Indian.
A Puerto Rican and Italian American from the Bronx, she had met my father Roop, an immigrant from Mumbai, in the late 1970s. They fell in love and married in 1981. My brother and I were spoiled with meals from all three cultures: shrimp curry on Tuesdays, arroz con habichuelas y pollo (rice and beans with chicken) on Thursdays, or lasagna with meatballs on Sundays.
The journey it took for her to become a confident home cook of Indian cuisine was arduous – let alone having to enter an entirely new culture.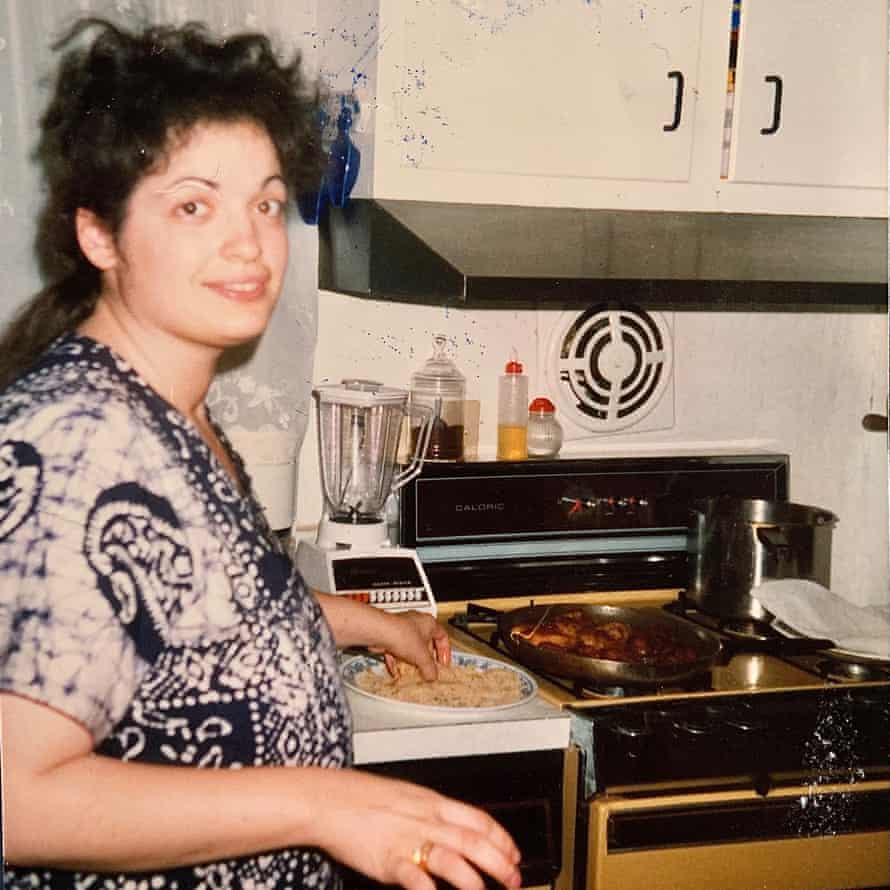 In 1979, when Loretta and Roop were dating, he'd take her to restaurants in Jackson Heights, in Queens, where many working-class immigrants lived upon arriving in the US. The aromas, colors, tastes and textures that flowed out of storefronts from merchants selling Indian goods intoxicated my mother, and piqued her interest in Indian culture.
My dad valued his Indian identity, as did his friends and family living in New York. Being accepted within their insular community meant a lot to my mother. "A lot of my family members could not understand why I was trying so hard," she said. "Why I was dressing in Indian clothing and embracing the culture as I did. They questioned it. They rolled their eyes. But I think when you really care and love someone, you do those things."
Soon, they decided to marry. But first, she had to meet her soon-to-be in-laws visiting from Mumbai, who worried about their son marrying an American.
"Can you make a meal for 50 people?" was the first question Roop's father asked my mother upon meeting her. "Sure!" she responded with all the enthusiasm of a 22-year-old.. My mother had her work cut out for her. "I had never cooked before. I had to learn to cook Italian, Puerto Rican and Indian food – all at the same time."
Months earlier, my mother's first attempt at Indian cooking was a disaster. She had tried her hand at making chicken curry for my dad and his friends. The recipe called for coconut milk, but all she could find was Coco López, a Puerto Rican coconut cream typically used in piña coladas. It was an embarrassing moment for my insecure mother, as the unforgiving wives and girlfriends she had cooked for reveled in her failure. "So, how does it feel to be marrying a foreigner?" one of them said to Roop. "No, we are the foreigners," he said, referring to himself and the entire dinner party of Indian immigrants, and defending my mother.
In the months leading up to their wedding, Loretta doubled down her efforts. "It took around 10 to 15 tries to perfect chicken curry," she remembers. She took night classes at the Indian consulate and would ask Indian restaurant owners if she could observe the chefs in the kitchen, jotting down hand-written notes.
Indian cookbooks were not popular in the US at the time, butshe managed to find a used copy of Madhur Jaffrey's An Invitation to Indian Cooking, which had step-by-step recipes she could follow. And when her mother-in-law Gopi visited from India, she taught her basic bread-making from scratch – from rolling the dough to cooking over a skillet. "Chapatis [flatbread]took a couple of years to get right. But eventually, I learned to make more: pooris, lolis and parathas [stuffed with spiced potatoes]. I think my lolis were a great success."
My dad's parents finally approved of his wish to wed my mother and eventually welcomed her into the family. Two ceremonies were held in Queens: one in a temple and one in a church, for the sake of each other's parents.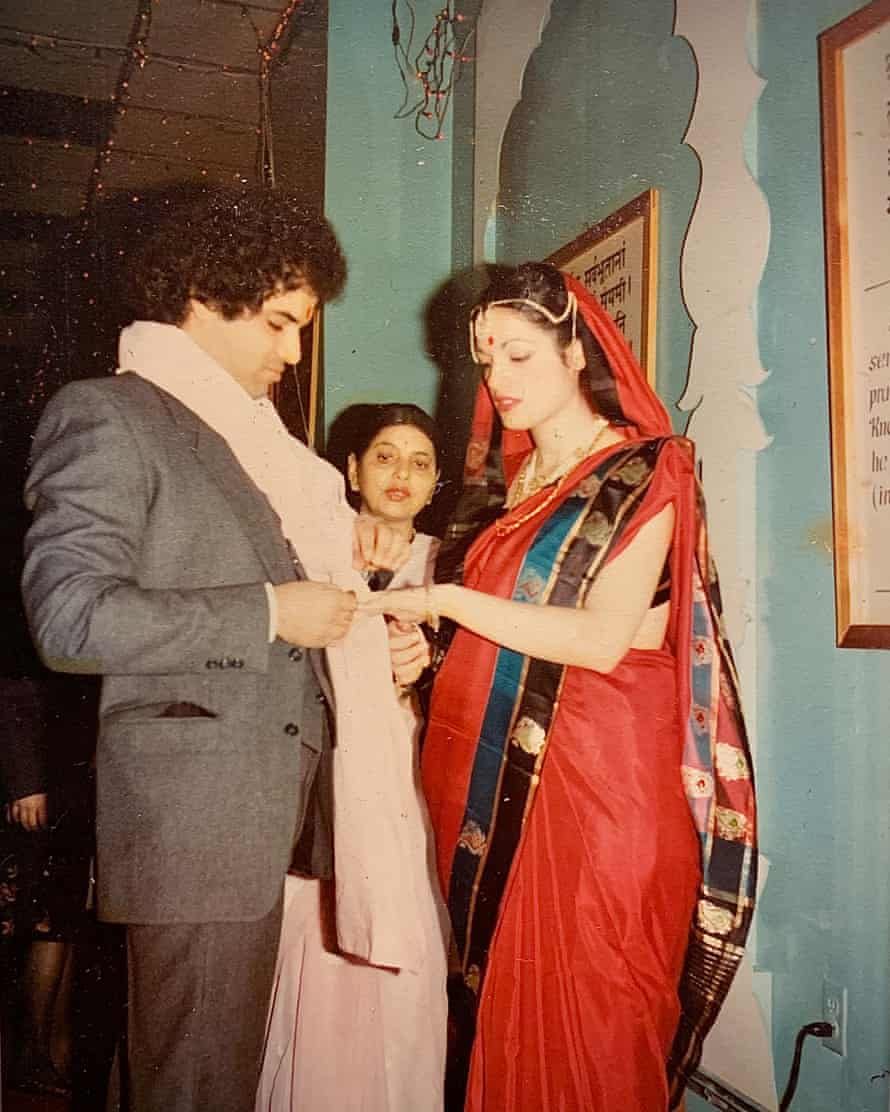 Over the years, as Loretta grew more confident in the kitchen, she attempted a variety of dishes for friends and family: palak paneer (puréed spinach with cheese curd), aloo gobi (cauliflower and potatoes in a dry spice) and her pakoras, which were becoming increasingly popular. At dinner parties, her dishes became a hit within her new Indian social circle.
As we finished pan-frying the pakoras before I could take them to school, my mother said to me, "When you do something, do it because you truly are interested in it. Do not do it for somebody else. Do it for yourself because you want to and don't let people dictate what you should learn."
The following day, I walked into class with a new sense of pride as I placed the warm tin tray onto the table spread. Of all the dishes on display, it was the only one students completely devoured. "How long did it take to make these?" my teacher asked. "Took years," I said smiling.
Meera Sodha's recipe for vegan haggis kheema and tattie rotis | Vegan food and drink
Burns Night and my birthday are on the same day, which, over the years, has been both a blessing and a curse – a curse in that I haven't always wanted to eat haggis, neeps and tatties or read poetry on 25 January, and a blessing in that there's always been a pre-set suggestion on the birthday party idea-o-meter that's more interesting than the usual: "Pub?" In any case, this year I am embracing it fully, merging Burns' love for haggis and tatties with my love of Indian kheema and rotis, and so forming the inaugural Burns-Sodha birthday meal of haggis kheema and tattie rotis.
Haggis kheema and tattie rotis
Treat the haggis and roti recipes separately, if you wish (and if you're short of time, you could always buy wheat rotis). The dish is built around Macsween's vegetarian haggis, which you'll need to buy – it's widely available in most supermarkets.
Prep 20 min
Cook 1 hr 10 min
Serves 4
For the tattie rotis
300g maris piper potatoes, peeled and cut into 3cm cubes (250g net weight)
1 tbsp rapeseed oil, plus 1 tsp extra for frying the rotis
Salt
½ tsp nigella seeds
125g plain white flour, plus extra for dusting
For the haggis kheema
3 tbsp rapeseed oil
1 medium leek (250g), finely sliced
1 large onion, peeled and finely chopped
2cm piece fresh ginger, peeled and grated
5 garlic cloves, peeled and minced
2 Indian green finger chillies, very finely chopped
1kg vegan haggis
2 tsp ground coriander
2½ tsp ground cumin
½ tsp turmeric
100g non-dairy yoghurt – I like Coconut Collaborative
1 large handful (10g) fresh mint leaves, chopped
1 large handful (15g) fresh coriander leaves, chopped
Bring a small pan of water to a rolling boil, drop in the potatoes and cook for 12 minutes, or until tender. Drain and leave to dry in the colander. When dry, put the cooked potatoes back into the same pan, add the oil, half a teaspoon of salt and the nigella seeds, and mash really well. Add the flour and knead with your hands until the mix comes together into a uniform ball of dough.
Lightly flour a work surface and lay out a large sheet of greaseproof paper. Cut the roti dough into four equal pieces. Take one piece of dough, roll it out into a 6cm-diameter circle (dip the rolling pin in flour if need be), then transfer to the paper and repeat with the remaining dough.
Heat a teaspoon of oil in a large, nonstick frying pan and, when hot, lay in the rotis and cook for about a minute and a half on each side, until blackened in places and there are no uncooked, doughy spots – as the pan starts to heat up, the roti will cook more quickly, so you may need to reduce the cooking time and/or heat. Cover the cooked rotis with foil and set aside while you make the kheema.
In the same frying pan, heat the oil for the kheema over a medium heat. When hot, add the leek and onion, and cook for about eight minutes, until soft and translucent. Add the ginger, garlic and chillies, stir to mix and cook for two minutes more.
Crumble in the haggis and cook, stirring frequently, for about eight minutes – it may stick to the pan, but persevere. Stir in the ground coriander, cumin, turmeric and yoghurt, cook for a further four minutes, then taste for seasoning. Add salt a quarter-teaspoon at a time, mixing and tasting after each addition, then stir in the fresh herbs and serve hot with the rotis.
Coronavirus symptoms: 3 signs COVID-19 is spreading to your skin, check now
For many people suffering from COVID-19, the virus can spread to the veins and arteries and cause inflammation, which shows up on the skin. This rapid inflammation can result in rashes, which can be described as 'red, itchy and even bumpy looking spots' at times.
In younger children and babies, the appearance of mottled or patchy skin, which can happen on the legs, hands, belly or the back could be a sign to look out for.
Patchy, bumpy skin with redness can also happen due to the change in the blood pressure levels and flow of oxygen in the body. It can also be resultant of extreme chills and shivers which happen with a fever.
21 BEST skincare tips for 2021
Good skin is always in trend. We do take care of our skin but in bits and pieces. It would be easy to maintain a healthy skin when you start to understand why it is essential to have good skin. Good skin care and healthy lifestyle choices can help delay natural ageing and prevent various skin problems. And, since we have stepped into 2021 with hopes and aspirations, we got in touch with Dr. Blossom Kochhar, Chairperson Blossom Kochhar group of companies to list out 21 skincare tips for every one to follow this year:
1. Protect Your Skin from Sun: One of the most important ways to take care of your skin is to protect it from the sun. Exposure to sun can cause wrinkles, age spots and other skin problems like skin cancer. It is always recommended to use sunscreen with an SPF of at least 15. Apply a generous amount of sunscreen and reapply the sunscreen as and when required. You can wear a hat to restrict harmful rays from reaching your skin.
2. Treat Your Skin Gently: Using hot water on your skin can remove oils from the skin and make it drier. Use warm water rather than hot water. Avoid strong soaps or cleansers that can strip oil and moisture from your skin. After washing or bathing, gently pat or blot your skin. Dry your towel so that some moisture stays on your skin.

3. If you have dry skin, make sure that you moisturize your skin adequately so that moisture remains on your skin. For daily use, it is recommended to use a moisturizer that has SPF in it.
4. A Healthy Diet: A healthy diet can help you look and feel your best. Eat plenty of fruits, vegetables, whole grains and lean proteins. Including fish oil or fish oil supplements and low in unhealthy fats and processed or refined carbohydrates might promote younger looking skin. Drinking plenty of water helps keep your skin hydrated.
5. Stress & Sleep: Uncontrolled stress can make your skin more sensitive and create skin problems. To encourage healthy skin and a healthy state of mind. Getting proper sleep helps you to rejuvenate. While you sleep, your skin is in repair mode. Hence it is recommended to have stress-free sleep for at least 8 hours.
6. Maintaining Skin Care Routine: Following CTOM as a part of your skincare routine is essential to maintain healthy skin. Using toners for your skin can make your skin look hydrated. It wipes out all the impurities and can make your skin feel softer and supple.
7. With most of us glued to our laptops and all the time attending some virtual meeting or another our eyes have gone for a toss. So, a lot care and importance should be given to eye care. Keep a good eye cream or gel to avoid getting dark circles. You can also put potato slices on your eyes for 5 minutes to soothe them.
8. Banana face pack is the most effective and moisturising face pack. Take a banana, 1 tablespoon honey, a quarter teaspoon of cream or milk powder and 2 drops of sandalwood oil. Mix these ingredients well and apply on your face. Let it on for 20 minutes, rinse off afterwards and apply a moisturiser in the end.
9. While you pick your foundation, make sure you pick a water-based lightweight foundation that provides a fine look on the skin rather than a greasy look.
10. It is very common that we don't feel very thirsty in winters. But it is extremely important that we drink at least 8 glasses of water. It not only hydrates your skin but flush out toxins from your skin.
11. Exfoliate your skin twice a week, use rice powder, yoghurt, a pinch of salt and a squeeze of lemon. Mix this all together to make a nice exfoliator at home.
12. Turmeric helps in simulating new skin cell growths, hence controls ageing by protecting cells from damage. Combine turmeric with rice powder and use that paste once a week to reduce wrinkles and fine lines.
13. Add 2 drops of jasmine essential oil with almond oil, and massage gently on your face. After the massage, place a hot towel over your face for oil to seep in better and relax further. This will help improve the elasticity of your skin.
14. In a spray bottle, dilute 3-4 drops of Rose essential oil with water to create a homemade toner or a face mist. This helps restore freshness all through the day.
15. Neroli essential oil is excellent for rejuvenating mature dry skin. Use it for facial massage by adding 2 drops of it with almond oil and massage gently. After massaging with this place a hot towel over your face for oil to seep in better and relax further.
16. For chronic acne, apply 1 drop of tea tree essential oil directly on the affected area pimples.
17. Take a teaspoon of yoghurt, add a pinch of salt and a few drops of lemon & sandalwood essential oil in it. Mix all these together. Now take a slice of potato to apple the mixture evenly on your face. Keep it on for 15-20 minute and rinse it off.
This is an excellent recipe for dark circles and for removing tan.

18. Tomato puree works gently on skin and is beneficial in removing tan from the skin. Besides replenishing the skin with oils, it evens the skin tone, and helps in making the dry skin bright and glowing.
19. If you are looking for overnight brightness then make a face pack with cucumber, rosewater and glycerin.
20. Use coffee bean scrub to remove the dead skin, coffee is especially good for mature skin.
21. If you have oily skin remember that you still need to moisturize your skin in all seasons. But, to avoid getting your pores clogged use gel-based products like aloe vera sunscreen gel, juniper berry moisturizer which are easy on your skin.