How are COVID-19 symptoms different in children?
Besides all other common and classic symptoms of COVID, recent reports have suggested an increase in the number of MIS-C cases in children infected with COVID-19. As per the research, COVID-19 can cause a serious condition called multisystem inflammatory syndrome in children (MIS-C).
Children with MIS-C condition have come up with severe inflammation in various organs of the body, including heart, lungs, blood vessels, kidneys, digestive system, brain, skin or eyes. Earlier a group of researchers at The New York Medics observed a group of 35 children who were admitted to two hospitals. Out of 35 children, 25 met the criteria of the syndrome (MIS-C). The medic claimed that the syndrome affected at least two of the organs in their body, with "no alternative plausible diagnosis".
Yotam Ottolenghi's comfort food recipes | Food
Comfort food is mostly about two things: memories and context. So much of what we think of as comforting food are the meals we ate as kids – those warm bowls or plates that appeared, repeatedly and reassuringly, in front of us. As we get older, however, it's more about context: about eating the right thing in the right place at the right time. And, for me, comfort food hits the sweet spot where memory and context collide. Although today's recipes are my own particular sweet spot – the dishes that take me straight back to the sunny home of my youth, and that also work so well in these chilly, short-day months – I hope very much that they bring you some comfort, too.
Sabih hummus (pictured above)
If you have the time, soak and cook your own chickpeas, but if not, good-quality jarred ones will do. This is loosely based on sabih, the popular Israeli sandwich of hummus, aubergine, egg, chopped salad and amba, a mango-and-fenugreek sauce. Serve with warm pita to make it a complete meal.
Prep 20 min
Cook 50 min
Serves 4 as a light lunch
For the sauce
¾ tbsp fenugreek seeds
2 tsp coriander seeds
¼ tsp ground turmeric
1 tsp caster sugar
2½ tbsp lemon juice
Salt and black pepper
2½-3 tbsp (10g) finely chopped parsley
1½ green chillies, finely chopped
For the toppings
2 aubergines, cut in half lengthways (500g)
60ml olive oil
4 eggs
½ large cucumber, deseeded and chopped into 1½cm cubes (220g)
2 tomatoes, chopped into roughly 1½cm cubes (200g)
1 small red onion, peeled and thinly sliced (90g)
2½-3 tbsp (10g) finely chopped parsley
1 tbsp lemon juice
For the hummus
650g cooked chickpeas, warmed through
120g tahini
3 tbsp lemon juice
2 garlic cloves, peeled and crushed
60g ice cubes
Heat the oven to 240C (220C fan)/475F/gas 9.
For the sauce, put the fenugreek and coriander seeds in a small frying pan on medium-high heat and toast for three minutes, until fragrant. Add the turmeric, toast for 20 seconds more, then transfer to a spice grinder and blitz to a fine powder. Tip into a bowl, add the sugar, a quarter-teaspoon of salt, the lemon juice and 75ml water, and whisk to combine. Set aside for 20 minutes, to thicken, then stir in the parsley and chilli.
Meanwhile, use a sharp knife to score a cross-hatch pattern on the cut side of each aubergine half. Put the aubergines halves on a medium oven tray lined with baking paper, scatter over three tablespoons of oil, half a teaspoon of salt and a good grind of pepper, and toss to coat. Arrange the aubergines cut side up on the tray, roast for 35-40 minutes, until deeply golden and soft, then keep warm until ready to serve.
Put all the hummus ingredients in the bowl of a food processor, add three tablespoons of cold water and half a teaspoon of salt, then blitz for about two minutes, until smooth and the ice has broken down into the mix.
Half-fill a medium saucepan with water and bring to a boil. Carefully lower in the eggs, simmer for five minutes, then drain, run under cold water to cool and peel.
In a medium bowl, toss the cucumber, tomato, onion, parsley, lemon juice, the remaining tablespoon of oil, a third of a teaspoon of salt and some pepper.
Spread out the hummus on four medium plates, making a slight well in the centre. Drizzle with the fenugreek sauce, lightly mixing some of it into the hummus. Top each plate with some salad, an aubergine half and a soft-boiled egg, break the eggs open to expose the runny yolk, season the insides and serve.
Macaroni with yoghurt and spicy lamb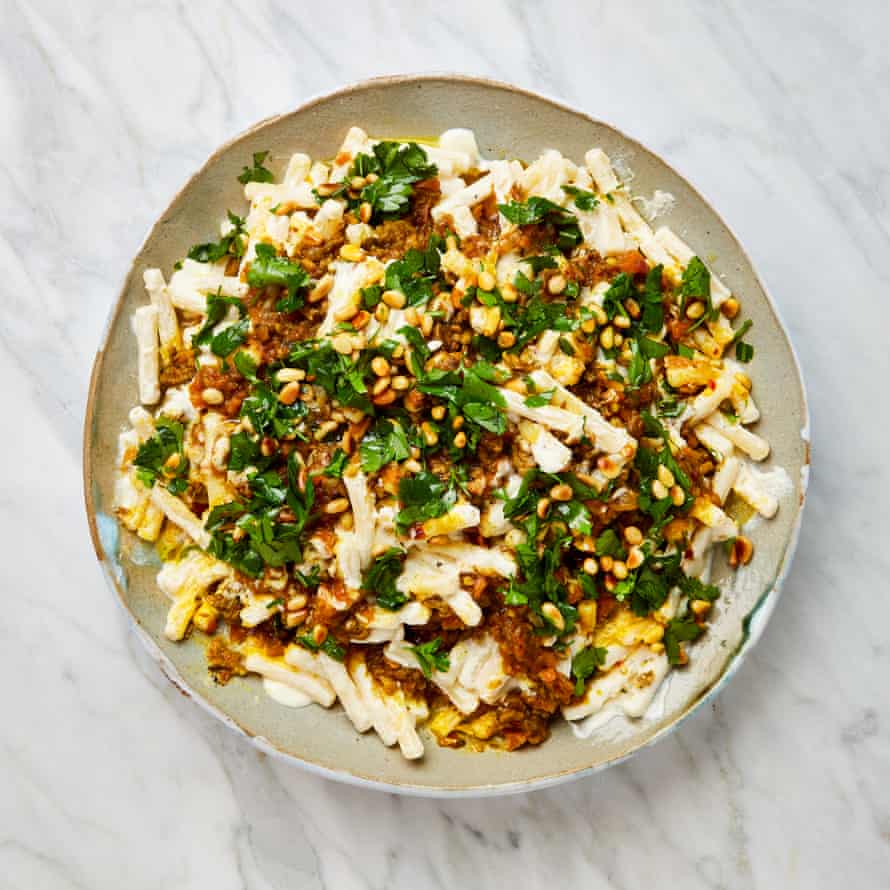 You might not associate pasta with Middle Eastern food, but this sort of bake is a firm feature on the table, particularly if kids are pulling up a chair. This is a lighter take on a traditional spicy macaroni pasta bake, but no less comforting for it.
Prep 25 min
Cook 50 min
Serves 4, generously
For the pasta
500g Greek-style yoghurt
2 large egg yolks
1½ tsp cornflour
1 garlic clove, peeled and crushed
350g sedanini or sedani pasta (or another tubular pasta such as penne)
For the lamb
1 large onion, peeled and roughly chopped (220g net weight)
1 large carrot, peeled and roughly chopped (160g)
6 garlic cloves, peeled and roughly chopped
5-6 tbsp (20g) roughly chopped parsley, roughly chopped
5-6 tbsp (20g) roughly chopped coriander
105ml olive oil
¾ tsp ground turmeric
1 tsp chilli flakes
1 tbsp cumin seeds, roughly crushed in a mortar
300g lamb mince (20% fat)
Salt and black pepper
500g vine tomatoes, roughly grated and skins discarded (370g)
40g pine nuts, well toasted
Put the onion, carrot, garlic and half the herbs in a food processor and pulse until finely chopped but not pureed. Put four tablespoons of the oil in a large saute pan on a medium-high heat and, once hot, add the vegetables and cook, stirring occasionally, for 12 minutes, until softened and lightly browned. Add the spices, lamb mince, three-quarters of a teaspoon of salt and a generous grind of black pepper, and use a spoon to break apart the meat as much as possible. Cook, stirring occasionally, for 12 minutes, until the meat is nicely browned. Add the tomato, cook for five minutes more, then turn the heat to low to keep the mix warm.
For the pasta, put the yoghurt, egg yolks, cornflour, garlic, half a teaspoon of salt and a good grind of pepper in a large bowl and whisk to combine. Transfer to a large, nonstick saute pan and cook on a medium heat, stirring often, for 10 minutes, until the mixture is heated through and thickened.
While the yoghurt is cooking, boil the pasta in a medium saucepan of well-salted boiling water for about 13 minutes, until al dente. Drain the pasta, reserving 300ml of its cooking water. Stir half the reserved pasta water into the lamb mixture, to loosen. Stir the cooked pasta and the rest of the reserved water into the yoghurt pan and cook on a medium heat for about two minutes, just to heat through.
Transfer half the yoghurty pasta to a large plate with a lip and top with half the lamb. Repeat with the remaining pasta and lamb, stirring the meat into the pasta in places. In a small bowl, combine the pine nuts, remaining herbs and last three tablespoons of oil, spoon this all over the top and serve warm.
Tapioca, coconut and sweet potato bowl
There are all sorts of ways to cook tapioca, both sweet and savoury. A popular Malaysian version involves cassava and sweet potatoes, whereas in Mauritius they love it with coconut and raisins, and serve it with poppadoms. This mash-up of the two is made fragrant with pandan leaves and makes a very comforting winter dessert.
Prep 10 min
Cook 50 min
Serves 4
1.7 litres water
130g small tapioca pearls
100g caster sugar
140g coconut cream (from a tin, not a jar)
4 pandan leaves, folded in half lengthways, then again widthways and tied into a knot (or ½ tsp vanilla bean paste)
Flaked salt
100g salted and roasted peanuts, roughly chopped
35g softened coconut oil
2 small sweet potatoes (200g), peeled
2 tbsp maple syrup
3 limes – 1 zested, to get 1 tsp, and juiced, to get 2 tbsp, the rest cut into wedges, to serve
Put a litre of the water in a large saucepan for which you have a lid, and bring to a boil. Once boiling, add the tapioca, cover and cook for 15 minutes. Drain through a fine sieve and rinse under running cold water.
Return the drained tapioca to the same pan with the remaining 700ml water, sugar, coconut cream, pandan leaves (or vanilla bean paste) and a quarter-teaspoon of salt. Cook on a medium-high heat for 20 minutes, stirring frequently to prevent clumping, then discard the pandan, cover the pan and set aside.
Meanwhile, put the peanuts and a tablespoon of coconut oil in a medium frying pan on a medium heat, and fry, stirring often, for five minutes, until evenly browned. Remove from the heat, stir in the lime zest and spoon into a small serving bowl.
Cut the sweet potatoes lengthways into quarters, then cut each quarter into four to six 1cm-thick wedges. Wipe clean the frying pan, set it on a medium-high heat and add the remaining 20g coconut oil. Once melted and hot, fry the wedges for seven minutes, turning them regularly so they brown evenly. When the sweet potatoes are coloured, add the maple syrup, lime juice and a quarter-teaspoon of flaked salt to the pan, cook, stirring, for two minutes, until the sweet potatoes are nicely glazed and the syrup has thickened.
Divide the warm tapioca between four bowls, and top with the sweet potatoes and their syrup. Sprinkle over a few nuts, and serve with the lime wedges and the rest of the nuts in their bowl alongside.
Blind date: 'I realised my questions were getting a bit intense' | Life and style
Matt on Steph
What were you hoping for?
To meet someone interesting and enjoy a slice of normality in the sea of crazy that is the world at the moment.
First impressions?
Wonderful smile and easy to chat to.
What did you talk about?
My geeky hobby of model painting, contemporary dance, what we do for a living, lockdown survival tactics.
Any awkward moments?
Steph asked about my car (a Nissan Juke). I tried to show her, except it was too dark and then the connection was lost.
Good table manners?
She ordered her housemate a takeaway as well, so that deserves a high score.
Best thing about Steph?
She was really inquisitive, and was honest and open in return. I think we both overshared for a blind date, but equally, so it wasn't awkward.
Would you introduce her to your friends?
Yes, I'm sure she'd find them interesting.
Describe Steph in three words
Inquisitive, empathic and spirited.
What do you think she made of you?
Steph said she wanted to meet someone quirky, which is an accurate description of me. I think she would have seen me as the good kind of quirky.
Any connection issues?
A few moments, one caused by me stumbling out of wifi range.
And… did you swap numbers?
Yes.
How did the call end?
We both had work in the morning, so we chatted about that, then swapped numbers and waved goodbye.
If you could change one thing about the evening, what would it be?
I would make sure that my Just Eat account wasn't linked to my work number.
Marks out of 10?
8. I didn't feel that mysterious connection. However, I had a good time and Steph was a fabulous date.
Would you meet again?
Yes, Steph was really different from me and that is refreshing.
Steph on Matt
What were you hoping for?
A face like Eddie Redmayne, a brain like Chris Whitty and a personality like Louis Theroux.
First impressions?
Smartly dressed, with a friendly face.
What did you talk about?
Hobbies, jobs, philosophy, history and podcasts. Matt educated me on different types of dance music and how eating Haribo is a sure way to last until the early hours when raving.
Any awkward moments?
I misunderstood what he meant when he said he does "modelling" – I was expecting to see his portfolio, not a glass cabinet of painted figurines.
Good table manners?
Very! He kindly waited until my food had arrived before tucking in.
Best thing about Matt?
He was talkative and open. Plus incredibly knowledgeable about water reservoirs and now I am, too.
Would you introduce him to your friends?
I'm not sure they'd have much in common.
Describe Matt in three words
Polite, intelligent and quirky.
What do you think he made of you?
Probably pretty nosy and intense, but hopefully friendly.
Any connection issues?
Only when he took the laptop outside to show me his car, after he had tried and failed to find his headtorch, so I couldn't see it… or Matt.
And… did you swap numbers?
We did.
How did the call end?
Matt said, "Well, I wasn't anticipating talking about that on the first date" and I realised my questions were getting a bit intense.
If you could change one thing about the evening, what would it be?
I'd have refrained from getting out my lockdown purchase and doing an amateur tarot card reading for Matt. He couldn't figure out if I was being serious, and neither could I.
Marks out of 10?
6 – Matt was lovely, but I think we're very different people.
Would you meet again?
Based on the cards, our futures don't align.
• Fancy a blind date? Email [email protected]
'A new wave': Kamala Harris elevates black designers on world stage | Fashion
In a year where the global fashion industry has faced its biggest ever racial reckoning Kamala Harris, the first black and south Asian vice-president, has elevated the names of black designers by wearing their clothes on the biggest public stage possible.
By wearing fashion labels Pyer Moss, Christopher John Rogers and Sergio Hudson during last week's inauguration events, Harris was aligning the new administration's commitment to diversity with the fashion industry's attempt to move past systemic, historic racism into a new era. A new era where designers of color get the same opportunities that their white counterparts have had for years.
"When it comes to inauguration events, black designers have been almost exclusively absent," said the author Ronda Racha Penrice, "so it was nice to discover that the fabulous outfits [were] created by black designers."
The concept of "the new" was seen directly on Tuesday when Harris attended an event paying tribute to those lost to the pandemic. She wore a camel color coat featuring a distinctive water design on the back. "The wave means 'a new wave'," said the designer Kerby Jean-Raymond, owner of Pyer Moss, who thought the symbol could be read in the context of the administration being unafraid to confront America's racist past.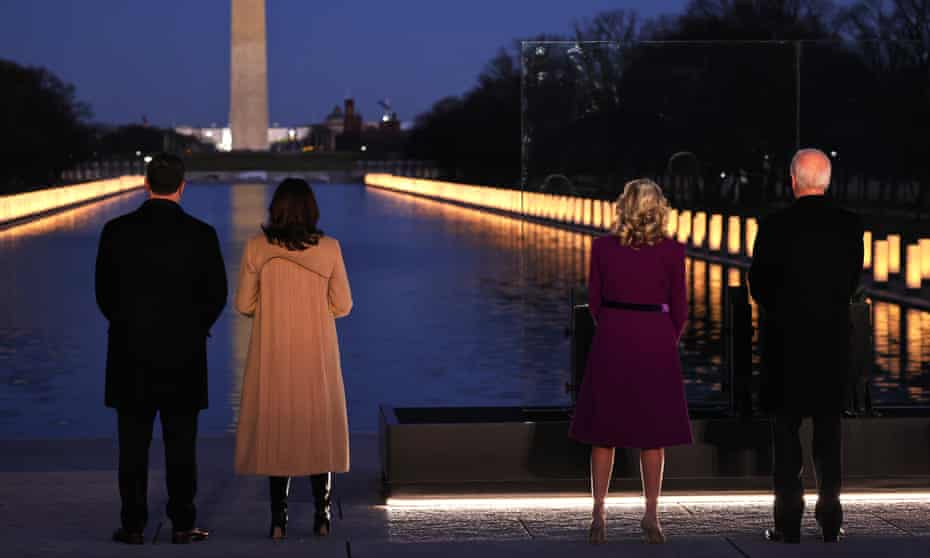 "[The wave] made me think of the Atlantic Ocean," said Prof Eric Darnell Pritchard, author of Fashioning Lives. "As a descendant of enslaved African people, stolen and taken over the Atlantic, I thought immediately of those ancestors."
This interpretation chimes with a through thread of Pyer Moss's previous fashion collections. They have thematically shone a light on unheralded black history and erasure or racial identities, like black cowboys or the musical pioneer Sister Rosetta Tharpe.
This celebration of the individual is something that Pyer Moss has in common with Christopher John Rogers, whose ultraviolet purple coat Harris wore during Wednesday's swearing in ceremony.
Rogers, like Sergio Hudson – the designer of Harris's black tux and sequin dress she wore for the evening inauguration celebrations – have southern roots from Baton Rouge, Louisiana, and Columbia, South Carolina, respectively. "I feel fairly certain that [Rogers and Hudson] have come across stylish black church women," said Racha Penrice. "There is a high drama, but buttoned-up simplicity and sophistication in each man's work that I associated with Black southern women."
Rogers' powerfully bold color palette and use of extreme angles, speak to this high drama and also to the importance of radical individualism.
"There's so much vitriol and pessimism in the air towards individuals that don't fit certain molds or performative expectations," he told the Guardian last year. "So it's nice to combat that with true expressions of self, in whatever form that takes. The most effective in some instances is radical, boisterous personal style."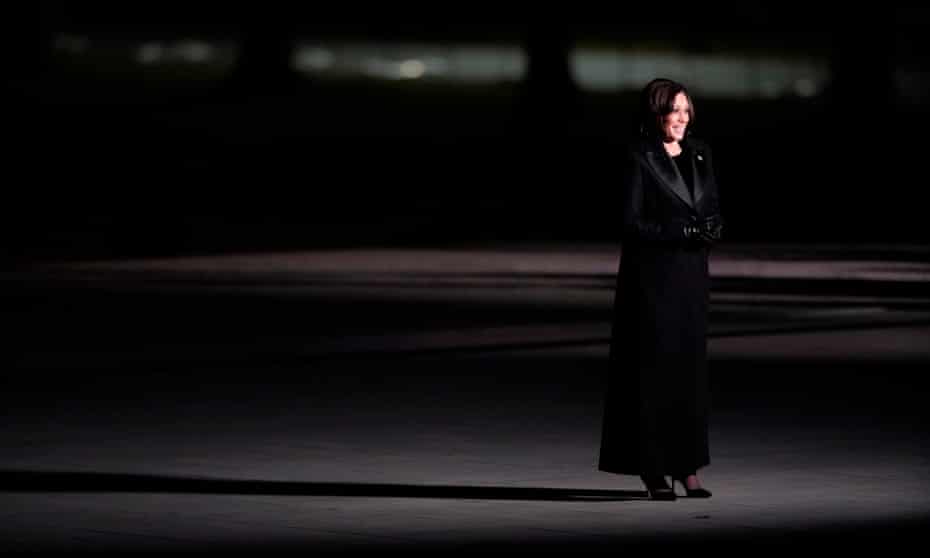 Harris's own personal style was recently picked apart by others when her Vogue cover became, instead of a historic moment, a conversation about the loss of agency women of color face in the public eye. But what did Harris and her team learn from the experience? "She probably learned that she has to set the directive extremely strictly," said the fashion historian Darnell-Jamal Lisby. Indeed, her wardrobe around the inauguration was filled with intent.
Experts believe it is Harris will do more of in the future, though with caveats. Unlike the former first lady Michelle Obama, with whom Harris shared an outfit designed by Sergio Hudson, the vice-president has less sartorial freedom.
"I can foresee VP Harris receiving a certain level of backlash if she were to use fashion in the same way as Flotus," said Lisby "because at the end of the day she is a politician … "[Harris] has to walk a narrow line, because if the public were to be distracted by her style it'd be difficult for her to really enact what she wants to get done."
For the designers worn at the inauguration the exposure should vastly increase the reach of their brands. "Representation of any fashion brand during these sacred ceremonies and political events gives them an exponential boost in recognition and profitability," said Lisby.
Or at least that is what should happen. If it doesn't it will probably be a reflection of the ongoing race issues at the core of the industry.
"This will highlight where the fashion industry and its consumers will have serious work to do to address anti-blackness and how it buttresses economic inequality for black designers and fashion brands," said Darnell Pritchard.