Hotshot Racing review – the 90s arcade racing game reimagined | Games
Scorching blue skies, snaking roads, crudely animated spectators: Hotshot Racing really knows its arcade racing staples. This exercise in pure, unapologetic nostalgia is a loving tribute to early 1990s driving games such as Ridge Racer, Virtua Racing and Daytona USA, with a flat-shaded polygonal art style, primary colour cityscapes and overexcited voiceovers that perfectly recall that heady era of coin-up design.
A single-player Grand Prix mode puts you through progressively tougher circuits and competitions that comprise joyous remixes of much-loved Namco and Sega raceways, the background scenery filled with fairground rides, skyscrapers and ocean views. One minute you're hurtling through a city with trains zooming past, the next you're on a mountain pass swerving between ski lodges. For gamers of a certain age, much of the fun is in spotting specific retro references – a ferris wheel here, a whale diving over the racetrack there – while attempting to keep up with the savagely competitive pack.
Races are close and chaotic; there are only seven other cars on the circuit but they stick with you throughout each lap, constantly nudging your bumper or outright smashing you into the barriers. This is easily survivable at Normal difficulty, where you can clatter into other cars and grind along the guard rails without losing too much speed, and recover from spins. But go up to Hard or Expert in the latter Grand Prix competitions and a tap from another car or a corner taken at slightly the wrong angle can have devastating consequences for your race position. From this point on, you're in proper Ridge Racer territory, memorising every corner and developing a specific, perfectly angled approach for each one. Racing veterans used to the unyielding difficulty of authentic 1990s arcade games will savour the challenge.
What makes this game more than a straightforward tribute is its modernisation of classic driving controls. Tapping the brake puts the car into a drift that'll whip the backend right around into even the tightest corners; however, the designers allow you to steer intricately while the wheels are locked and craft long, arching glides across the track. It's gloriously unrealistic and thrilling, adding new layers to your driving tactics as you swerve through hairpin turns and between rival drivers. A boost gauge, filled by slipstreaming other racers, delivers a few seconds of massive acceleration. The effect reminds me of early 2000s driving series Burnout – which is no coincidence, as Hotshot Racing's creative director Trevor Ley also worked on that series.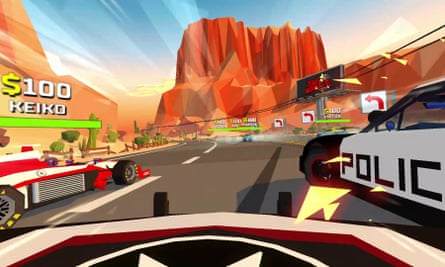 Hotshot Racing

Photograph: Curve Digital
Accompanying the Grand Prix mode are several single race options, including Cops and Robbers, where "criminal" cars are chased down by police cars in a fun nod to Need for Speed, and Drive or Explode, where you have to stay above a certain speed throughout the race or your car blows up. Everything can be played in split-screen multiplayer with up to three friends in the same room, or with eight players online.
Running at a breathless 60-frames-per-second and with tiny loading times, Hotshot Racing is a slick callback to a much-loved era of racing games made by people who are clearly passionate and knowledgeable about the genre. Older players will get all the references; newcomers will enjoy a bright, exhilarating game that forgoes modern frills for pure, seamless racing entertainment.
Ant Group IPO could resume if it resolves issues: PBOC governor
How Reddit Took On Wall Street
Investors on Reddit have launched an attack that's both trolling and serious on Wall Street firms by purchasing shares in GameStop, pushing the stock price up over 480% in a week, costing hedge funds millions of dollars, and skyrocketing young investors' portfolios and egos.
Popular subreddit r/WallStreetBets (WSB), whose tagline is "Like 4chan found a Bloomberg Terminal," has over 2 million members reading and posting "stonks" tips and news. Its biggest obsession in recent weeks has been raising the stock price of GameStop, the old-school video game mall retailer.
"They're digitally doing it in a coordinated attack," Howard Lindzon at Social Leverage, an early stage seed investment fund, told BuzzFeed News.
Lindzon thinks the investors chatting across Reddit — who tend to be millennial and Gen Z men — are just having a fun time causing trouble for hedge funds who'd bet on shares in the gaming retailer dropping. "They're just playing a game," Lindzon said. "And they're having a blast."
For months, there has been chatter encouraging WSB day traders — or "degenerates," as they call themselves — to buy up GameStop (GME) stock. Chewy CEO Ryan Cohen has been pushing GameStop to investors for months. He owns at least 13% of the company's stock and is now on its board, which many took to mean it would move in a more digital direction.
But Wall Street hedge funds, including Citron Research and Melvin Capital, had shorted the stock, meaning they had bet against it and needed it to drop in price in order for their investments to be successful.
After Andrew Left from Citron Research posted a video last week arguing that GameStop's share price would soon drop to $20, people attempted to hack his Twitter account. (He subsequently called the Reddit investors an "angry mob.")
But instead, the GME stock price rose even higher as redditors called on investors to put as much money into the company as they could. In recent weeks, some have declared they were putting their entire retirement and life savings accounts into the company, complete with lots of rocket emojis and declarations that they would not sell.
Trading of GameStop has halted multiple times over the last week because the stock price has jumped so quickly it's triggered market protections. On Monday, the stock surged again, opening at $96 and then jumping to $159 an hour later, its highest-ever price. By the end of the day, it was back in the $70s.
On Tuesday, it opened at $88 and jumped 90% by close. In after-hours trading, it jumped another 50%, to over $230.
A year ago, the share price was $4.
"Any rational person knows this type of trading behavior is short lived," Left told Bloomberg.
By encouraging everyday investors, also known as retail investors, to buy up GME stock and increase its price, hedge funds would have to sell out in order to cut their losses from having shorted the stock, which increases the stock price even further.
"Hedge funds are getting their asses kicked by the retail investor," Lindzon said.
He noted that millennial investors have been sharing information across Reddit and social networks for years, but the sheer number of them now means they are a force to be reckoned with. "It's like the velociraptors in Jurassic Park; they get smarter, and eventually they hop the fence," he said.
The moment has also been a chance for young investors — many of whom have flocked to investing since the pandemic was declared, causing the stock market to jump, helped in part by free brokerage apps such as Robinhood — to flip the bird at established Wall Street firms.
"What I think is happening is that you guys are making such an impact that these fat cats are worried that they have to get up and put in work to earn a living," wrote one of the WSB subreddit moderators in a post on Sunday. "That fuzzy sensation you are feeling is called RESPECT and it is well earned. Wall Street no longer dismisses your presence anymore."
"We put the F U back in fundamentals," one redditor wrote on Tuesday in a post about how many millions of dollars Melvin is estimated to have lost because of the GME surge.
Their actions are having a very real impact on those hedge funds. Two firms announced they were investing over $2 billion into Melvin on Monday — "an emergency influx of cash," as the Wall Street Journal described it — aimed at stabilizing the fund.
But not all the young investors on WSB are making money from GameStop's rise.
On Monday, David — a 25-year-old who works in corporate finance for a private tech company in the Bay Area and lives in the Midwest but asked that his last name not be used in this story — bought about $14,000 in GME stock after reading about it on WSB.
He said he'd been watching the chatter about GameStop for months but finally decided to buy in on Monday. "I just figured that the market is completely irrational and that everything I learned in college means nothing," he told BuzzFeed News.
He bought about $7,000 worth of stock priced at $115 on Monday morning. After watching it rise, he bought another $7,000 at $155 — except that ended up being the stock's highest point that day.
David panicked as he realized he was possibly about to lose 15% of his total portfolio. He sold all of his GME investment and only lost about $600 in total. If he hadn't sold them just moments after buying them, by the end of the day he would have been down around $10,000 (although he would have been up by the end of Tuesday).
"Honestly, the majority of bad trades on WSB are due to FOMO," he told BuzzFeed News over Reddit. "I paid a large (but relatively small) price to learn that lesson."
But for many on WSB, the attitude is a mix of "eat the rich" and "get rich quick" (with some redditors saying that their investments are up millions of dollars), as well a smug joy that their trolling worked and the investing and media worlds were suddenly paying close attention to them.
"A good way to check how many hedge fund managers there are in your building is to check the pavement outside," posted one redditor on Tuesday. "It should be covered in blood."
"Any man that dies holding GME will be greeted by the All-Father himself in Valhalla," another wrote.
Beyond redditors, other investors also see this moment as one when young internet investors are able to have a significant impact on the big Wall Street firms.
Alexis Ohanian, the cofounder of Reddit, believes it reflects a fundamental change. "2021: the mainstream will realize finance will be revolutionized from the bottom-up bc of the internet: Robinhood investors, Alts, crypto, the list goes on..," he tweeted.
Tesla CEO Elon Musk, who has publicly battled with investors who've shorted his company and has a reputation for trolling behavior himself, tweeted a link to the WSB subreddit on Tuesday afternoon, writing, "Gamestonk!!"
Lindzon said he expects hedge funds to get smarter at handling these moments. He believes that even if there are millions of millennial investors, they can really only significantly impact one relatively small company, rather than a whole market, industry, or corporate behemoth, such as Apple.
But it's also a reminder that stock markets are reliant on individuals, their feelings, and their actions.
"All of this is just raw human emotion masquerading around as something more profound," wrote Peter Heilbron, the founder of wealth management company Trace Wealth Advisors, in a blog post about GameStop and Reddit. "Everyone wants to be invited to the party but no one wants to be the one left without a chair when the music stops playing… the friction that exists between those two things is what creates volatility."
And that volatility exists until the game, well, stops.
Alphabet, Facebook rise as Microsoft ad units do better than predicted
Microsoft CEO Satya Nadella speaks during the annual Microsoft shareholders meeting in Bellevue, Washington on November 29, 2017. / AFP PHOTO / Jason Redmond (Photo credit should read JASON REDMOND/AFP via Getty Images)
JASON REDMOND | AFP | Getty Images
Shares of Alphabet, Facebook and other advertising-driven internet companies gained in extended trading on Tuesday after Microsoft's earnings report showed that its advertising businesses did better than expected.
The outcome for two parts of Microsoft that reflect advertisers' activity could indicate improvement in global economic conditions as the coronavirus pandemic begins to respond to widespread vaccination programs.
Microsoft said its LinkedIn social network, whose Marketing Solutions division generates revenue from ads, delivered $2.58 billion in revenue in the December quarter, up about 23% on an annualized basis. Microsoft previously said that growth would be around the same as the previous quarter, which came in at 15.6%.
"LinkedIn's advertising business had a record quarter accounting for more than a third of LinkedIn's total revenue. LinkedIn's Marketing Solutions was up over 50% as advertisers increasingly turned to the platform as the trusted way to reach professionals ready to do business," Microsoft CEO Satya Nadella told analysts on a conference call.
LinkedIn has largely avoided getting caught up in political controversies, unlike Facebook and Twitter. Besides advertising, LinkedIn revenue comes from premium subscriptions and tools for recruiters and salespeople.
Microsoft's search-advertising business, which competes with Alphabet's Google segment, contributed $2.18 billion in third-quarter revenue, up 1%. In October Microsoft's finance chief, Amy Hood, had forecast a decline of mid-to-high single digits (5% to 9%).
Hood also gave guidance for the current quarter.
"Our search and LinkedIn businesses should benefit from the improving advertising market," she said.
In a note distributed to clients on Friday, analysts at Bank of America, who have a buy rating on Microsoft stock, had estimated flat revenue for the search business and 11% growth in LinkedIn.
In after-hours trading, Alphabet was up almost 1%, Facebook was up 1%, Snap rose 1% and Twitter was up almost 3%. Microsoft, meanwhile, rose almost 4% after the earnings report, which reflected strong growth in the company's cloud computing business.
Nominations are open for the 2021 CNBC Disruptor 50, a list of private start-ups using breakthrough technology to become the next generation of great public companies. Submit by Friday, Feb. 12, at 3 pm EST.