Hospital Ward: With Bumrah and Ashwin's fitness issues, Team India's list of injury concerns grows | Cricket News
NEW DELHI: On Monday, whenever the TV cameras panned towards the Indian dressing room,
Ravichandran Ashwin
could be seen either standing at the SCG balcony or leaning against the railing. But not for once was he sitting.
For the viewers, it might come across as a case of a senior player being tense as the pair of
Rishabh Pant
and
Cheteshwar Pujara
took the Australian attack head on but a tweet from Ashwin's wife Prithi revealed what it was all about.
Ashwin was in severe back pain and couldn't even sleep the prior night because of it.
As India prepare for fourth and final Brisbane Test with the series tied 1-1, the team resembles a mini-hospital and coach
Ravi Shastri
and skipper Ajinkya Rahane would be be at their wits' end to put together a fit eleven after
Jasprit Bumrah
and
Mayank Agarwal
joined the list of injured cricketers.
Here's a lowdown of all the injuries that happened to top Indian cricketers prior to and during the Australia series along with their current status.
The Injury List which affected Australia Tour
Ishant Sharma
The senior pacer suffered a left side strain after playing only one match in the IPL in September and after that was ruled out of the Australia series. Ishant got bowling fit before the series but needed more overs under his belt before taking on the rigours of Test cricket. He has just returned to competitive cricket for Delhi with the Syed Mushtaq Ali Trophy and will be selected against England in Tests.
Bhuvneshwar Kumar
The white-ball specialist and reserve pacer of the Test team injured his right hamstring during an IPL game and had to undergo an extensive rehabilitation programme which led to him missing the Australia series in full. He has just returned to action with the Mushtaq Ali T20 for UP and will be back in national team for England series.
Varun Chakravarthy
One of the finds of the IPL, Kolkata Knight Rider's Varun Chakravarthy was a left-field selection in the Indian T20 team but the old national selection committee with interim chairman Sunil Joshi didn't know that he was playing with a serious shoulder injury which ruled him out of his maiden national tour.
Rohit Sharma
Perhaps the most high-profile left hamstring injury that happened during the IPL. The Mumbai Indians skipper played through pain in the final but was ruled out of the white ball series against Australia. Due to hard quarantine of 14 days in Sydney, Rohit, despite being fit, couldn't play the first two Tests and was back in action from Sydney where he hit a half-century in the second innings.
Mohammed Shami
India's craftiest pace bowler sustained a fractured forearm while trying to fend a short ball from Pat Cummins in the Adelaide Test and was then ruled out of the remaining three Tests. He is doubtful for the first two Tests against England at home as well.
Umesh Yadav
The senior India pacer hobbled out of the field during Australia's second innings with a calf muscle injury and will soon be at the National Cricket Academy in Bengaluru for a rehabilitation programme. There is a chance he might be back for the England series next month.
KL Rahul
After a decent outing in the white ball leg, KL Rahul sustained a wrist injury while batting at the Melbourne Cricket Ground nets and was sent back to India to recuperate before the England series. His departure led to India's back-up middle-order being next to nil.
Ravindra Jadeja
India's premier all-rounder received a knock on his left thumb from a short delivery bowled by Mitchell Starc in Sydney and scans revealed dislocation as well as thumb fracture. He will be out for at least a couple of months, ruling him out of the England home series as well.
Rishabh Pant
The keeper-batsman received a knock in the left elbow from Pat Cummins and couldn't keep wickets in the second innings in Sydney. However, it was not a fracture and played after popping in a lot of painkillers which provided him initial relief. He will play in Brisbane in the fourth Test.
Hanuma Vihari
The hero of the Sydney Test, after his epic 161-ball vigil, has a serious hamstring injury (grade 2) and will be out of the fourth Test in Brisbane as well as the following series against England.
Ravichandran Ashwin
The man who has bowled more than 134 overs in the series, most by an Indian bowler, is suffering from back spasms and found it difficult to even sleep or tie his boot laces. With medication and physiotherapy sessions, India will expect their senior-most bowler on the park in Brisbane.
Mayank Agarwal
Having failed in the first two Tests, Agarwal was dropped in Sydney and who would have known that during a net session, he would get hit on the gloves and taken for scans. He was supposed to replace Hanuma Vihari and if it's a bruise, Agarwal is expected to play through pain.
Jasprit Bumrah
He suffered an abdominal strain during the late evening on the third day while chasing a ball to the boundary. He didn't come out and bowl his spells but it has been learnt that he is in considerable discomfort and will sit out of the next Test in Brisbane.
Relatable Sports YouTube Fails
In this video, a man fails to find his footing when he attempts to leap into the dreaded Double Dutch jump ropes.
I played every sport and activity in P.E., but I could not for the life of me solve the duel jump ropes. I thought there was some kind of witchcraft afoot and never successfully jumped in without kicking the ropes.
Young Australian cricketers still in primary school compared to Indian counterparts: Greg Chappell | Cricket News
MELBOURNE: Young Australian cricketers are still in "primary school" compared to their Indian counterparts, feels former India coach
Greg Chappell
and has urged his country's cricket board to invest in talent to avoid becoming "also-rans" in no time.
An injury-hit India sans their star players notched up an incredible 2-1 win over Australia in the four-Test series and Chappell believes it is the robust domestic structure and efforts put in by BCCI which prepares its youngsters to take on the rigours of international cricket.
"Our young cricketers are weekend warriors compared to their Indian compatriots, who get challenging matchplay from the Under-16 age group onwards," Chappell wrote in a column for 'Sydney Morning Herald'.
"By the time an Indian player reaches the national XI, he has had an all-round apprenticeship that prepares him to walk into the Indian side with a reasonable chance of success.
"I am afraid, in comparison, Will Pucovski and Cameron Green are still in primary school in terms of experience."
Pointing out the huge difference in the amount spent by the two boards, Chappell said Cricket Australia "cannot be making 1960s Holdens in this age of electric cars."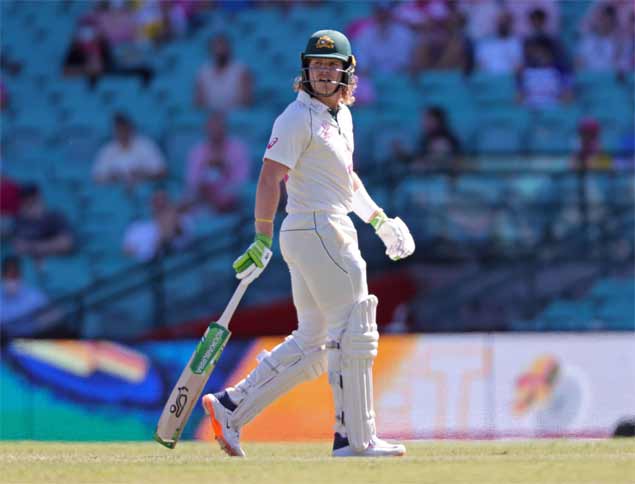 Will Pucovski. (AFP Photo)
"The BCCI is investing millions of dollars in budding Indian cricketers. Cricket Australia, by comparison, spends $44m dollars on the Sheffield Shield. The comparative spending gap isn't a gulf; it is the size of the Indian Ocean," he wrote.
"If Cricket Australia doesn't realise what it takes to be competitive in Test cricket and our entire cricket administration does not change its attitude on where to invest in talent, we will be also-rans in no time."
Chappell said "the skill level of Indian youth teams would embarrass some of our first-class teams".
"Their ability to deal with pressure has been cultivated in the cauldron of hard-fought matches. That level of intensity cannot be replicated in nets or against lesser opponents. The fact that India has 38 first-class teams should give you an idea of the depth of talent available," he wrote.
"What one sees when watching Indian youth and A teams is the surprising degree of maturity and an intuitive understanding of all aspects of the game. It is as rare as it is stark. So much so that one can be forgiven for thinking a team of men is playing a group of schoolboys."
Chappell said India's "level of investment from grassroots up has left the rest of the cricket world in its wake" and "the havoc that COVID-19 has wreaked on cricket coffers around the world will only widen the gap between India and the have-nots."
"For those of you who were surprised that India could deal with all that was thrown at them in this series, and could hold their nerve and win in such courageous fashion, I say: you better get used to it.
"Don't worry about India becoming the best team – they are already capable of producing the best five teams in world cricket!"
Chappell also felt it was a mistake to play the same bowlers in all the four Tests.
"The biggest mistake was playing the same four bowlers in every Test. For pacemen, playing four Tests in five weeks is akin to running four marathons in as many weeks. There were signs in Sydney that Mitchell Starc, in particular, was jaded," he wrote.
The former Australian batsman blamed the batsmen for the loss.
"I don't blame Tim Paine and our bowlers for this defeat. The culpability lies fairly and squarely with the batsmen, who simply didn't make enough runs on friendly wickets."
Chappell said Australia will soon need to find replacements for David Warner and Steve Smith.
"Our days of domination are past, unless we start producing a group of batsmen who bat through 125 overs in the first innings. David Warner is struggling and Steve Smith won't be around forever, so we need to find the champions who are going to replace them – and soon."
He also backed Paine, who faced a lot of criticism for his wicket-keeping and captaincy.
"For those calling out for heads to roll, especially those seeking Tim Paine's head on a pike, I say REALLY? Tim is one of only five players who can claim an automatic place in this Australian team. Sure, he didn't have his best Test series behind the stumps, but he still averaged 40 with the bat," he wrote.
Andy Murray to miss Australian Open | Tennis News
LONDON: Former world number one
Andy Murray
will not be taking part in next month's
Australian Open
after testing positive for
COVID-19
earlier this month.
"Gutted to share that I won't be flying out to Australia to compete at the Australian Open," Murray was quoted as saying by British media on Friday.
"We've been in constant dialogue…to try and find a solution which would allow some form of workable quarantine, but we couldn't make it work."
The Lawn
Tennis
Association (LTA) tweeted that Murray had confirmed he would miss the first Grand Slam of the year.
Sadly @andy_murray has confirmed he will miss the 2021 @AustralianOpen We are very sorry he'll not be able to pla… https://t.co/ho6vOvH3AG

— LTA (@the_LTA) 1611331403000
The 33-year-old, a wildcard, said last Thursday that he had tested positive for the virus and was in self-isolation at his home near London.