Harry Potter Goblet Of Fire Cast Then Vs. Now
These pictures make me feel old as heck, but this cast is aging like a fine wine.
Here's some news that will give you a lot of feelings: Harry Potter and the Goblet of Fire came out 15 years ago. FIFTEEN.
To celebrate/mourn our youth, let's take a walk down memory lane to see how much the cast has changed in 15 years.
Daniel Radcliffe as Harry Potter
Rupert Grint as Ron Weasley
Emma Watson as Hermione Granger
Robert Pattinson as Cedric Diggory
Clémence Poésy as Fleur Delacour
Bonnie Wright as Ginny Weasley
James and Oliver Phelps as Fred and George Weasley
Tom Felton as Draco Malfoy
Katie Leung as Cho Chang
Matthew Lewis as Neville Longbottom
Alfred Enoch as Dean Thomas
Maggie Smith as Professor Minerva McGonagall
Brendan Gleeson as Mad-Eye Moody
Michael Gambon as Professor Albus Dumbledore
Gary Oldman as Sirius Black
Timothy Spall as Peter Pettigrew
David Tennant as Barty Crouch, Jr.
Miranda Richardson as Rita Skeeter
Shirley Henderson as Moaning Myrtle
And finally, Ralph Fiennes as Lord Voldemort
Welp, I feel a thousand years old. Cheers.
TV and Movies
Get all the best moments in pop culture & entertainment delivered to your inbox.
21 Tweets And Tumblr Posts That Perfectly Sum Up Everyone's Love For Aubrey Plaza As Riley In "Happiest Season"
I'm over here shipping the couple that doesn't end up together and I blame Aubrey Plaza.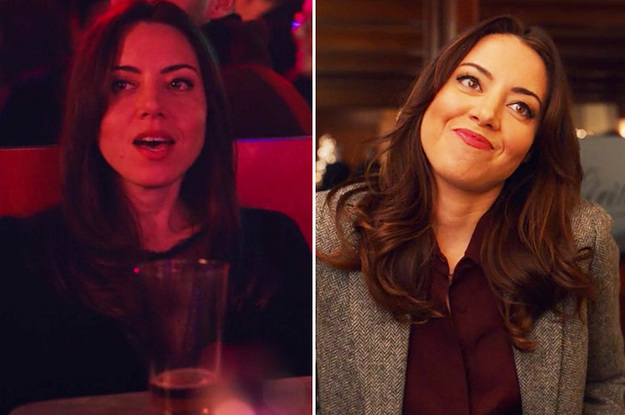 ---
Holiday Romance Movies That Are Worth Rewatching
Hours and hours of cozy comfort viewing, ready to be repeated over and over again.
1.
While You Were Sleeping
2.
Snow Bride
3.
Snowed Inn Christmas
4.
The Christmas Contract
5.
My Christmas Love
6.
The Mistletoe Promise
7.
You Can't Fight Christmas
8.
Christmas Inheritance
9.
The Knight Before Christmas
10.
The Spirit of Christmas
11.
Little Women
12.
Bridget Jones's Diary
13.
When Harry Met Sally
14.
The Holiday
15.
Love Actually
TV and Movies
Get all the best moments in pop culture & entertainment delivered to your inbox.
Você avalia estes filmes dos anos 1990 da mesma forma que todo mundo?