Good idea to leave Trent Boult out of T20 matches: Shane Bond | Cricket News
WELLINGTON: Pace spearhead
Trent Boult
needed a small break to catch up with his family and get ready for the Test series against West Indies rather than play the three Twenty20 matches that start next Friday, according to former New Zealand quick
Shane Bond
.
Bond and Boult are currently in managed isolation in Christchurch after they returned to New Zealand last week from the IPL in the United Arab Emirates.
Boult and captain
Kane Williamson
were both left out of New Zealand's Twenty20 squad to concentrate on the Tests that start on Dec. 3.
"To fly out of here and go straight into games without seeing his family would have been a massive mistake," Bond said on a conference call on Friday.
"I think for his own sanity he needs to get home and spend a bit of time with his family before another busy summer."
Bond added that after not having played long-form
cricket
since March, Boult was working on building back his bowling loads at the high performance centre outside Christchurch in his sanctioned training sessions while in mandatory isolation to prevent the spread of coronavirus.
"Part of the thinking of being here together in quarantine is to get a bit more volume in terms of overs under his belt," added Bond, who is helping with the training sessions.
"So it gives him a bit of time to get some volume here and in the week or two before the Test series against the West Indies starts."
Boult is a virtual automatic selection for New Zealand's squad for next year's Twenty20 World Cup in India and it was important that coach Gary Stead and selector Gavin Larsen got a look at other players against West Indies, Bond added.
"I think you've got to use the games coming up to find out who may be the support act for him in and around that T20 World Cup team," Bond said.
"There's no problem from my perspective giving those other guys like Kyle Jamieson an opportunity to see what they've got."
Four Tokyo Olympic-bound boxers included in TOPS | Boxing News
NEW DELHI: Four Tokyo Olympic-bound
boxers
, including 2018 World Championship bronze medalist Simranjit Kaur (60kg), were included in the Target Olympic Podium Scheme (
TOPS
) at the 50th Mission Olympic Cell (MOC) meeting held recently.
Also included were Ashish Kumar (men's 75 kg), Satish Kumar (men's 91+ kg) and
Pooja Rani
(women's 75 kg). All four boxers won Olympic quotas at the Asian Boxing Qualifiers held in Amman, Jordan in March this year.
2012 Olympic bronze medalist and six-time world champion, MC
Mary Kom
, who participates in women's 51 kg was among the six boxers retained in TOPS after a performance review. The other boxers retained in the scheme include Kavinder Singh Bisht, Amit Panghal, Manish Kaushik,
Vikas Krishan
and Lovlina Borgohain.
Nikhat Zareen
(women's 51 kg) and Sonia Chahal (women's 57 kg) and Shiva Thapa ( Men's 63 Kg) were moved to the TOPS Developmental group from the Core Group. Zareen participates in the same weight category as Mary Kom who has won the Olympic quota while Thapa participates in the same weight category as Manish Kaushik who has also earned a quota.
The 'halo' that saved F1 driver Romain Grosjean's life | Racing News
There are some things in life that we tend to resist and dislike at first, only to realise later just how crucial they can be for us. Sometimes it can actually be a matter of life and death.
Just ask 34-year-old French F1 driver
Romain Grosjean
who currently races for the
Haas F1 team
.
On Sunday, F1 witnessed its worst accident in a long time in terms of just how spine chilling the crash was. Grosjean's car veered right as the cars jostled for an early advantage on the opening lap of the Bahrain GP. One of his back wheels clipped the front of Daniil Kvyat's Alpha Tauri and his car rammed straight into a crash barrier. According to reports, Grosjean braked when the car was going at approximately 215 kmph and the estimated impact speed was 200 kmph. The impact was measured at a force of 53G.
The impact was so intense that it split Grosjean's car into two. Since the fuel leaked out, the car immediately caught fire and the raging fireball engulfed Grosjean in his cockpit. He was in the fireball was almost 30 seconds. The Frenchman though didn't panic and managed to extricate himself from the burning debris and hurled himself onto the track, climbing over the burning hot barrier, with the help of the Chief Medical officer and the Medical car driver. According to the BBC, the last time a F1 car split into two was in Monaco way back in 1991.
Grosjean escaped, miraculously, with minor burns on his fingers, possibly from when he touched the barrier while trying to jump over trackside. He didn't have a single broken bone in his body and actually managed to walk to the ambulance. 1996 World champion Damon Hill said – "It's a miracle that he (Grosjean) is alive."
We are so thankful that Romain Grosjean was able to walk away from this. We did not need a reminder of the bravery… https://t.co/DGu5mySlY0

— Formula 1 (@F1) 1606671597000
Had Grosjean not managed to extricate himself from his car though, pulling him out of that raging fireball would have been extremely difficult.
But the credit for him having survived the horrific crash is being given to the halo system, which was made mandatory by the FIA from the 2018 season onwards as part of their efforts to protect the driver's head in the event of a crash and from flying debris.
Later, from his hospital bed Grosjean said – "I wasn't for the halo some years ago, but [now] I think it's the greatest thing that we've had in Formula One and without it I wouldn't be able to speak to you today."
In 2017, while the halo was being tested, Grosjean had said that the he "hated it" and it made him "feel sick".
An update from Romain himself. Pleased to see you're in good spirits! We hope you make a speedy recovery 🙏 https://t.co/njnjjH4GBi

— Haas F1 Team (@HaasF1Team) 1606680431000
WHAT IS THE HALO SYSTEM?
Very simply, the halo is a titanium structure which is mounted on the car's cockpit. It is fused to the frame of the car in three places and is designed to protect the driver's head in the event of a crash and/or from flying debris and projectiles.
The concept was first proposed by Mercedes in 2015, with the FIA looking for most effective ways to provide head protection for drivers. The initial version of the halo was made of steel. This did well in tests where a 20kg tyre was fired at it at a speed of 225 kmph. In 2016, a lighter and stronger version made of titanium was used in trials.
The version, which was tested in 2017 weighs about 9 kilograms. That's the weight of the halo itself. Then there are the mountings, which is approximately around 6kgs more.
The titanium version made its full F1 debut in 2018. And was also introduced in F2, F3 & Formula E. The use of the halo was seen to improve the survival rate of the driver by 17%.
The structure is not manufactured by the teams, but by an FIA approved manufacturer. They are then mounted on the cars by the teams themselves and crash tested.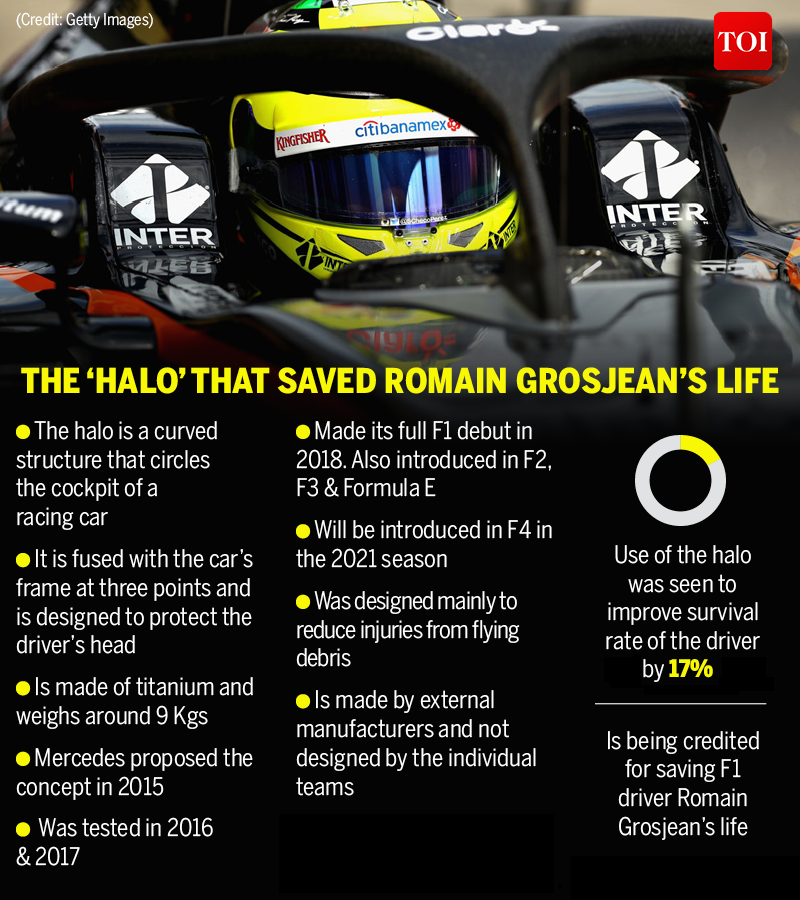 REACTIONS AFTER GROSJEAN'S CRASH
The halo was not really welcomed with open arms by the teams and the drivers. Someone like reigning World champion Lewis Hamilton was also opposed to the idea.
The basic problems with the halo were seen to be visibility and aesthetics. Also it made the cars heavier. This also meant that the teams needed to lose weight from their car designs to mount the halo system on their cockpits.
Those hurdles however were crossed.
After Grosjean's crash, the halo is being hailed as a life saver, quite literally.
Hamilton after the halo had been tested by Ferrari in Barcelona in 2016 had said that it was "the worst looking modification in Formula 1 history"
On Monday, Hamilton lauded the FIA's efforts in trying to make the sport safer, saying – "I don't know what Gs he pulled, but I am just so grateful that the halo worked…..It shows what an amazing job Formula One has done, the FIA has done, for him (Grosjean) to be able to walk away from something like that."
Alan van der Merwe, the driver of the F1 medical car, who was one of the first responders after Grosjean's crash said – "I've never seen that much fire in 12 years. It took a little while to process what was going on but then Romain started to get out of the car himself, which was amazing…Everything worked hand in hand today: the halo, the barriers, the seat belt. Without one of the things it could've been a different outcome."
Red Bull F1 driver Max Verstapen meanwhile said – "I think the halo saved his (Grosjean's) life. When it came onto the cars I was quite critical about it and it looked ugly. But you can't say anything about the safety because today it definitely saved Roman."
Some reports have claimed that there was a halo shaped hole visible in the crash barrier after Grosjean's car went through it.
Grosjean hopefully will recover soon from his burns and be back in a car cockpit. There's no doubt he will now see the halo in a new light.
Third New Zealand v West Indies T20I rained off | Cricket News
MOUNT MAUNGANUI: The third and final Twenty20 international between New Zealand and the West Indies was rained off on Monday, giving the Black Caps a 2-0 series win.
Only 2.2 overs were bowled at Mount Maunganui before a downpour forced players from the field with the West Indies on 25 for one after losing the toss and being asked to bat.
The umpires finally called off the fixture two hours later with no sign of a break in the weather.
All done at @BayOvalOfficial. Still raining and not enough time to get a game in. Captains shake hands with a damp… https://t.co/D8pSk8f4tk

— BLACKCAPS (@BLACKCAPS) 1606724520000
New Zealand won the first T20 by five wickets and the second by 72 runs against a West Indies outfit that only emerged from Covid-19 quarantine on Thursday.
Paceman Lockie Ferguson was named man of the series after taking five for 21 in the opening fixture, plus one wicket apiece in the second and third matches.
The first of two Tests between the sides begins in Hamilton on Thursday.