Galaxy Book S laptop review: Samsung and Intel's silent road warrior | Samsung
The Samsung Galaxy Book S is no ordinary laptop as it contains one of Intel's brand new "hybrid" processors designed to give PCs smartphone-like battery life while running regular Windows 10.
The Book S follows the Book Flex in Samsung's return to the UK PC market, but is confusingly available in two versions both costing £999: the Galaxy Book S Intel (as reviewed here) and the Galaxy Book S Qualcomm, which is slightly older and has a completely different type of chip.
The Book S Intel looks like a fairly standard Windows 10 laptop, except it is super thin and light at just 11.8mm thick and 950g in weight. For comparison, the Book Flex is 1.16kg and 12.9mm thick, while the Apple MacBook Air is 1.29kg and 16.1mm thick.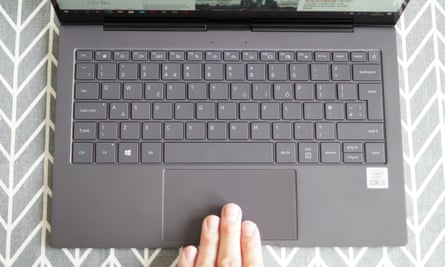 The laptop feels solid and well balanced, with a good-sized keyboard and a smooth matt finish on the deck.

Photograph: Samuel Gibbs/The Guardian
The backlit keyboard is good, with well-spaced, responsive keys with enough travel – how far down it pushes – for most. The trackpad is wide and precise, but makes quite a loud click when depressed.
There's a small fingerprint sensor embedded in the power button in the top right of the keyboard, which is a much more sensible position than taking up half the shift key, as was the case with its sibling.
The 13.3in full HD touchscreen is good, but not quite as colourful and vibrant as the Book Flex, covering only 80% of the DCI-P3 colour palette. It can get super bright with a dedicated outdoor mode that boosts the brightness from 350nit to 600nit, making it easier to see in sunlight. The model tested lacked automatic brightness control, but just setting it to 70% brightness worked well in most scenarios.
The screen is noticeably less crisp than higher-resolution rivals, and being in the 16:9 ratio (matching your TV) means there's less vertical space to work with. I found myself scrolling up and down a lot more than I would on taller screens with 16:10 or 3:2 ratios.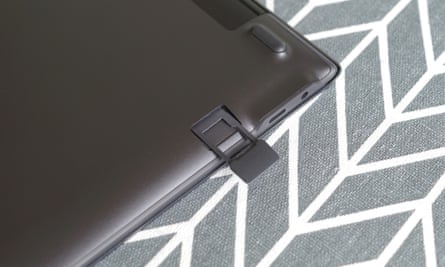 A microSD card slot is on the underside of the laptop in a small pull-out tray.

Photograph: Samuel Gibbs/The Guardian
Specifications
Screen: 13.3in FHD (1080p) LCD touchscreen (166PPI)

Processor: Intel Core i5-L16G7

RAM: 8GB

Storage: 512GB

Graphics: Intel UHD

Operating system: Windows 10 Home

Camera: 1MP

Connectivity: Wifi 6, Bluetooth 5, 2x USB-C, microSD, headphones

Dimensions: 203.2 x 305.2 x 11.8mm

Weight: 950g
Hybrid Intel chip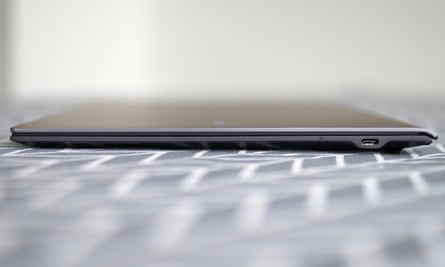 There is a single USB-C port in the right side of the laptop.

Photograph: Samuel Gibbs/The Guardian
For some time ARM chips, such as those running in all smartphones, have promised to deliver better battery life and similar performance than the Intel processors used in almost all laptops. They haven't yet delivered on that promise in Windows computers, but it hasn't stopped Intel designing chips in a similar way to ARM models in an attempt to head off the competition.
The Intel Core i5-L16G7 running in the Book S is one of the firm's first to try a so-called big.Little design. What that means in English for this particular model is that you have one, high-power processing unit paired with four smaller, lower-power and lower performance units on one chip.
The idea is that the lower power cores handle the simple things, and the high-power core handles the important things. The reason you have this sort of design is that for simple things the chip consumes less power than the equivalent standard dual or quad-core chip, but it still has the poke to do heavy lifting when required. It also means this machine is fanless, relying entirely on passive cooling, and making operation totally silent.
In reality the Book S has very mixed performance. When you're doing too much the laptop really bogs down, feeling slow and ponderous. It was particularly noticeable when first setting up the machine, performing updates and downloading apps – a similar thing occurred with the Core i3 processor in the latest MacBook Air.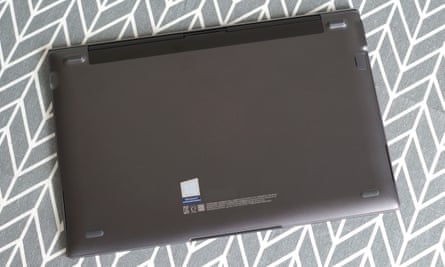 The bottom of the laptop lacks vents for fans, but still has small feet to prop it up from a table for passive cooling.

Photograph: Samuel Gibbs/The Guardian
Once setup was complete, if I wasn't running any updates, performance was pretty good. On a par with most regular laptops, handling Chrome, Windows Mail, Evernote, Nextgen Reader and a bunch of chat apps just fine.
It started to come unstuck when I opened a couple of fairly large photos in Affinity Photo. It managed the photo manipulation tasks OK, but was fairly slow doing it. It also struggled a little here and there when I connected it to an external 4K monitor and went into total meltdown when I attempted to open a spreadsheet while holding a Google Meet.
But that isn't the point of this laptop. It's designed to be used as a light-work laptop that lasts a long time between charges. When used this way with all the apps open as above it lasts comfortably over 10 hours between charges, which is long by most laptop standards, although beaten by an hour by the Book Flex.
Charging the laptop with the included tiny 25W USB-C charger takes 2.5 hours from dead, reaching 50% charge in an hour, which is pretty slow so it might be worth buying a more powerful power adapter. The Book S has two USB-C ports, one each side, and a headphone socket on the left. There's a microSD card slot hiding in a small pull out tray on the left too.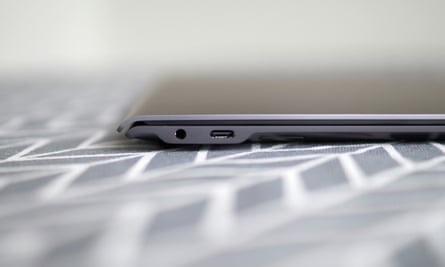 The left side of the laptop has a USB-C port next to a headphones socket.

Photograph: Samuel Gibbs/The Guardian
Sustainability
The Book S can generally be repaired by authorised service centres. Samsung rates the battery for at least 1,000 full charge cycles while still maintaining at least 80% capacity. Samsung also has battery lifespan-extending options on the laptop, such as those that limit the maximum charge to 85% to prolong its useful life.
The battery can be replaced out of warranty by authorised service providers. The laptop is not made from any recycled materials and while Samsung does offer trade-in and recycling schemes for other devices, it does not do so yet for laptops.
Windows 10 Home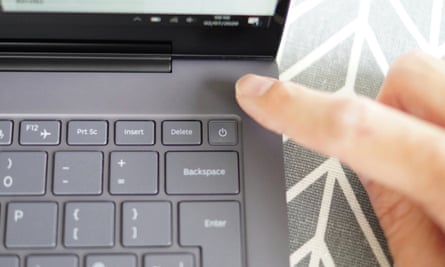 The power button doubles as a Windows Hello-compatible fingerprint sensor.

Photograph: Samuel Gibbs/The Guardian
The advantage the Book S Intel has over ARM-based laptops, such as the Surface Pro X, is that it ships and runs regular Windows 10 Home and therefore any standard Windows app.
At the time of writing, the Book S has still not received the May 2020 Windows 10 feature update, as there are some incompatibility issues for Microsoft to solve.
There was some unwelcome pre-installed software, including McAfee LiveSafe, Clonix RansomDefender and the usual Candy Crush Friends and Farm Heroes Saga, which I uninstalled on first use.
Price
The Samsung Galaxy Book S Intel costs £999 with 8GB of RAM and 512GB of storage in either grey or gold.
The Galaxy Book S is also available in a Qualcomm version with an ARM chip for £999.
For comparison, the Samsung Galaxy Book Flex costs £1,349, the Microsoft Surface Laptop 3 costs from £999, the Dell XPS 13 costs from £1,399 and the Apple MacBook Air costs from £999.
Verdict
The Samsung Galaxy Book S is a sleek laptop with a new type of processor that is neither a home run nor an abysmal failure.
It was disappointing to see a £999 laptop struggle with updates and video conferencing, but outside of those higher-demand tasks, performance was pleasingly snappy. Battery life was also very good for a laptop this thin and light with a relatively small capacity battery, and without the compromise in app compatibility that an ARM chip imposes. Therefore it's not a bad start for the Core i5-L16G7, the first of Intel's hybrid chips.
The keyboard is good, the trackpad too. The fingerprint scanner is in the right place. Two USB-C ports are welcome, as is microSD card support. The screen is good and the outdoor brightness mode really does make a difference.
The Book S is therefore better thought of as a good road-warrior's laptop. One that can easily be packed, lasts a long time and gets the basics done with the minimum of fuss, just don't expect it to be a premium power laptop. Whether anyone actually wants a road-warrior laptop in the current pandemic remains to be seen.
Pros: super thin and light, long battery life, normal Windows 10, two USB-C, headphones socket, tiny charger, microSD card slot, fingerprint scanner, good keyboard and trackpad, bright screen.

Cons: processor struggles when doing a bit too much, fairly slow to charge with included 25W power adapter, 16:9 screen ratio, lower resolution screen.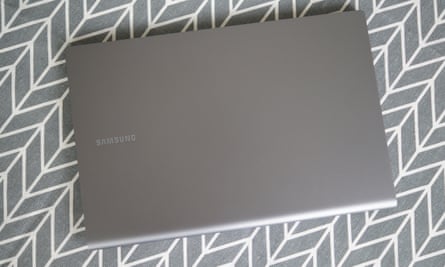 The metallic lid is smooth and sleek.

Photograph: Samuel Gibbs/The Guardian
Other reviews
Trump Supporters Planned Coup On Facebook
Right-wing extremists used Facebook to make calls to overthrow the government and storm the US Capitol building in the period leading up to a violent insurrection on Jan. 6, a tech watchdog group has found, contradicting attempts by the social media company to downplay the role of its platform in the affair.
A new report from Tech Transparency Project (TTP) shared with BuzzFeed News uncovered a slew of specific threats made in pro-President Donald Trump and militant groups on Facebook both before and after President-elect Joe Biden's election victory in November. In those groups, organizers and members alike perpetuated the lie that the election results were fraudulent and made open calls to "Occupy Congress" on Jan. 6.
"If they won't hear us, they will fear us," read one image shared on Dec. 31 to a 23,500 member private group called The Patriot Party, which has since been deleted. "The Great Betrayal is over."
While Facebook said it had banned pages and groups from right-wing militants and QAnon conspiracists over the summer, TTP's report shows that extremist groups continued to flourish on Facebook. BuzzFeed News previously found that groups for "Stop The Steal," the go-to slogan for Trump supporters casting doubt on Biden's victory, persisted on the social network in the days after the violence at the US Capitol.
Last week, Facebook Chief Operating Officer Sheryl Sandberg said that the company had acted appropriately to prevent election misinformation and the incitement of violence, and attempted to pin the blame on smaller websites and apps with less content moderation.
"I think these events were largely organized on platforms that don't have our abilities to stop hate, don't have our standards, and don't have our transparency," Sandberg said in an interview with Reuters.
"I think these events were largely organized on platforms that don't have our abilities to stop hate."
The report from TTP, a research organization funded by the Open Societies Foundation and Craigstlist founder Craig Newmark, draws a straight line from the vitriol, election lies, and threats posted and amplified on Facebook and the events in the District of Columbia earlier this month.
"[Facebook] has spent the past year failing to remove extremist activity and election-related conspiracy theories stoked by President Trump that have radicalized a broad swath of the population and led many down a dangerous path," the report said.
While federal investigators have said many people coordinated their Jan. 6 activities using Parler, a social network that attracted members of the far right because of its lax approach to moderation, they also noted the use of other platforms, including Facebook. Many of the charges brought against people arrested for being involved in the insurrection have been supported with evidence of people boasting about their storming of the Capitol on Instagram and parent company Facebook.
"In the lead-up to January 6th, our teams were vigilant in removing content that violated our policies against inciting violence and dangerous organizations," Facebook spokesperson Liz Bourgeois said in a statement in response to TTP's findings. "Given the risk of further violence, we've taken additional emergency measures ahead of this week's inauguration — including suspending President Trump's accounts indefinitely."
In August, Facebook said it had removed groups and pages "that support violent acts amidst protests, US-based militia organizations and QAnon," the mass delusion that believes a cabal of child-eating pedophiles is running the government, and would "restrict their ability to organize on our platform."
But they continued to use Facebook to assemble and proselytize, largely using private groups where members must request and are vetted by administrators, the TPP found. Its report shows that extremists began promoting and coordinating militia training before election day and then increased their incendiary and threatening language after Biden was declared the winner. Some of these groups then began heavily promoting the Jan. 6 event in DC as what users felt was a last resort to prevent perceived tyranny. One described it as "Independence Day 2.0" in a 3,200 person private group, while others made references to 1776, the start date of the American revolution.
"Patriots heading to DC, raise holly hell, its the only thing that Democrats understand," read one Jan. 5 post in a private group for "Patriots" with 9,600 members. "If you want your country back, show them!!!"
"Are [you] willing to fight or maybe even Die for YOUR COUNTRY?"
Another post, in a 8,600 member private group, actively sought to recruit "patriots, pissed off vets, and first responders" to the "Ohio Minutemen Militia," including an image of the organization's insignia.. One private group, which was created two weeks after election day and whose stated purpose was to "support 45," even screened prospective members by asking if they were willing to be a martyr for the cause.
"Are [you] willing to fight or maybe even Die for YOUR COUNTRY?" administrators asked applicants.
To monitor the increase in violent rhetoric online, TTP created a Facebook profile that mimicked the online behavior of a right-wing extremist. While the account did not comment or react to posts, it did follow pages and groups that pushed election misinformation or militant rhetoric.
While Facebook occasionally took action against these pages or groups, TPP found new ones continued to pop up, including some for the Oath Keepers and Three Percenters, militant movements that preach distrust of the federal government. On the morning of Jan. 6, a member of one private Facebook group associated with the Three Percenters posted a meme that read, "WE CANNOT WE WILL NOT COMPLY, Prepare to Take America Back."
"ATTENTION PATRIOTS WE ARE TAKING BACK THE PEOPLE'S HOUSE," one user who identified as a Three Percenter wrote on their personal page during the attack. "ALL GUARDIANS IN DC IT'S GO TIME!!! We are at the DOOR…"
Affidavits for search warrants used by the FBI to monitor extremist activity last year showed specific planning to mount political violence on Facebook dating back to the fall of 2019.
In one message sent in October of that year, for example, a Delaware man said he was "going to North Carolina on Saturday to discuss going to war against the government of North Carolina." That man, Barry Croft, subsequently used Facebook to discuss plans to put the governor of South Carolina "in custody," the affidavits show, and he was ultimately arrested and indicted for another plot to kidnap and potentially murder Michigan Gov. Gretchen Whitmer.
Although Croft's co-conspirators in the alleged Michigan scheme also used encrypted messaging apps to communicate, they relied heavily on public and private Facebook groups to organize and recruit for their efforts up until the day of their arrest on Oct. 7.
A militant-affiliated Facebook event in Kenosha, Wisconsin following the police shooting of Black man Jacob Blake, brought outside right-wing agitators to the town in August, leading to the shooting deaths of two protestors. Facebook users reported the event page 455 times in an attempt to prevent violence according to documents seen by BuzzFeed News, but the company failed to remove it.
Ahead of Biden's inauguration on Wednesday, Facebook has said it has taken measures to prevent any unrest by removing content containing the phrase "stop the steal" and blocking the creation of new Facebook events happening in close proximity to the White House, US Capitol building, and state capitol buildings through Inauguration Day.
Following reporting from BuzzFeed News and pressure from lawmakers, the company said it would also temporarily pause advertisements for weapon accessories and body armor, though those ads persisted on the social network through Monday.
Facebook employees have also flagged suspicious pages and groups, according to posts from the company's internal message boards seen by BuzzFeed News. Last week, one employee uncovered a page called "Storm the inauguration, they can't intern all of us" which had created an event called "Popular Revolt."
The event was scheduled for Jan. 20 in Washington. It is unclear who is behind the event or page, though both appear to have been taken offline.
"Share far and wide," the event's description read. "Storm the inauguration. They can't shoot or arrest all of us. They don't have enough balls or bullets."
Ethereum (ETH) cryptocurrency nears all-time high
Jaap Arriens | NurPhoto | Getty Images
Ether is closing in on an all-time high. The cryptocurrency, one of many alternatives to bitcoin, rallied as much as 17% on Tuesday to an intraday high of $1,439, according to data from industry site CoinDesk.
That's just shy of the $1,448 record ether hit in early 2018, when major cryptocurrencies led by bitcoin climbed to new heights before slumping sharply later in the year. Ether, the world's second-biggest cryptocurrency by market value, has almost doubled year-to-date.
Bitcoin has been in the spotlight for several months now, thanks to a blistering rally that saw it notch fresh highs. The cryptocurrency shot up close to $42,000 a couple weeks ago, but has declined since and was last trading at $36,980.
It's still up almost 30% so far this year, and has surged more than from 800% its 2020 low in March. Bitcoin bulls say its rise has been helped by increased institutional buying and the perception that it is an uncorrelated safe-haven asset akin to gold.
On the other hand, skeptics in the traditional financial world — like economist Nouriel Roubini and strategist David Rosenberg — view it as a speculative bubble.
Bitcoin was the original cryptocurrency, created in 2009 as a peer-to-peer payment system that doesn't require a central authority to maintain. Alternative digital coins that were created after bitcoin, like ether and XRP, are known as "altcoins."
Ethereum, the network that underpins ether, is touted by its proponents as potential infrastructure for a decentralized internet. That's because developers can build applications on Ethereum, known as "decentralized apps."
The Ethereum blockchain — a digital ledger of transactions in the cryptocurrency— began a major upgrade late last year called Ethereum 2.0. Ether investors say it will make the network faster and more secure.
Detractors have complained of sky-high transaction fees on Ethereum. The average transaction cost for ether skyrocketed to a record high of $16.53 on Jan. 11, according to data from BitInfoCharts, triple the peak average transaction fee in 2018.
By comparison, bitcoin transaction fees are rising but are nowhere near a late 2017 peak. They rose as high as $17.09 on Jan. 12, down 69% from an all-time high of $55.16 on Dec. 22, 2017.
ViacomCBS Paramount+ streaming service launches March 4
Bob Bakish, president and chief executive officer of ViacomCBS Inc., center left, and Shari Redstone, chair of VicaomCBS Inc., applaud during the opening bell in celebration of the company's merger at the Nasdaq MarketSite in New York, U.S., on Thursday, December 5, 2019.
Michael Nagle | Bloomberg | Getty Images
ViacomCBS said Tuesday it will launch its Paramount+ streaming service on March 4.
Paramount+ will enter the streaming wars at an increasingly crowded time. It'll join rivals such as Disney's Hulu and Disney+, NBCUniversal's Peacock, and WarnerMedia's HBO Max as traditional media companies embrace streaming.
The company's stock was down more than 1% in the premarket.
The company's current streaming service, CBS All Access, costs $5.99 per month with advertisements and $9.99 per month without, though all of the live programming includes commercials. Previously, the company's chief digital officer, Marc DeBevoise, told CNBC pricing will not change. A spokesperson said we can expect to hear more on pricing on Feb. 24.
Paramount+ will offer new content, as well as CBS All Access' existing offering of more than 20,000 episodes and movies from MTV, Nickelodeon, Comedy Central, BET, Paramount Pictures, CBS, original series and more.
The company said Paramount+ will debut in Latin America on March 4, the Nordics on March 25 and Australia in mid-2021. ViacomCBS is set to report fourth-quarter earnings Feb. 24, where it is expected to deliver an overview of its streaming strategy.
Disclosure: NBCUniversal is the parent company of CNBC.