From free electric bikes to new infrastructure, cities are changing
The U.K.'s first "Dutch-style" roundabout, in Cambridge, prioritizes cyclists and pedestrians over motorists.
Joe Giddens | PA Images | Getty Images
In the latest example of how the cities we live and work in are changing, a city in northern England has launched a free trial of electric bikes in a bid to encourage commuters to ditch their cars and use two wheels instead.
The scheme, in Leeds, will enable people to use the bikes for as long as two weeks, providing they put down a £200 (roughly $256) deposit, and the trips people undertake can be up to 10 miles each way. In total, 15 bikes will be available: 10 of these are fixed-frame, while the other five are foldable.
Leeds' electric bike scheme follows on from another trial in the city that gave charities and businesses the chance to use electric vans for free.
"Since launching the electric van trials scheme earlier this year, participants taking part have invested in cleaner and greener vans of their own so we're excited to launch this similar offer for electric bikes," James Lewis, Leeds City Council's deputy leader, said in a statement issued Monday.
"As part of our transport strategy, we're working hard to make cycling an everyday choice for people in Leeds," Lewis added. "Electric bikes have a really exciting potential to make it easier and more accessible to many."
Leeds is not alone in its attempts to encourage the use of electric bikes. Parts of the U.K. capital, London, also offer a scheme in the same vein: This summer saw a firm called HumanForest roll out electric bike hire – free to use for 20 minutes a day before charging a fee of 0.12 pence per minute – in Islington and Camden.
Green travel
The desire of municipal and national authorities to develop greener infrastructure and encourage more sustainable forms of transport looks like it's here to stay. Major cities such as New York, Paris and London, for instance, already boast well established and popular cycle hire programs.
On Tuesday the Scottish city of Aberdeen said it would work with experts from energy major BP to cut emissions and "become a climate positive city."
The collaboration will focus on a number of areas such as: The use of hydrogen in transportation and for heat and power; the development of "solutions for clean, low emission vehicles"; and boosting energy efficiency within buildings.
The U.K. government on Wednesday announced £12 million in funding for electric vehicle research projects, including ones looking at the rapid charging of batteries. 
While the roll out of electric vehicles, as well as the infrastructure that's required to make them run smoothly, is encouraging, much more needs to be done to reach climate goals.
In a statement sent to CNBC via email, Daisy Narayanan, director of urbanism at Sustrans, a charity focused on walking and cycling, described electrification as being a "step in the right direction for urban mobility."
"Electric cycles in particular open up cycling for last mile deliveries, people travelling further distances, along with those wanting to try cycling for the first time," Narayanan said, highlighting a number of talking points. 
"However, if we really want to meet decarbonisation targets, we need to think beyond electrification, and in particular electric cars," she said. "Whilst the air quality emissions from combustion are reduced, the brake and tyre emissions from electric cars can still result in dangerous levels of particulate matter."
Changing layouts
With efforts underway to encourage both walking and the use of bicycles, the physical infrastructure of cities is also undergoing a change with the development of segregated cycle lanes and wider sidewalks taking place.
Even roundabouts, a big feature of roads in the U.K., are starting to look different. At the end of July, in the city of Cambridge, a "Dutch-style" roundabout was officially opened.
The roundabout, described by Cambridgeshire County Council as "the first of its kind in the U.K.," has been designed to prioritize pedestrians and cyclists over motor vehicles.
A system of pedestrian crossings and cycle lanes means that, on their approach to and exit from the junction, vehicles have to give way to pedestrians and cyclists.
Whether it is the introduction of electric vehicles or changes to the layout of roads, the cities and towns we live in are changing.
"Ultimately, we need fewer, not just cleaner cars on our streets, and solutions that have a better impact on urban space, liveability, congestion, and public health should be prioritised," Sustrans' Narayanan said. "Streets and places that invite people to walk and cycle will help us tackle air pollution from motor vehicles, and create healthier, happier cities."
Ceat expedites investment in capacity as tyre demand makes a sharp recovery
Mumbai:
Ceat
will move quickly to expand capacity and resume frozen capital expenditure, buoyed by the sharp recovery in
tyre demand
, its top executive said.
The RPG Group-owned tyre maker will invest about Rs 1,200 crore to increase production capacity over the next 18-24 months, as part of a four-year, Rs 3,500-crore capex plan, which it had put on hold due to the Covid-19 pandemic last year after pumping in over Rs 2,200 crore.
Production is high across plants and there has already been a capacity constraint for farm equipment tyres and a brief shortage of two-wheeler tyres during Diwali, Anant Goenka, managing director of Ceat Ltd told ET.
"Utilisation levels are high. We have done a large investment and those expansions are happening now. It has been fortunately well-timed," Goenka said.
Goenka said there were concerns within the company in April last year at the onset of the virus outbreak over the returns on investments in plant capacity as sales nosedived during the lockdowns and short term outlook was bleak, but that "things bounced back quite well and quite fast."
The company is investing in doubling passenger car tyre manufacturing capacity to 40,000 a day. Already, 5,000-6,000 tyres of the new capacity are being manufactured a day, and the remainder will be achieved in the next 9-12 months, he said.

The company expects exports to double over the next 2-3 years with a sharp focus on Europe. It has also benefited from restrictions on import of tyres since June this year, which has opened up about 3-5% of the market earlier cornered by tyres from abroad, Goenka said.
Leading global tyre maker Michelin said in a letter to dealers last week that it would not be able to supply passenger car tyres till the government eases import restrictions. This is expected to further aid the business of local tyre makers such as Ceat.
The company recorded its highest-ever revenue during the December quarter and expects the momentum to continue into the next two quarters.
"Covid-19 is done and dusted in terms of saying 'we are going back to pre-Covid-19 levels'. This quarter (Q3) has been our highest ever in terms of revenue and the same was true in the previous quarter as well, and that too in an environment where the new commercial vehicle market is depressed," Goenka said.
Commercial vehicles sales, which were depressed even before the outbreak, have yet to bounce back.

Okinawa Autotech plans to invest Rs 150 crore to set up new manufacturing unit in Rajasthan
New Delhi: Electric two-wheeler maker Okinawa Autotech plans to invest Rs 150 crore in setting up a new manufacturing unit in
Rajasthan
, and roll out fresh products as it sets a target of selling 1 lakh units in the next fiscal year, according to a top company official. The company, which had recently launched B2B electric two-wheeler – Okinawa Dual, priced at Rs 58,998, targeting the delivery sector, expects
sales
from the segment to account for around 20 per cent of its
total sales
.
"We are coming up with a new facility and new products. The total investment in the next fiscal year will be around Rs 150 crore," Okinawa Autotech Managing Director and Founder Jeetender Sharma told .
The new manufacturing unit will be near the company's existing plant in Rajasthan.
"The new facility will have an annual capacity of 5-6 lakh units in the first phase and can go up to 10 lakh units in future," Sharma added.
When asked about new products, he said the company is targeting both the B2B and B2C segment.
Last week, Okinawa Autotech launched its Okinawa Dual, powered by a 250 Watt electric motor with 48W 55Ah detachable lithium-ion battery with a range of 130 km on a single charge. It has a top speed of 25 kmph.

Sharma said the COVID-19 pandemic has accelerated the rise of e-commerce and last-mile deliveries. It has become imperative for businesses in the delivery segment to innovate, reduce operational costs, and increase efficiency consistently, and Okinawa Dual will address that need.
The company will launch its high-speed motorcycle codenamed OKI100 in the first half of this year, he added.
On the sales front, he said Okinawa Autotech would close in on cumulative sales of around 1 lakh units by the end of the ongoing fiscal since it started operations in 2017.
"In FY 21-22, whatever we have done so far, we will double the number with the coming in of two-three new models. It is a fair estimate that we will sell around 1 lakh units next fiscal," Sharma said.
Of the total, he said the B2B segment would account for around 20 per cent.
Bullish on the electric two-wheeler segment's growth, Sharma said with the transition to BS-VI emission norms, prices for conventional scooters and motorcycles have gone up, thereby reducing the gap with electric counterparts, and Okinawa Autotech has focussed on localisation to be cost-competitive.
"We have more than 92 per cent localisation till date. In the next quarter, we are going to be 100 per cent," Sharma said, adding although the battery cells coming from outside the company have a dedicated supplier in India supplying it the battery packs.
2021 Toyota Fortuner facelift: First impression
NEW DELHI: A decade-old
Fortuner
has the same impact on the audience even as a handful of carmakers tried their luck in the domain. In its first launch of the year,
Toyota
Kirloskar Motor has shunned its protractors, ensuring the facelift is more powerful and torquey, with better creature comforts and design changes, which are not abrupt.
This time around, the Fortuner has arrived on our shores along with the special edition Fortuner
Legender
. The latter is yet to reach most dealerships, and we got our hands on the facelifted Fortuner.
Surprising or not, the face of the new Fortuner will put you in doubt. I mean the deep association of chrome and customer preference is no hidden fact. The tri-slat chrome bars are disposed, and the face is now given a piano black treatment. Chrome eyelashes flowing over slightly redesigned headlights dive in and flank the grille. The piano black has also made its way into the fog lamp housing, consuming a good amount of space under the main lights. The face appears more upright and replacing the chrome with black elements has actually tailored a better contrast and sharper aesthetics.
Fortuner sits on 19-inch rims. The 4X2 and 4X4 variants come with dual-tone machine-cut alloys and stylized alloy wheels respectively. The former with dual-tone cut created a better impact, especially due to visual contrast. The revised tail lamps are sleeker, slit and the dual tube light set up look better than before. The rest of the silhouette, dimensions and proportions of Fortuner continue to look the way they used to.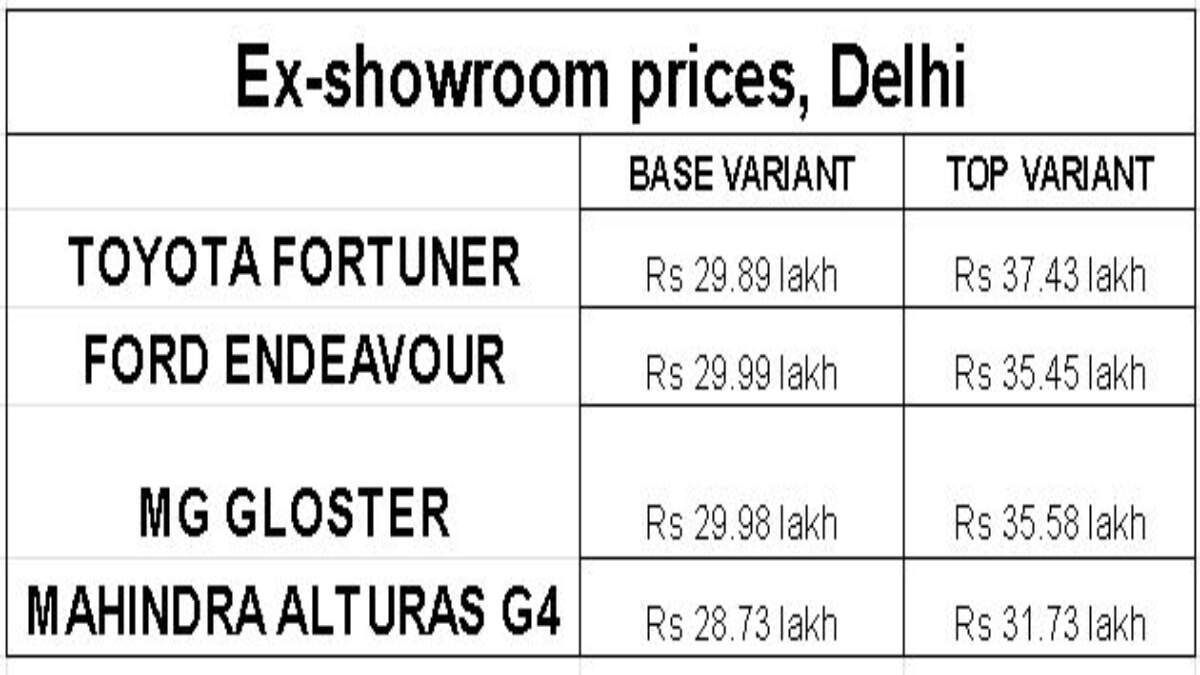 On the inside, the Fortuner sports an all-black theme for the first time. The electrically-adjustable front seats ensure no sweaty back during summer, thanks to the newly-introduced ventilation feature. The steering wheel is as hefty as before and the white stitching ups the premium feels. Soft touchpoints on top of the dashboard, door panels and other places of contact are finished with great care.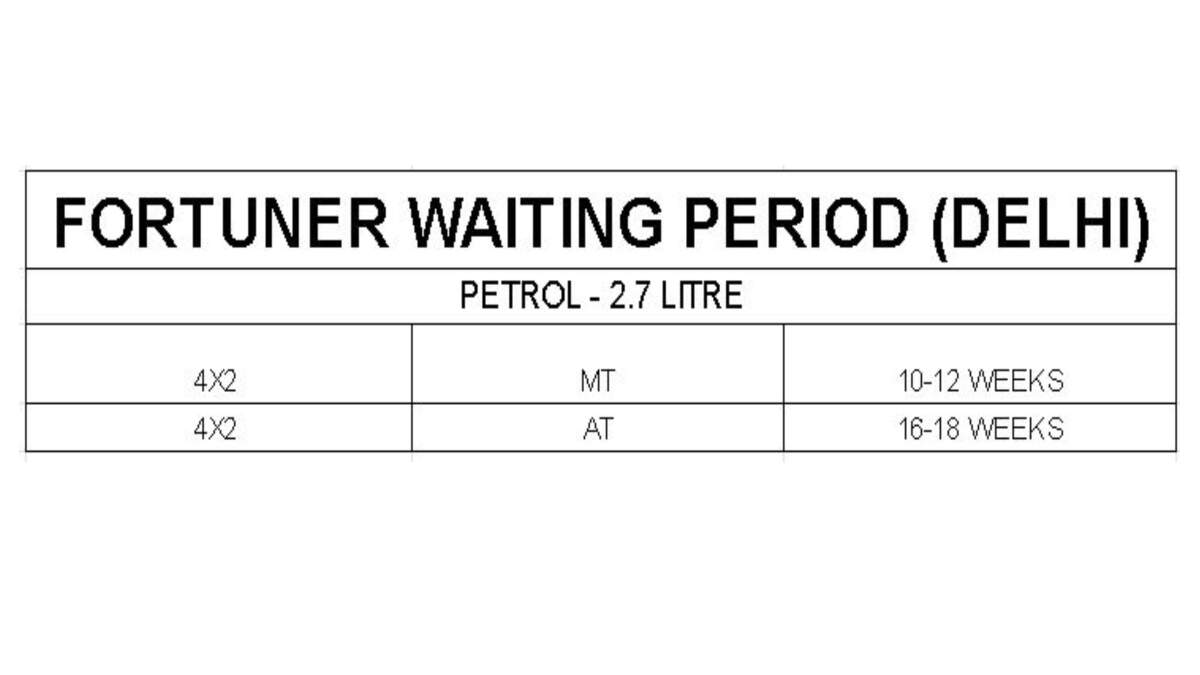 The 8-inch infotainment holds a big surprise. The look and feel have changed slightly but Fortuner has become a connected SUV now, offering features like geo-fencing and vehicle immobilization. The 4X4 variants also offer a JBL sound stereo.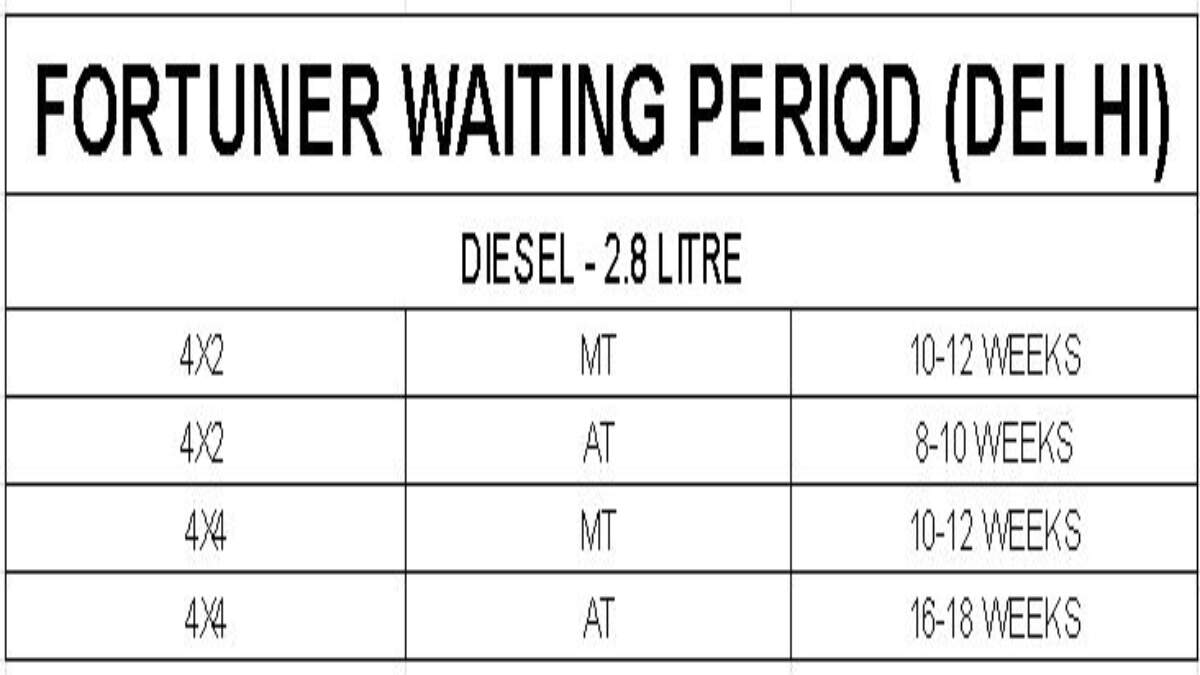 Toyota Fortuner is the only car in the segment that offers a petrol offering (barring Volkswagen Tiguan AllSpace). The 2.7-litre petrol and 2.8-litre diesel are the largest in the segment in terms of output figures and displacement. A 5-MT and 6-AT are available with both the powertrains. The 4X4 option, however, is limited to diesel, which in fact now offers three drive modes instead of two.
The waiting period in Delhi for the petrol variants ranges between 10 weeks to 18 weeks. Diesel 4X2 has a waiting period of 8 weeks to 12 weeks while the 4X4 has between 10 weeks to 18 weeks.