From chilli oil to tahini thins: Yotam Ottolenghi's recipes for edible Christmas gifts | Food
Every year, a month or so before Christmas, I plan all the edible gifts I'm going to make for my friends and family. I can see the jams and preserves all jarred up. I can smell the roasted nuts and spiced, star-shaped biscuits tied up with a smart ribbon. Every year, truth be told, I never quite get around to it. Time runs out, plan B kicks in and I hastily head for the shops. This year, however, is not every year, as no one needs reminding, so, for once, we might have enough time on our hands to make and bake for those we love. We might not be able to choose whom we're spending Christmas with, or even where we'll be, but lists can still be made, plans can be hatched … and gifts can still be made.
Festive chilli oil (pictured above)
This chilli oil is spiced with the festive flavours of cinnamon, star anise and cloves. Drizzle it over everything from noodles to ricotta-topped toast. If you're making a double or triple batch, be sure to use a big pan with a large surface area, because the chilli mixture needs to fry in a single layer. This keeps in a sealed jar at room temperature for three weeks.
Prep 10 min
Cook 40 min
Makes 1 x 220g jar
6-7 medium red chillies, roughly chopped (100g)
6 garlic cloves, peeled and roughly chopped (30g)
15g piece fresh ginger, peeled and roughly chopped
12 cloves, roughly crushed
Salt and black pepper
2 cinnamon sticks, roughly broken
3 star anise
200ml olive oil
1 tsp chipotle flakes
1 tbsp red bell pepper flakes
2 tsp sugar
Put the first four ingredients in the small bowl of a food processor with a teaspoon and a quarter of salt and plenty of black pepper. Pulse until very finely chopped, scraping down the sides as you go. (If you don't have a small food processor, very finely chop everything by hand instead.)
Put the chilli mix and 100ml oil in a medium, non-stick frying pan on a medium-low heat, add the cinnamon and star anise, and cook gently for 30 minutes. The oil should bubble only very gently – you don't want to deep-fry the chillies or garlic, or for them to get at all browned, so turn down the heat if need be.
Stir in the chipotle and pepper flakes, sugar and the remaining oil, cook on a low heat for three minutes, then turn off the heat and leave to cool completely. Transfer to a clean, sterilised jar, seal and store.
Miso caramels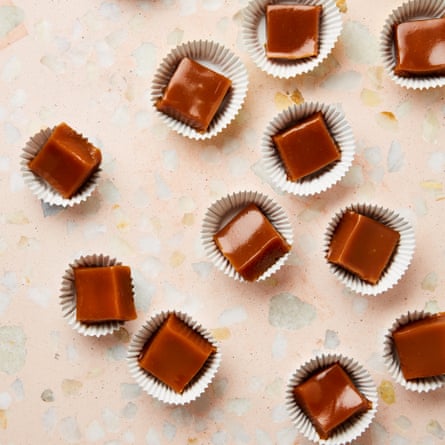 Yotam Ottolenghi's miso caramels.
Traditional sweet shop caramels get dialled up here with the umami-rich miso. And once you've tried a couple, there is just a chance that these won't get given away at all. These will keep for up to a week at room temperature and up to a fortnight in the fridge.
Prep 5 min
Cook 50 min
Makes About 42
200g caster sugar
200g soft light brown sugar
480g whipping cream
70g unsalted butter
100g honey
65g white miso
¼ tsp flaked salt, plus extra for sprinkling
2 tsp vanilla bean paste
Grease and line a 20cm square tin, making sure the greaseproof paper has a healthy overhang.
Put the two sugars, cream, butter and honey in a medium saucepan, stir with a whisk to combine, then cook on medium heat for 10 minutes, until the sugars and butter have melted.
Lower the heat to medium and simmer, stirring frequently, for 35 minutes. Off the heat, whisk in the miso, salt and vanilla, then pour into the prepared tin and put in the fridge to cool and set.
Once set, cut into 42 squares. Cut out suitably sized squares of greaseproof paper and use these to wrap the caramels, twisting both ends, like a bonbon wrapping. Store in an airtight container.
Tahini and nori thins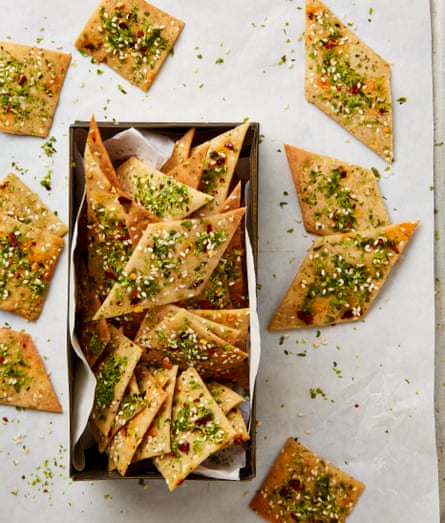 Yotam Ottolenghi's tahini and nori thins.
These will make a very welcome addition to any cheeseboard and are also great with dips. They can be made with gluten-free flour, if need be, and feel free to swap the seeds and spices for any you have to hand. They will keep in an airtight container for up to a week.
Prep 5 min
Chill 10 min
Bake 13 min
Makes 300g
2 large eggs
100g tahini
180g plain flour
Salt and black pepper, plus flaked salt to finish
1½ tbsp white sesame seeds
1 tsp chilli flakes
1½ tbsp nori flakes
In a medium bowl, whisk the eggs, then add the tahini, flour, half a teaspoon of salt and a good grind of black pepper, and whisk to combine. With your hands, bring the mix together into a sticky dough.
Put the sesame seeds, nori and chilli flakes into a second, small bowl.
Divide the dough in three. Put one piece of dough between two sheets of greaseproof paper, then roll it out with a rolling pin until it's 5mm thick. Peel off the top sheet of paper, then sprinkle all over with a third of the sesame seed mixture. Replace the paper and roll out the dough again, this time to 1mm thick, in doing so firmly pressing the sesame seeds, chillies and nori flakes into the dough.
Discard the top sheet of paper, then slide the dough, still on its greaseproof paper base, on to a large baking tray. Repeat with the remaining two pieces of dough and sesame mix, so you end up with three trays. Using a knife, cut the dough into squares or diamonds, then refrigerate for 10 minutes.
Heat the oven to 190C (170C fan)/375F/gas 5, then bake the thins for 13-15 minutes, until golden brown. Remove from the oven and, while they're still hot, sprinkle all over with a little flaked salt. Leave on the tray to cool completely before storing or packing into an airtight container.
Coronavirus: When is it the best time to replace your masks?
That being said, even with proper care and storage, masks do have an expiry date to it.
While it's impossible to affix a timeline as to when can one safely dispose of a mask, a lot of it depends on the type of mask you have- the fabric, the number of washes it has been exposed to. It also depends on the number of times you use and take off your mask.
For example, if you are someone who travels a lot more frequently and faces more exposure to the virus, the replacement timeline for the mask will also differ, and you will need to replace them more frequently than others.
Another good measure on replacing your masks is to think about getting a new mask at the change of a season. Ensuring mask hygiene and care is also important considering the seasonal changes and polluted weather we are experiencing right now. A bad, spoiled mask, which has poor quality will make it harder for you to steer clear of germs and pollutants and offer little protection. If you are wondering what's the best mask to buy that could protect you against both pollution and COVID, here is a guide.
Psychologist-recommended ways to interact with an anxious partner
It is quite a challenge to be romantically involved with someone who deals with constant anxiety. In a relationship, where communication, understanding and love are the foundations, an anxious partner can get lost amidst the sorrows and stress that they deal with, on a regular basis. Sometimes, it gets so overwhelming that anxiety creeps into the relationship like a third person, who only feeds on sadness, stress and sorrow.
However, when you fall for someone, it's not within your power to chose whether that person is alright or is dealing with a mental health condition. Furthermore, when you love someone, you love them with all their flaws and imperfections, and don't really pick out only the bits you approve and love. Loving someone with anxiety means you have to deal with their doubts, trust issues, communication problems and more. These were only a few of them that surfaces often. There are many other underlying issues that can be quite unpredictable.
However, amidst all this, your anxious partner only needs someone to love them and take care of their feelings and anxiety. It is like going pole-deep for a person, only to find yourself clouded with little emotions of want and need that they are unable to express. They also want to be loved. Most importantly, they would want you to treat them like a normal person with a normal state of mind, rather than specifying their mental condition always.

If you're scared that you won't be up to it, then it's not your fault either. It can be quite demanding and can also destroy you in the process. But, if you are determined to be with your partner and help them rise above it, then acquiring strength and faith to stand by them is what you need.
In moments like these, consulting a therapist or psychologist is considered.


Psychologists have, since years, researched ways for efficient communication in situations like these. They have carefully analysed such individuals' behaviours and actions to come to conclusions about their ideologies and what exactly they think. If you need a professional opinion, considering the advice of such mental health professionals is recommended.
According to them, if you are romantically involved with an anxious person, you need to know the risks and troubles you will face. It takes great courage and strength to have the patience of understanding anxious partners. Communication becomes another huge issue while trying to interact with such people. One has to carefully thread along the lines, in order to avoid any difficult or worrisome situations. One in all, you should have supreme patience.
Here we have listed a few ways that psychologists highly recommend trying out, if you're wondering how to interact with an anxious partner.
Tell them it's alright to be afraid


The foremost thing they are afraid of is fear of their own self. Understand that it's very hard to stop thinking about fear or even trying to lose out on it. If you get insensitive about this, your partner may feel that they aren't even worthy of being scared or allowed to do so. Instead, ask them what is bothering them, slowly. Try to neutralise any situation if it goes out of hand.
Show them how to keep up with you


If you're running late, send them a text so that they're relieved that you're not dead or involved in an accident. Let them know and keep them updated about the common things in your life. Anxious people easily sense when something is wrong and instantly get scared. They look for assurance, care and expect others to understand them.
Make them feel safe


Such people will always look for a person who can be their safe haven. Their insecurities, doubts and worries are too heavy a burden to be kept inside themselves. Hence, try to be as understanding as you can be and make them feel safe and secure. There is nothing more lovable than making them feel safe with your company.
Set expectations


Telling people what you expect from them is a very intimate way of letting them know that they care about you. We set expectations from people we want to have around, in our lives. So, your anxious partner will feel satisfied, loved and cared for you you say that you expect them to work and go through the entire battle. With, of course, your help.
Take your time


Time is the essence of life. This popular saying is very true, especially in such cases. Take your time into understanding their world. Communicate with them and also, understand that they need their time warming up to you. Slowly make them feel assured that you're here to hold their hand and be there for them in case, something happens.
Your partner will fall more deeply in love with you when you will give them assurance, safety and security of emotions. Psychologists mainly want you to take one step at a time, and not too many.

Amitav Ghosh's new book to release in 2021
Here's some good news for fans of author Amitav Ghosh! The Write India season 3 author is all set to release a new book. Buzz is that Ghosh's upcoming book is a "verse adaptation of an episode from the Forest Lady (Bon Bibi) legend of the Sundarban".
The international bestselling author took to social media to share about his new book with his fans and followers. Posting a picture of the upcoming book's cover, Ghosh wrote:

Wonderful to see the cover of 'Jungle Nama', my verse adaptation of an episode from the Forest Lady (Bon Bibi) legend of the Sundarban. A contemporary reimagining of pre-modern illuminated mss, with spectacular artwork by Salman Toor. Due out from @HarperCollinsIN in Feb 2021. pic.twitter.com/8V1Uiopmda

— Amitav Ghosh (@GhoshAmitav) November 24, 2020
Published by HarperCollins India, 'Jungle Nama' by Amitav Ghosh will be released in February 2021.
Meanwhile as Ghosh's fans wait for 'Jungle Nama' to be out in 2021, the Jnanpith awardee has also finished the manuscript of another upcoming book! Sharing the news, publisher Meru Gokhale, from The Penguin Press Group, tweeted on November 25, 2020 that she is currently reading Ghosh's manuscript. "I am reading the manuscript of @GhoshAmitav 's new book, and it is nothing short of mind-altering. I am struck by the feeling that THE NUTMEG'S CURSE is possibly the most brilliant book he has written. Can't wait to share it with the world – more details soon!," she revealed.
Further details of 'The Nutmeg's Curse' is awaited.