Facebook Has Removed Fake Accounts From A Washington PR Firm And Russian Trolls
For the first time, Facebook has removed fake accounts, groups, and Instagram profiles run by a US-based PR firm, the company said in a new report. Facebook also removed fake accounts run from Russia that aimed to influence politics around the world — including the US presidential election — and fake accounts in Pakistan that sought to tamp down domestic dissent.
According to Facebook, Washington, DC–based PR company CLS Strategies ran 26 fake Facebook accounts, 36 fake Instagram accounts, and 46 pages across platforms, spending about $3.6 million on advertising.
CLS Strategies did not respond to questions about the fake entities, but said, "CLS has a long tradition of doing international work, including on social media, to promote free and open elections and to oppose oppressive regimes, and we take seriously our commitment to adhering to the fast-evolving policies of Facebook and other social media platforms."
Although CLS Strategies is based in the US, its content largely targeted people in Venezuela, Mexico, and Bolivia.
According to Facebook, CLS posed as local political parties, civic organizations, or media outlets to sow chaos. "Bolivia doesn't want a mobster or a Coward," said one post. "After years of looting, the health sector is destitute," said another, targeted at Venezuela.
"They also posted content in support of the political opposition in Venezuela and the interim government in Bolivia, and criticism of Morena, a political party in Mexico," the Facebook announcement said.
This marks the first time Facebook has removed content from a company based in the US, despite PR firms in other countries frequently appearing in its monthly takedown announcements. In the past, Facebook issued blanket bans on firms running fake accounts, which the company did not do this time.
"We have banned a number of firms in the past because their entire business model was built around this," said Nathaniel Gleicher, the head of cybersecurity policy at Facebook. "In this case CLS has a large portion of legitimate activity that isn't designed for this purpose, so we're not taking action against the entire organization at this point."
Acting on a tip from the FBI, Facebook also removed accounts run out of Russia that targeted the UK, Algeria, and Egypt, and — in a repeat of their 2016 election efforts — the United States.
"The first network we took down was linked to the Russian Internet Research Agency (IRA), and so was the 100th we removed in August," said the Facebook report.
In the US, the Russian network attempted to influence the upcoming presidential election, but without much success. According to Graphika's analysis, an article about Democratic presidential nominee Joe Biden and vice presidential candidate Kamala Harris gained only a handful of likes when posted across Facebook groups.
Gleicher said that the Russian-based account operators used fake personas to find freelancers for PeaceData, a website that purported to "cover stories that are usually untold or kept hidden from the general public."
"They reached out to — and relied on — real people or native speakers in the languages they wanted covered," Gleicher said, "likely to try to limit their linguistic footprint and make it harder to see that this was, in fact, an influence operation."
Russia has used this tactic before. In 2019, Facebook removed pages and accounts associated with the Internet Research Agency, the indicted Kremlin-connected troll farm. The pages targeted countries in Central Africa and were run by people in the region. At that time, Facebook didn't notify people associated with the pages of why they were removed, and one person claimed to have not realized they were working for the Russian government.
"Whaaaat theeee fuck," said a person who ran a removed page when reached by BuzzFeed News last year. "Pardon my language. What you say is a big thing."
This time, Gleicher said Facebook will be notifying everyone the Russian accounts reached out to, which he said was fewer than 200 people on the platform.
The PeaceData website wasn't particularly popular. According to social media tracking tool BuzzSumo, its top story was liked, shared, and commented on nearly 20,000 times, but most of its other stories received only a few hundred engagements.
The goal of the Russian network was to target people whose politics were left of center. One of the examples highlighted by the company showed an inflammatory headline that claimed the UK government was creating "a myth of a migrant crisis to distract from its failures."
Ben Nimmo, the head of research at online investigations outlet Graphika, said that the Russian operation didn't travel far.
"Keep calm," he tweeted.
The final removed network was run out of Pakistan and included 453 fake accounts primarily used for posting spam and reporting content criticizing Pakistan or supporting India. The network included 78 Facebook groups, which collectively had 1.1 million members.
China's pivot to Europe in light of the tech war with the U.S.
SINGAPORE — China's agreement with the European Union could pave the way for Beijing's "dual circulation" strategy of being self-reliant in technology while still remaining a part of the global supply chain, an academic told CNBC.
Last year, the Chinese government came out with a batch of policy terms to bolster its economy, putting them under a vague umbrella term of "dual circulation." The phrase refers broadly to two circles of economic activity — internal and external — with greater emphasis than before on business at home.
"Dual circulation is such an important point in the middle of this China-U.S. tech war," said Winston Ma, an adjunct professor of law at New York University.
The two superpowers continue to fight for technological dominance and superiority. Reuters recently reported that in its final days, the Trump administration notified Huawei suppliers that it was revoking certain licenses to sell to the Chinese tech company. Huawei had been caught up in ongoing tensions between the U.S. and China as sanctions from Washington seriously hindered its ability to do business globally.
Ma told CNBC's "Squawk Box Asia" on Tuesday that a EU-China investment treaty, if passed, may potentially give Beijing an option to circumvent the United States altogether.
"You can see this dual circulation is balanced by focusing on domestic innovation and at the same time to try and find somewhere, other than the U.S., to get to the external circulation such that the global supply chain, the global innovation dialogue can still happen in the middle of China-U.S. tension," he said.
The European Union's executive arm, the European Commission, last month announced an investment deal with Beijing that followed seven years of negotiations. The deal would still have to be approved by the European Parliament before implementation and lawmakers have already raised major concerns with the agreement. Ma expects it to be approved by this year.
Experts have said that tensions between the U.S. and China fosters disconnect between the technology development in both countries — the situation is frequently referred to as tech "decoupling."
Ma said some of that split is already happening and pointed to China's focus on bolstering its domestic semiconductor industry by putting funds into local research and development. Early last year, U.S. lawmakers also proposed funding to develop 5G alternatives to Huawei. "What we are really seeing is both countries are promoting innovation but promoting innovation in a way to be independent from each other. To that extent, the decoupling is really happening," he added.
It is not clear that President-elect Joe Biden's administration would reset relations with Beijing, according to Ma. "I would say there's a lot of uncertainties," he said.
While the Biden administration has the power to suspend U.S. sanctions already in place, Ma said they could also choose to keep them "and they can even put on more restrictions to these Chinese companies."
Smartphone maker Xiaomi, for example, was recently added to a blacklist of alleged Chinese military companies by the Trump administration. Biden could potentially add the Chinese firm to the Entity List that can restrict American companies from exporting technology to Xiaomi, Ma said.
Galaxy Buds Pro review: Samsung's AirPods Pro-beating earbuds | Samsung
Samsung's latest Galaxy Buds Pro earbuds add noise-cancelling, virtual surround and improved sound, making them a challenger to Apple's AirPods Pro.
At £219, they are the new top-of-the-range earbuds from Samsung, sitting above the £179 Galaxy Buds Live and £159 Galaxy Buds+.
The Buds Pro have silicone ear tips and a general shape similar to the Buds+ but look more like the Buds Live. They are stored in an excellent, compact, square charging case that easily fits into the money pocket of a pair of jeans.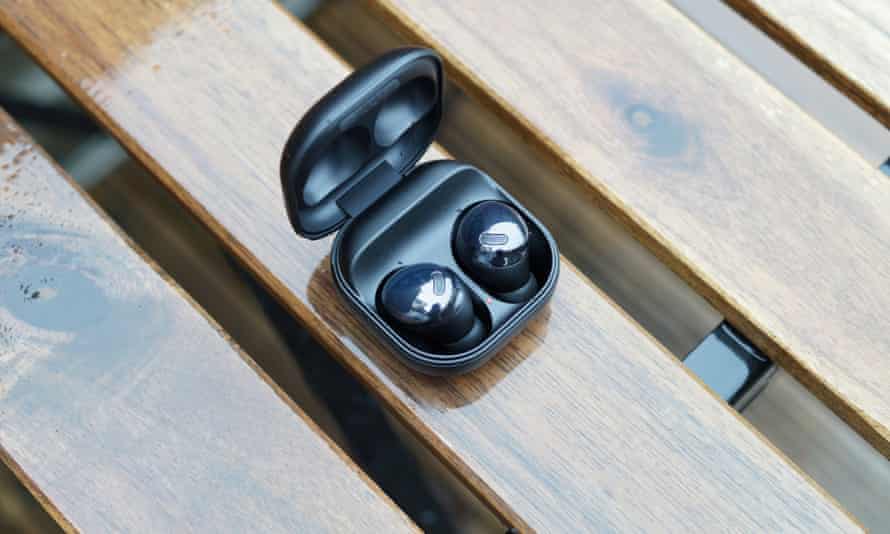 The new earbuds are bigger and heavier than the Buds+ and do not twist to fit in the concha of your ear in quite the same way, protruding slightly further, but are still small compared with rivals. They do a good job of avoiding putting pressure on the delicate parts of the ear, held in place by the oval ear tips – of which there are three sizes in the box.
They were comfortable and stayed securely in my ears but you can twist a small lip of the earbud under the cartilage of your ear to lock them in place if needed. The earbuds are water resistant to IPX7 standards, which means they can be submerged in up to one metre of water for up to 30 minutes, making them some of the most water-resistant earbuds available.
Specifications
Water resistance: IPX7 (one metre up to 30 minutes)

Connectivity: Bluetooth 5.0, SBC, AAC, SSC

Battery life: five hours ANC on (up to 18 hours with case; 28 hours with ANC off)

Earbud dimensions: 19.5 x 20.5 x 20.8 mm

Earbud weight: 6.3g each

Driver size: 11mm woofer + 6.5mm tweeter

Charging case dimensions: 50 x 50.2 x 27.8 mm

Charging case weight: 44.9g

Case charging: USB-C, Qi wireless charging
Connectivity and controls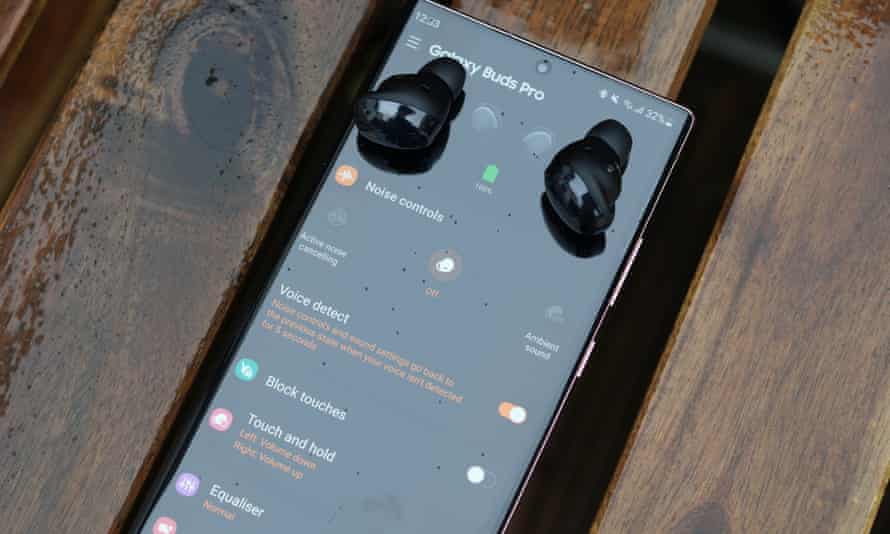 The Buds Pro support Bluetooth 5 with both the universal SBC and AAC audio standards used by most devices. But they also support Samsung's own "scalable audio codec", which can provide higher-quality audio but only works with Samsung devices. They are compatible with all standard Bluetooth devices and support automatic pairing with Samsung and other Android devices via the Galaxy Wearable app plus Swift Pairing with Windows 10 PCs. Unlike their predecessors, the Buds Pro are not supported by the Galaxy Buds app on an iPhone, so iOS users can use the earbuds but will not be able to change settings or update them.
The earbuds only connect to one device at a time but support seamless switching (so you don't have to manually disconnect) and a new auto-switch system that can be used with Samsung devices running OneUI 3.1 or higher such as the new Galaxy S21 series. Either earbud can be used on its own.
Connectivity to a Galaxy Z Fold 2, iPhone 12, MacBook Air M1 and other devices was excellent.
The exterior of the earbud is touch sensitive. Tap once for pause/play, twice and thrice for track skip. A tap-and-hold gesture can be set to control the volume (left for down, right for up), control noise-cancelling settings, activate the voice assistant or trigger Spotify on compatible phones. Take both earbuds out and the music pauses; take only one out and ambient sound mode activates on the other. The controls work well with good audible feedback.
Battery life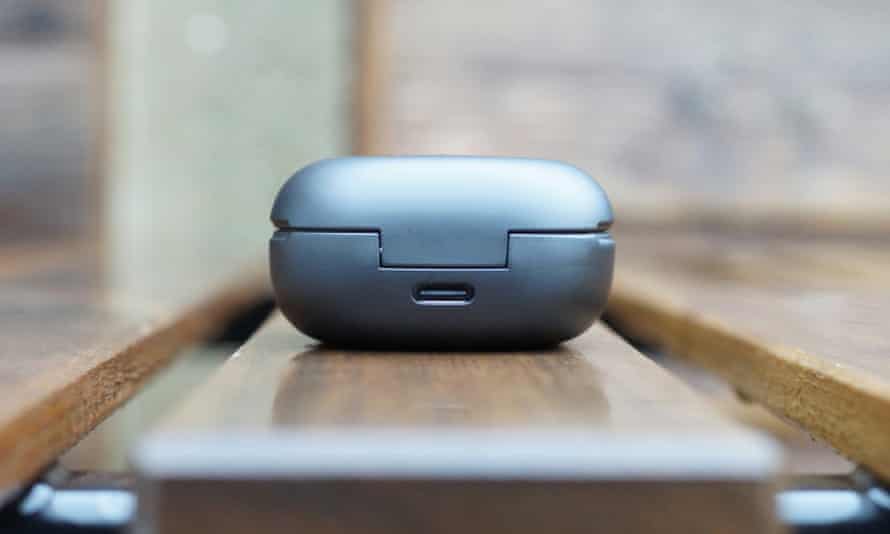 The earbuds last for up to five hours with noise-cancelling active and can be charged 2.6 times in the case for a total of 18 hours. Turn off noise-cancelling and the earbuds last up to eight hours and up to 28 hours with the case. Five minutes charging will add up to one hour of playback.
The case is charged via a Qi wireless charging coil in its base or the USB-C socket in the back. A cable is included in the box but not a power adaptor.
Sustainability
Samsung does not provide an estimate of the number of full-charge cycles the batteries in the case or earbuds should last. Batteries in similar devices can typically last for 500 cycles while maintaining at least 80% of their original capacity.
Samsung does not sell individual replacement buds or cases. The Buds Pro are repairable but unlike previous Samsung earbuds the battery cannot be replaced, ultimately making them disposable.
The earbuds and case are made from 20% post-consumer recycled materials. Samsung operates recycling and trade-in schemes for smartphones but not for its earbuds. The company publishes annual sustainability reports but not impact assessments for individual products.
Excellent sound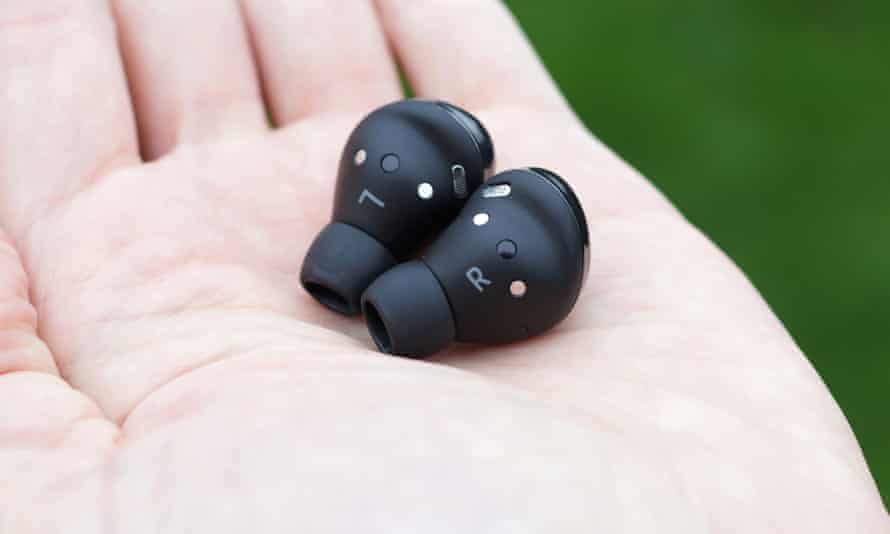 The Buds Pro take the easy-listening, everyday sound of the Buds+ and improve the audio quality in all dimensions. They produce rich and well-controlled bass, warm mids and precise high notes that make them some of the best-sounding true wireless earbuds available.
They handle many music genres well, with a wider soundscape than most earbuds. Acoustic, guitar-based tracks such as the live version of the Eagles' Hotel California sound warm, inviting and full of detail. There's plenty of punch and raw energy in grunge or rock tracks, while high-tempo electronica sounds suitably energised. The earbuds do an admiral job of rendering really deep bass, while even orchestral scores such as Holst's Planet suite sound grand and full of nuance.
Occasionally, you can get hit with a little too much treble, such as overly prominent trumpets at higher volumes, but overall they sound really great, matching top rivals such as the Jabra Elite 85t. There's a limited equaliser that can switch between preset modes such as "dynamic" or "bass boost" in the companion app.
Active noise cancelling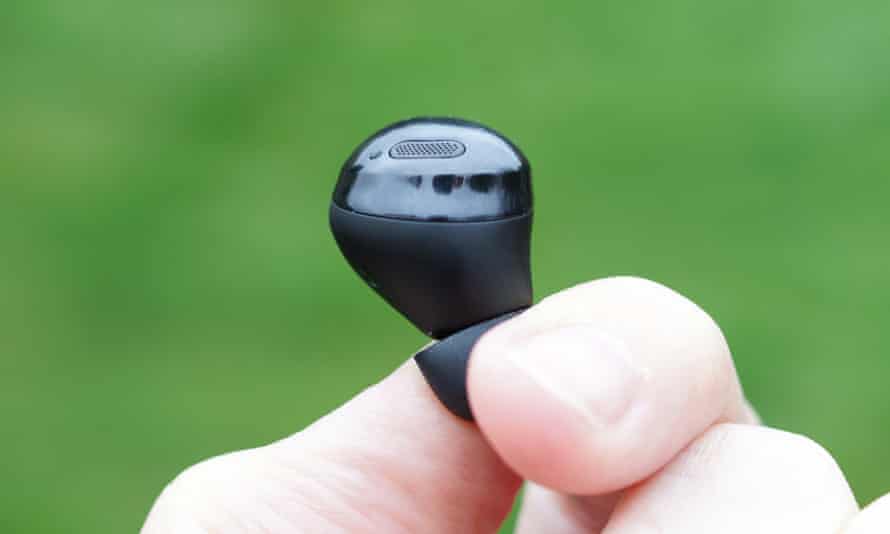 The Buds Pro have several active noise-cancelling and ambient sound modes. There are two levels of noise-cancelling available. On high, the noise-cancelling is effective at reducing low rumbles and some mid-frequency sounds but falls slightly short of the effectiveness of the Elite 85t and AirPods Pro. The Buds Pro were also affected to a greater extent by the fit of the earbuds – twisting and locking them in place against the inside of my ear significantly improved the amount of noise they blocked out.
The ambient sound mode, which pipes the noise of the outside world into your ears, has four levels and can be automatically triggered when the earbuds detect you speaking. It works pretty well for quick conversations or hearing announcements but doesn't sound as natural as the best available.
The earbuds also have Dolby technology that tracks the movements of your head in relation to a phone or tablet to create a virtual surround sound Samsung calls 360 Audio. It only works with devices running Samsung's latest software OneUI 3.1 but, unlike rival systems from Apple and others, it is able to create the virtual surround effect for any video, not only those with Dolby soundtracks, anchoring the sound to the screen. The effect is surprisingly good.
Observations
You can set Samsung's Bixby voice assistant to listen for the wakeword "Hey Bixby".

Game Mode reduces latency for audio that is in sync with the action on screen for games with Samsung devices.

Call quality was reasonable: my voice was clear and background noise was minimised but I sounded a little distant and not as crisp as the best rivals.

Sneezing, blowing my nose and coughing triggered the auto-ambient sound mode when active.
Price
The Samsung Galaxy Buds Pro cost £219 and are available in black, silver or purple, shipping on 28 January.
For comparison, the Galaxy Buds Live have an RRP of £179, the Galaxy Buds+ cost £129, the Jabra Elite 85t cost £219.99, the Bose QC Earbuds cost £249.95, the Sony WF-1000XM3 cost £149 and the Apple AirPods Pro cost £249.
Verdict
The Galaxy Buds Pro are Samsung's best true wireless earbuds yet.
They pack excellent sound with solid noise-cancelling into small and comfortable earbuds without stalks, which have good battery life and a great, compact case – a combination that's still hard to find. They are also water-resistant to a high standard, which can't be said for most competitors, and are made with recycled materials.
They are not cheap, costing £219, which puts them in the top end of the market, beating Apple's AirPods Pro on sound but falling short of the Jabra Elite 85t on noise-cancelling. If other Samsung earbuds are any indication, you should be able to find them with a reasonable discount if you shop around in the near future.
Unlike previous Samsung earbuds, the batteries in the Buds Pro cannot be replaced, which is a disappointing step back and ultimately makes them disposable, similar to most other true wireless earbuds, losing them a star. Samsung does not recycle the earbuds either. They can be used with an iPhone but are not supported by the Galaxy Buds app, so you can't change the settings or keep them up to date.
The Galaxy Buds Pro are Samsung's true AirPods Pro-beaters for Android – an excellent set of premium everyday true wireless earbuds.
Pros: great sound, solid noise-cancelling, seamless switching, good controls, comfortable fit, excellent case, solid battery, no stalks, IPX7 water resistance, made of recycled materials.
Cons: expensive, battery cannot be replaced, some features restricted to Samsung devices, can only connect to one device at a time.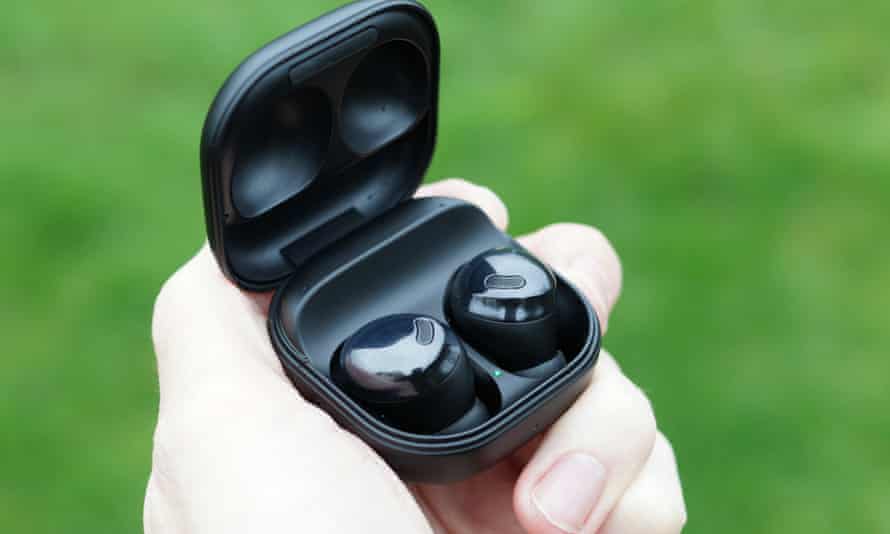 Other reviews
Silicon Valley start-up Plaid plans European hiring spree despite Visa deal falling apart