Epic fall: the joy of autumnal video games | Games
There is something about the clocks going back that I inextricably associate with video games. Perhaps it is the prospect of all those long evenings, hiding from the weather, snuggled up in an easy chair with a joypad and a mug of tea, lost in some fantastical role-playing adventure. This is also the period in which the year's biggest games are released in time for Christmas, so there is the extra pleasure of discovering new characters, new worlds, as the endless drizzle falls outside.
There are games that simply provide us with beautiful autumn environments. Firewatch envelops us in the rolling, red-tinged forests of Wyoming; the mountain walks in A Short Hike present the soft auburn hues of the season in an almost impressionistic style; and Forza Horizon 4 perfectly replicates the wet, leaf-scattered roads of October country lanes. The richness with which modern visuals capture the reds and oranges of the season, the way HDR technology simulates that particular low, coppery sunlight as it glints across the screen, gives these games the cosiness of an open fire.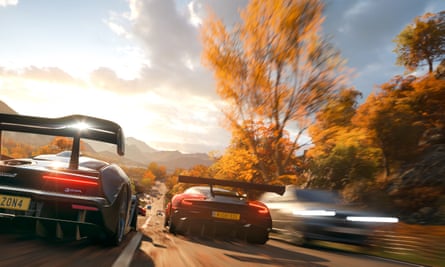 October country lanes … Forza Horizon 4.

Photograph: Microsoft
But there are also games that capture more than the look of autumn; they are autumnal in their themes and tone. The apocalyptic adventures The Last of Us and Fallout 4 make the most of their rugged settings, using the stark rural scenes to emphasis the feelings of solitude and loss. The quest at the centre of wordless PlayStation title Journey is bathed in burnished orange colours, but it is also a game about the cycle of life that autumn represents; the death and rebirth of nature. One thing I really love about the adventure Life Is Strange is its authentic autumnal setting – this game, about teenage girls discovering friendship amid fear and depression, takes me back to new school years beginning – those worrisome days, walking back home in the low light, breath visible in the cold air, the Wedding Present playing on my Walkman.
When I tweeted about the joy of autumnal games last week, I was inundated with people's favourite examples. The Vanishing of Ethan Carter, Night in the Woods, the swirling burgundy leaves in the wind around Ghosts of Tsushima, the Paris of Broken Sword … Video games are nostalgic artefacts anyway – we spend so much time in their worlds, wrapped in their stories and dramas, and I think autumnal video games hit us extra-hard, because this season tells us that the game, like all things, has a course to run, and the end hovers close. As Shakespeare wrote, "This thou perceiv'st, which makes thy love more strong, To love that well which thou must leave ere long."
Time is fleeting – autumn tells us this much. And that is what gives games, and everything else we experience, such value.
Don't expect an 'explosion of cases' from China's antitrust push: Professor
Jack Ma, founder of Alibaba Group, attends opening ceremony of the 3rd All-China Young Entrepreneurs Summit on September 25, 2020 in Fuzhou, Fujian Province of China.
Lyu Ming | China News Service via Getty Images
SINGAPORE — China's latest antitrust push will not likely lead to a "sudden explosion of cases" against online platforms, according to legal expert Angela Zhang.
Her comments came after shares of Chinese tech giants like Alibaba, Tencent and Meituan were rattled earlier in November following the release of draft rules by Beijing that defined for the first time what constitutes anti-competitive behavior.
"It's a bit early to tell what is the next step the government is going to take but … at least this is kind of signaling a trend of stricter regulatory enforcement over these tech businesses," said Zhang, who is associate professor of law and director of the Center for Chinese Law at The University of Hong Kong.
Commenting on the potential impact of the draft anti-monopoly rules, which are currently in a public consultation stage until Nov. 30, Zhang told CNBC's "Street Signs Asia" on Monday that there are two factors to keep in mind.
We shouldn't expect … a sudden explosion of cases against these online platforms.
Angela Zhang
associate professor of law, Center for Chinese Law at The University of Hong Kong
Firstly, such investigations typically involve a "lengthy process" and Chinese agencies could take a long time to complete an investigation, Zhang said.
"The last big case that they brought against Tetra Pak took almost five years to complete," she said referring to the Swedish packaging firm that was slapped with a fine of about $97 million by Chinese regulators over anti-monopoly practices.
Secondly, Chinese agencies are "very thinly staffed," she added.
"We shouldn't expect … a sudden explosion of cases against these online platforms," Zhang said, as it would "consume a lot of time" and human resources for government agencies to bring any big cases against the tech giants.
As for competitors, the professor said they may pursue their cases in court, though so far no plaintiff has successfully launched an antitrust case against the online platforms. It also "remains to be seen" how judges will interpret the issues.
Still, she admitted that many details "remain to be finalized" and it is still not known when the new rules will actually be announced. Even when the new rules are released, they will only be "guidelines" and won't change existing regulatory frameworks.
Restaurant tech start-up Toast worth $8 billion in employee share sale
Apple security chief accused of bribing officers in exchange for gun permits
Steve Proehl | Corbis Unreleased | Getty Images
A grand jury in Santa Clara, California, issued an indictment on Monday accusing Apple's chief security officer, Thomas Moyer, of offering bribes to secure concealed carry permits for Apple employees.
Moyer allegedly promised to donate 200 iPads worth $70,000 to the Sheriff's Office in exchange for four concealed weapons (CCW) permits "withheld from Apple employees," according to a press release from the Santa Clara District Attorney Jeff Rosen.
"Tom Moyer is innocent of the charges filed against him. He did nothing wrong and has acted with the highest integrity throughout his career. We have no doubt he will be acquitted at trial," Moyer's lawyer Ed Swanson said in a statement to CNBC.
Apple didn't immediately respond to a request for comment.
The charges filed on Monday are part of an investigation dating back to 2019 into whether or not the Santa Clara sheriff uses concealed carry permits to help solicit bribes and political donations. The sheriff's office covers Cupertino, California, where Apple's headquarters is located. Moyer has worked at Apple for 14 years and is now its head of global security, his lawyer said on Monday.
The Santa Clara DA said that while state law says that people who receive concealed carry licenses in California need to demonstrate "good cause," as well as a firearms course and have good moral character, the sheriff has the final say in determining who should qualify.
"Ultimately, this case is about a long, bitter and very public dispute between the Santa Clara County Sheriff and the District Attorney, and Tom is collateral damage to that dispute," Swanson said in a statement on behalf of Moyer.
The Santa Clara DA alleges that officials in the Santa Clara County Sheriff's office, Undersheriff Rick Sung, and Captain James Jensen, were part of a scheme where they solicited bribes in exchange for easier approval of concealed carry permits. An insurance broker with political connections in San Jose was also charged with offering bribes in exchange permits on Monday.
In 2020, an investigation from NBC Bay Area found that donors to the Santa Clara Sheriff's political campaigns were about 14 times more likely to get a concealed weapons permit than those who didn't contribute. Sheriff Laurie Smith hasn't been charged. Previously, four people were charged with conspiracy and bribery in August as a result of the investigation.
The promised donation of the iPads was never fulfilled, according to the Santa Clara DA, because it was scuttled after a search warrant was executed for concealed carry records at the Sheriff's office in August 2019.