Diego Maradona: 'Adios Diego': Maradona buried as world mourns flawed football great | Football News
BUENOS AIRES:
Argentina
's Diego
Maradona
, one of the world's greatest ever
football
players, was buried on Thursday amid a global outpouring of grief from the streets of
Buenos Aires
to Naples in Italy.
The death of Maradona at the age of 60 on Wednesday, following a heart attack, has sparked both mourning and celebrations of a true sporting star, who was a genius on the soccer field but lived a life marred by struggles with addiction.
In a day of high emotion, the World Cup winner was taken by hearse late on Thursday to the Bella Vista cemetery on the outskirts of Buenos Aires – where his parents are also interred – for an small private ceremony of his family and close friends.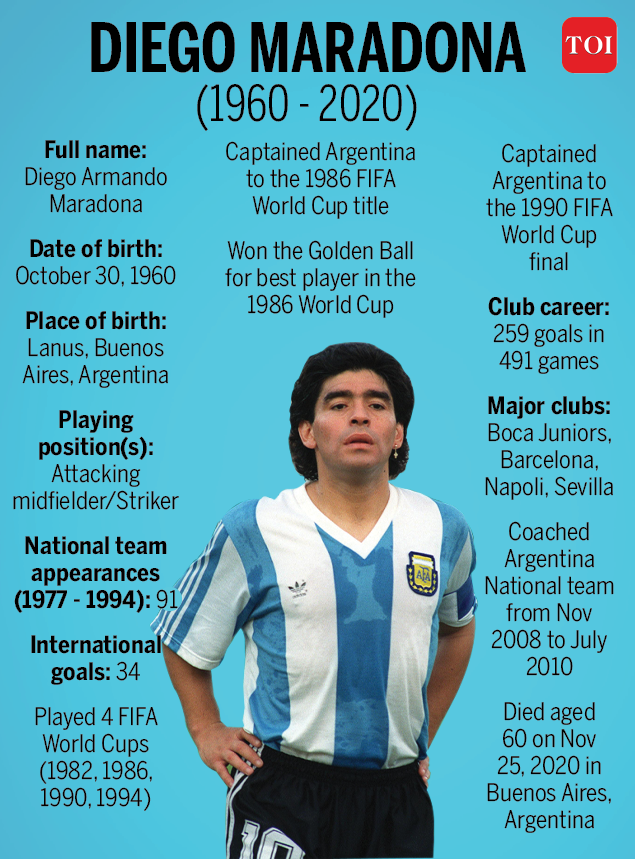 Thousands of Argentines lined the roads as the procession passed on the hour-long journey from the presidential palace in central Buenos Aires, where Maradona had lain in state during the day.
Earlier, there were clashes between police and fans and a febrile atmosphere more akin to a rowdy soccer game than a wake, with fans clambering up the palace gates to get as close as possible to their hero.
In Italy, crowds tied hundreds of blue and white scarfs to the railings outside his former club Napoli, while in France, sports paper L'Equipe's front page blared out: "God is dead".
In Argentina, three days of national mourning were called for the player who led the country to a 1986 World Cup win and is revered with cult-like status. Tens of thousands took to the streets, not all wearing masks, despite fears over the Covid-19 pandemic. Some left flowers and messages at his childhood home.
"Maradona for me is the greatest thing that happened to me in life. I love him as much as my father and it's like my old man died," Cristian Montelli, 22, a supporter of the star's former club Boca Juniors said with tears in his eyes after he had filed past the coffin.
"If I die young, hopefully upstairs I can play ball and watch a Boca game with him," added Montelli, who had a tattoo of Maradona's face on his leg.
MILE-LONG LINES
During the day, Maradona's body lay in state in a closed casket at the Casa Rosada presidential palace on the central Plaza de Mayo. It was covered with the blue and white national flag and an Argentina soccer jersey with the number 10 that had been part of his nickname "D10S" – a play on "dios", the Spanish word for God.
Starting at dawn on Thursday, thousands of fans had formed a snaking line estimated at over a mile (1.6 km) long through the streets of Buenos Aires near the plaza, after a night of mourning and reminiscing.
Fans who got inside the palace – many missed out – threw soccer shirts, flowers and other items towards the casket.
"He was someone who touched the sky with his hands but never took his feet off the ground," President Alberto Fernandez said. He visited the casket on Thursday.
As authorities started to close down access to the central square on Thursday afternoon, scuffles broke out, with police using rubber bullets and water cannon to disperse the unruly crowds.
The tensions eased after Maradona's body was transferred to the cemetery, surrounded by a huge procession of police and others on motorbikes and cars.
In Naples, meanwhile, fans laid out flowers, children's pictures, candles and even a bottle of wine in a rapidly expanding, makeshift shrine.
"DIEGO BELONGS TO THE PEOPLE"
Major athletes and world leaders, including Argentina-born Pope Francis, have paid their own tributes.
"Diego belongs to the people, Diego belongs to Argentina, Diego belongs to the country," said Dario Lozano, waiting in line to view the casket.
Beloved in his homeland after leading Argentina to World Cup glory in 1986 and adored in Italy for taking Napoli to two Serie A titles, Maradona was a uniquely gifted player who rose from the tough streets of Buenos Aires to reach the pinnacle of his sport.
The 1986 World Cup included a quarter-final game against England where Maradona scored two of the tournament's best-known goals ever – an illicit "Hand of God" goal and one that followed an incredible swerving, dribble.
Maradona also battled various health problems over the years as a result of his addictions. Earlier this month, he was hospitalized for symptoms including anemia and dehydration and underwent emergency surgery for a subdural hematoma – a blood clot in the brain.
On Thursday, Maradona's lawyer, Matías Morla, said he would ask for a full investigation into the circumstances of the death, and criticized what he said was a slow response by emergency services.
In Italy, Massimo Vignati, owner of a Maradona museum in Naples, said the player had become almost like family.
"My mother was the Neapolitan mother of Maradona. He was our twelfth brother," he told Reuters, surrounded my memorabilia of the player. "We must remember him with his smile as always. He made his last dribble and left us suddenly."
Afridi asks former Pakistan greats to follow Dravid's footsteps in grooming young talents | Cricket News
KARACHI: In awe of the work being done by
Rahul Dravid
in grooming talented Indian players, former captain
Shahid Afridi
has called on Pakistan greats to take a cue and nurture the young cricketers of the country.
Speaking at a function in Lahore, Afridi urged former cricketing stalwarts of the country to follow in the footsteps of Dravid, who served as head coach for the India under-19 and India A teams from 2016 to 2019.
Afridi noted that Dravid, who is currently heading the
National Cricket Academy
(NCA), had done a lot of hard work with the young Indian players at the under-19 level.
"I think as it is we are facing a shortage of quality talent so what is coming through needs to be groomed properly by our former greats. They can do a lot with these young players," he said.
He noted that greats like
Inzamam-ul-Haq
, Younis Khan and Muhammad Yousuf can do a lot in shaping and polishing the young cricketing talent of Pakistan.
Deliberating on the Muhammad Amir issue and his refusal to play under the coaching of
Misbah-ul-Haq
and
Waqar Younis
, Afridi said this was an old problem in Pakistan cricket.
"Even in my time bowlers had problems with the coaches. My issues with Waqar are well documented. I think this can only be prevented when the board (
PCB
) opens up and listens and talks to disgruntled players," he said.
Amir, who retired from international cricket recently, had said that he will not take back his decision until the present management of the Pakistan team is in place.
Afridi urged the PCB to speak to Amir and resolve the issue as the left-arm pacer still has a lot to offer to the country.
Afridi also took a dig at Pakistan head coach Misbah, insisting that he had learnt as an international cricketer that one can't survive and perform with a chicken heart at the top level.
"Players need to be encouraged to be aggressive and play with a big heart, then only results will come," he said.
Moeen Ali back in England bubble after clearing COVID test | Cricket News
GALLE:
England
all-rounder
Moeen Ali
on Saturday entered the team's bio-secure bubble here after clearing two
COVID-19
tests, thus joining his mates after spending 13 days in quarantine.
Ali, 33, tested positive for COVID-19 with mild symptoms upon arrival in
Sri Lanka
and was isolated from the rest of the touring party.
He was originally expected to be in quarantine for 10 days, which was later extended by three days following the Sri Lankan government's reservations over the new UK strain of the deadly virus.
"It's great to have Mo (Ali) back," said
Sam Curran
after stumps on Day 3 of the ongoing opening Test.
"When we walked into the changing room (at tea) we saw Mo and there were smiles on everyone's faces. He's obviously had a really tough couple of weeks and no one wants to get into the situation he was in.
Thankfully he got through that OK. We're all really excited to have him back in the group to play cricket again, because we all know what an awesome player he is, and to be around.
"The guys are really happy. Hopefully it doesn't happen to anyone else, because no one wants to have players leaving the group and isolating for a couple of weeks," he added.
Andreescu coach says he tested positive on Australian Open's Abu Dhabi flight | Tennis News
PARIS: Sylvain Bruneau, the coach of 2019
US Open
champion
Bianca Andreescu
, said Saturday he tested positive for
Covid-19
after arriving for the
Australian Open
, a result which sent 23 players into a two-week hotel lockdown.
In all, 47 players have been barred from practising in Melbourne after it was revealed that passengers on two charter flights — one from Abu Dhabi and one from Los Angeles — tested positive.
"I am deeply sorry to share that I have just tested positive for Covid-19 upon arrival after travelling from Abu Dhabi," Bruneau wrote in a media statement.
"I am extremely saddened and sorry for the consequences now on everyone's shoulders sharing my flight.
"The rest of my team is negative and I sincerely hope that any further disruption is kept to a minimum."
Bruneau said that he had tested negative within 72 hours of the flight's departure from the Gulf and "felt perfectly fine when I boarded."
He insisted he had followed all the protocols while in the Middle East.
"I have no idea how I might have contracted this virus."
The 47 players will not now be allowed out to practise and train for the five hours each day agreed to as part of their build-up to the opening major of the year, Tennis Australia said.
The Australian Open is due to start on February 8 after being moved from its usual January slot.