China bars media coverage of Disney's 'Mulan' after Xinjiang backlash
Chinese authorities have told major media outlets not to cover Walt Disney's release of "Mulan", in an order issued after controversy erupted overseas over the film's links with the Xinjiang region, four people familiar with matter told Reuters.
Set to open in local theatres on Friday, Disney had high hopes for Mulan in China, but starving it of publicity in the country's strictly censored media would be another blow to the $200 million production.
Starring big-name Chinese-born actors — Jet Li, Gong Li, Donnie Yen and Liu Yifei — and based on a Chinese folk story, Mulan was tailored to appeal to audiences in China, the world's second-largest movie market.
But mixed reviews online and capacity limits in theaters due to coronavirus prevention measures were likely to weigh on its box office performance, even before major media outlets received a notice telling them to refrain from covering the movie.
Three sources told Reuters media outlets had received the notice, two of whom said it was sent by the Cyberspace Administration of China. A fourth source at a major Chinese newspaper said he received a text message with a similar order from a senior colleague.
No reason was given in the notice, but the sources said they believed it was because of the overseas backlash over the film's links to Xinjiang.
Neither the Cyberspace Administration or Disney immediately responded to requests for comment.
Partly shot in Xinjiang, Mulan's credits included thanks to the authorities there, which prompted calls overseas for a boycott of the movie. China's clampdown on ethnic Uighurs and other Muslims in Xinjiang has been criticized by some governments, including the United States, and human rights groups.
On Wednesday, the Global Times, a tabloid run by the ruling Communist Party's People's Daily, criticized the backlash against the movie in an editorial in its English edition, describing it as "another manifestation of the extreme ideologies regarding China among US public opinion."
Disney had worked to ensure Mulan tested well with Chinese audiences, and the company's chief financial officer told investors on Wednesday that it was "very pleased" with the initial results of its release elsewhere.
The movie was released on Disney's streaming service in many markets, rather than in cinemas, due to the COVID-19 outbreak.
Mulan is likely to be shown on more than 40% of China's screens on Friday, according to data from Maoyan, a Tencent-backed ticketing platform. Chinese theatres are currently limiting capacity, typically at 50 percent.
The film had sold 9.78 million yuan ($1.43 million) worth of tickets as of Thursday afternoon, accounting for 55% of all ticket sales sold across China for Friday's shows.
One analyst, who declined to be named because he said the situation is sensitive, predicted the film would earn a dismal 150 million yuan at mainland box offices, given early audience reviews.
The film, which many have already seen online, has received a 4.7 score out of 10 on popular social media site Douban, where users leave reviews of films, books and music.
The human stories behind the fight for racial equality – podcasts of the week | Podcasting
Picks of the week
Resistance
Poet Saidu Tejan-Thomas Jr hosts this unsanitised look at the human stories behind the surge of protests for racial equality in the US in 2020. From disturbing audio of a police raid on the home of D-Wreck Ingram, a member of NYC activists Warriors in the Garden, to an interview with Jermaine Guinyard – the only black man in Harvard, Nebraska, who staged the city's first BLM protest – Tejan-Thomas zooms in on the people behind the headlines. Powerful and current, with language some listeners may find troubling. Hannah J Davies
The Yungblud Podcast
Charismatic Dominic Harrison – AKA Yungblud – is the perfect pop star and spokesperson for Gen Z, with his huge fanbase and 'baby Keith Flint' persona. In under 20 minutes of podcasting, he offers so much warmth, reassurance and cheerleading to youngsters that it should be compulsory listening. The format is simple: he chats to one non-famous guest, starting with Ashley, who talks frankly about sexuality, "the subject of 10 zillion possibilities". Fluidity, coming out and how things have evolved for their generation are all covered openly and wisely.
Hannah Verdier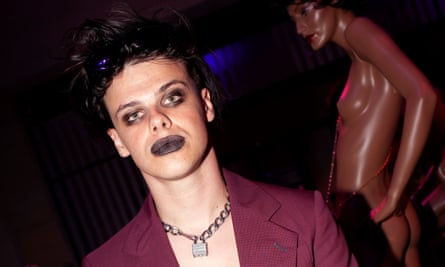 'The perfect spokesperson for Gen Z' … pop rebel-turned-podcaster Yungblud.

Photograph: Lexie Moreland/WWD/REX/Shutterstock
Chosen by Charlie Phillips

I'll eat up anything that the wild crew at Mermaid Palace release, but I've been particularly blown away by Appearances, the new serialised show from Sharon Mashihi, about working out whether to have a baby and dealing with a suffocating Iranian-Jewish family. It's achieved the ultimate accolade for a podcast from me – I'll listen to it when I'm walking, painting walls, or hoovering (when I can completely concentrate on it) rather than when I'm cooking dinner or doing another involved task (when I can't). You need to focus on it because Sharon's created an alter ego, Melanie, to figure out the baby and family stuff, and if you let your mind drift, you might lose track of whether the fourth wall is up or down. Sometimes she talks about where the wall is, too, so you need to concentrate on that as well.
This isn't an intellectual game, though – it's a mostly linear, emotional journey in which Melanie drifts further from her family as she gets closer to trying for a baby. It's funny – if you're into Jewish, immigrant or other families where everyone wants to know everyone else's business, you'll laugh. If you're into pretentious art that loves and celebrates its own pretentiousness, you'll laugh too.
All the players are introduced – Sharon's mum, her brother, the local gossip, and a host of other bit parts, many played with gusto by Mashihi herself. You're wondering what's true or not until, in classic Mermaid Palace style, she tells us directly that the real and the fictional have diverged, and then we know for sure. The series is self-described as 'a mind trip', and that's accurate – a long inner debate about how to make a big decision, and how selfish it's OK to be.
Talking points
Huawei Q3 smartphone shipments plunge as US sanctions continue to bite
A woman wearing a wearing a facemask as a preventive measure against the COVID-19 coronavirus speaks on her smartphone outside a shopping mall past a Huawei shop (back) in Beijing on April 1, 2020. (Photo by NICOLAS ASFOURI / AFP) (Photo by NICOLAS ASFOURI/AFP via Getty Images)
Nicolas Asfouri | AFP | Getty Images
HANGZHOU, China — Shipments of Huawei phones plunged in the third quarter as U.S. sanctions continue to hurt the Chinese technology giant, while domestic rival Xiaomi managed to capitalize on it, new data shows.
In the three months to the end of September, Huawei shipped 51.7 million smartphones, down 23% year-on-year, according to a Canalys report published Thursday.
Another firm, Counterpoint Research, said on Thursday that Huawei shipped 50.9 million smartphones, down 24% versus the same period last year. The Chinese firm's market share dipped to 14% from 18% in the third quarter of 2019, according to Counterpoint.
Overall in the third quarter, worldwide smartphone shipments reached 348 million units, a 1% decline year-on-year, but a 22% rise from the second quarter, the Canalys report showed.
Huawei lost its crown as the world's biggest smartphone maker, after gaining the title in the second quarter of the year.
Samsung overtook Huawei. The South Korean giant's shipments totaled 80.2 million, growing 2% year-on-year, Canalys said.
The U.S. has waged a campaign against Huawei as part of the broader trade war with China. Huawei is seen as one of China's national champions and key to the country's ambitions in next-generation technologies like 5G, the next-generation mobile networks that offer super-fast data speeds.
Washington has placed a number of sanctions on Huawei which are continuing to take their toll. Last year, Huawei was put on a U.S. blacklist known as the Entity List. This restricted American firms from doing business with the Chinese giant. It meant that Huawei was no longer allowed to use licensed Google Android software on its smartphones.
This is not a big deal in China where Google services are effectively blocked anyway. But in international markets, which are critical to Huawei's growth plans, consumers are used to using Google apps. Huawei's latest flagship smartphones do not have licensed Google Android and that's hurting the company's device sales.
Declines in international markets are continuing for Huawei, but the company also saw a 15% fall in shipments in China in the third quarter, according to another report by IDC published Thursday.
Further uncertainty around the future of Huawei's smartphone business remains. In May, Washington amended a rule which aimed to cut Huawei off from critical chip supplies. Taiwanese firm TSMC, which manufactures Huawei's smartphone chips, is no longer allowed to ship those components to the company.
Xiaomi seizing Huawei shipments
Meanwhile, Chinese rival Xiaomi is picking up the slack.
"Xiaomi executed with aggression to seize shipments from Huawei," said Mo Jia, analyst at Canalys. "There was symmetry in Q3, as Xiaomi added 14.5 million units and Huawei lost 15.1 million. In Europe, a key battleground, Huawei's shipments fell 25%, while Xiaomi's grew 88%."
Xiaomi's smartphone shipments in the quarter ending in September totaled 47.1 million, a rise of 45% year-on-year, Canalys said. It became the third-biggest smartphone player by market share for the first time, overtaking Apple which came in fourth place, and shipped 43.2 million iPhones in the same quarter.
IDC's numbers differed slightly. The research firm's data showed Apple shipped 41.6 million iPhones in the third quarter of 2020, down 10.6% year-on-year. IDC said the drop was expected as the next-generation iPhone 12 series was delayed.
The Cupertino giant announced the iPhone 12 range at a later-than-usual date of mid-October, with some devices not available until next month.
"Regardless, the iPhone 11 series did exceptionally well, contributing the majority of Apple's volume, followed by the SE device," IDC said. "Looking ahead, we expect Apple to grow in coming quarters with strong early demand for iPhone 12 paired with robust trade-in offers across major carriers, especially in the U.S."
Facebook fixes technical error affecting political ads days before US election
The founder and CEO of Facebook Mark Zuckerberg speaks during the 56th Munich Security Conference in Munich, southern Germany, on February 15, 2020.
Christof Stache | AFP | Getty Images
Facebook on Thursday issued an update to political advertisers acknowledging that a technical error in its systems caused a number of ads from both political parties to be improperly paused.
"While this impacted a small proportion of the ads about politics and social issues in our system, we regret any disruption in the delivery of these ads during this period," the company said in a blog post.
The error stems from a policy change Facebook announced in early September to block any new political ads in the week prior to the U.S. presidential election on Nov. 3.
A technical flaw improperly paused "a number of ads" in relation to this policy decision, Facebook said. Additionally, some "advertisers did not understand the instructions" Facebook provided, which also caused their ads to be paused, the company said.
The issues impacted "ads from across the political spectrum and both Presidential campaigns," the company said, adding that no ad was paused due to any partisan consideration. The company said it has made updates to enable the affected ads to run.
Earlier today, the Biden campaign's digital director Rob Flaherty complained on Twitter that just five days before the election, Facebook still hadn't fixed the problems related to the campaign's ads.
The disruption comes less than a week before the election. Numerous candidates rely on Facebook to target voters and donors with ads.  
Political advertisers in the U.S. spent at least $264 million on Facebook in the third quarter, or about 1.2% of the company's revenue during the quarter, according to CNBC analysis.