Cambridge University unveils free course for disadvantaged students
LONDON: The University of Cambridge on Wednesday launched a free one-year Foundation Year course targeted at talented students from backgrounds of educational and social disadvantage in the UK as a new route to address the world-renowned institution's diversity agenda.
The one-year course is aimed at a new stream of applicants who have the ability to succeed at Cambridge University, but have been prevented from reaching their full potential by their circumstances.
The university says it will prepare them for further learning and offer them the chance to progress straight to an under-graduate degree at the university.
"The launch of the Cambridge Foundation Year will open up Cambridge to a new field of candidates and transform lives," said Professor Stephen Toope, Cambridge Vice-Chancellor.
"Students will be drawn from a range of backgrounds, the common link being that their circumstances have prevented them from realising their academic potential. They will benefit from our personal approach to teaching and grow in confidence and understanding, and we will benefit from them joining and further diversifying our community," he said.
The Foundation Year course offers full one-year scholarships to all students accepted as part of this new course as a result of a 5-million pounds gift from philanthropists Christina and Peter Dawson.
Up to 50 Foundation Year students will arrive at Cambridge in the programme's first intake in October 2022, after applying directly through Universities and Colleges Admissions Service (UCAS) by the January 2022 deadline, and undergoing interviews and assessments to identify their aptitude.
Those who have been in care, those estranged from their families, and those who have missed significant periods of learning because of health issues are among the groups the Foundation Year aims to reach – students whose education has been disrupted and are therefore unlikely otherwise to be able to make a competitive application to undergraduate study at Cambridge through the University's standard admissions process.
Other possible candidates include students who have been unable to access suitable qualifications, those from low-income backgrounds, and those from schools which send few students to university.
Professor Graham Virgo, Senior Pro-Vice-Chancellor for Education, said: "The University's work to explore new ways of widening access and closing the attainment gap caused by inequality is absolutely vital at a time when those the Foundation Year is aimed at – who already face exceptional disadvantage – are likely to have felt the impact of the Covid-19 pandemic disproportionately.
"Cambridge is committed to further diversifying its student body and welcoming all those who have the ability to achieve here, regardless of background."
The students will study at one of the 13 Cambridge colleges participating in the pilot scheme, and will benefit from the community, support and academic stimulation this offers, which is intrinsic to the Cambridge experience. They will study an engaging and challenging multi-disciplinary curriculum in the Arts, Humanities and Social Sciences that will prepare them for further study in these subjects. It is anticipated that as the Foundation Year programme develops, more subjects could be added, for example STEM [Science, Tech, Engineering and Mathematics] subjects.

On successful completion of the programme, students will receive a recognised CertHE qualification from the University of Cambridge, and with suitable attainment can progress to degrees in the Arts, Humanities and Social Sciences at Cambridge without the need to apply to the University again.
Students will also be supported during the programme in finding alternative university places if they do not wish to continue to undergraduate study at Cambridge, or do not meet the required level of attainment.
"Indeed, the need for this Foundation Year has become ever clearer as the pandemic has exacerbated inequities and disadvantages. Peter and I are firmly committed to doing whatever we can to support Cambridge in addressing educational disadvantage in wider society, and are thrilled to have enabled the launch of such a ground-breaking and impactful programme," said Christina Dawson.
It is expected that the Foundation Year will further increase the proportion of Cambridge students from state-funded schools, low progression postcodes of the UK and from areas of socio-economic deprivation.
Assam Special TET notification 2021 released, apply here
NEW DELHI: AXOM Sarba Siksha Abhiyan Mission, Assam has released the notification for Special Teacher Eligibility Test (TET) Exam for Lower Primary Teachers.
The Special TET (Lower Primary Level) will be conducted for all contractual employees engaged from time to time/presently working under various interventions of SSA, Assam (except TET qualified teachers both SSA Contractual and State pool) having requisite eligibility & qualifications as per NCTE norms and who were issued Unique ID from the concerned district.

Eligibility Criteria for appearing in the Special TET
1) Candidate must be permanent resident of Assam.
2) Candidates who has worked/are presently working under various interventions of SSA, Assam and who were issued Unique ID from the districts and having minimum academic & professional qualification.
Senior Secondary (or its equivalent) with at least 50% marks and 2-year Diploma in Elementary Education OR
Senior Secondary (or its equivalent) with at least 50% marks and 4-year Bachelor of Elementary Education (B.El.Ed) OR
Senior Secondary (or its equivalent) with at least 50% marks and 2-year Diploma in Education (Special Education) OR
Graduation and two year Diploma in Elementary Education (by whatever name known).

Structure and content of Special TET, Assam (Lower Primary Level)
S. No.
Subject
No. of questions
Marks
1
Child Development & Pedagogy
30 MCQs
30
2
Language I – Assamese, Bengali, Hindi,
Bodo, Manipuri, Garo, Nepali, Karbi, Hmar
30 MCQs
30
3
Language II – English
30 MCQs
30
4
Mathematics
30 MCQs
30
5
Environmental Studies
30 MCQs
30
* All (150) questions will be MCQs type; each question will carry 1 mark.
Duration of Examination: 150 minutes for Paper – I, Additional 20 minutes' time will be there for visually impaired candidates.
Minimum Marks for Qualifying in TET: A candidate is required to score at least 60% i.e. 90 marks out of 150 to qualify the Teachers' Eligibility Test (TET). However, for SC/ST (Hills)/ST (plain)/ OBC/MOBC/PWD (PH), there will be relaxation of 5%. Thus, for these candidates, qualifying score will be 55% i.e., 83 out of 150.
Examination Fee will be
| | | |
| --- | --- | --- |
| S. No. | Category | Fees |
| 1 | General Category | Rs 500/- |
| 2 | SC/ST(P)/ST(H)/OBC/MOBC/PWD(PH) | Rs 300/- |

Steps of submission of online Application Form and examination fee are
1) Visit the official website https://ssa.assam.gov.in or https://sebaonline.org for online application.
2) Click the link "online application for Special TET".
3) Download Instruction Manual.
4) Read carefully the Instruction Manual on how to submit the online application form.
5) Fill up Online application form Upload Passport size colour Photo, Signature, Professional Qualification mark sheet etc.
6) The candidate has to pay the fee through online banking/ credit card/ debit card etc. He/she can take print out of the online application form.

Here's the direct link to apply online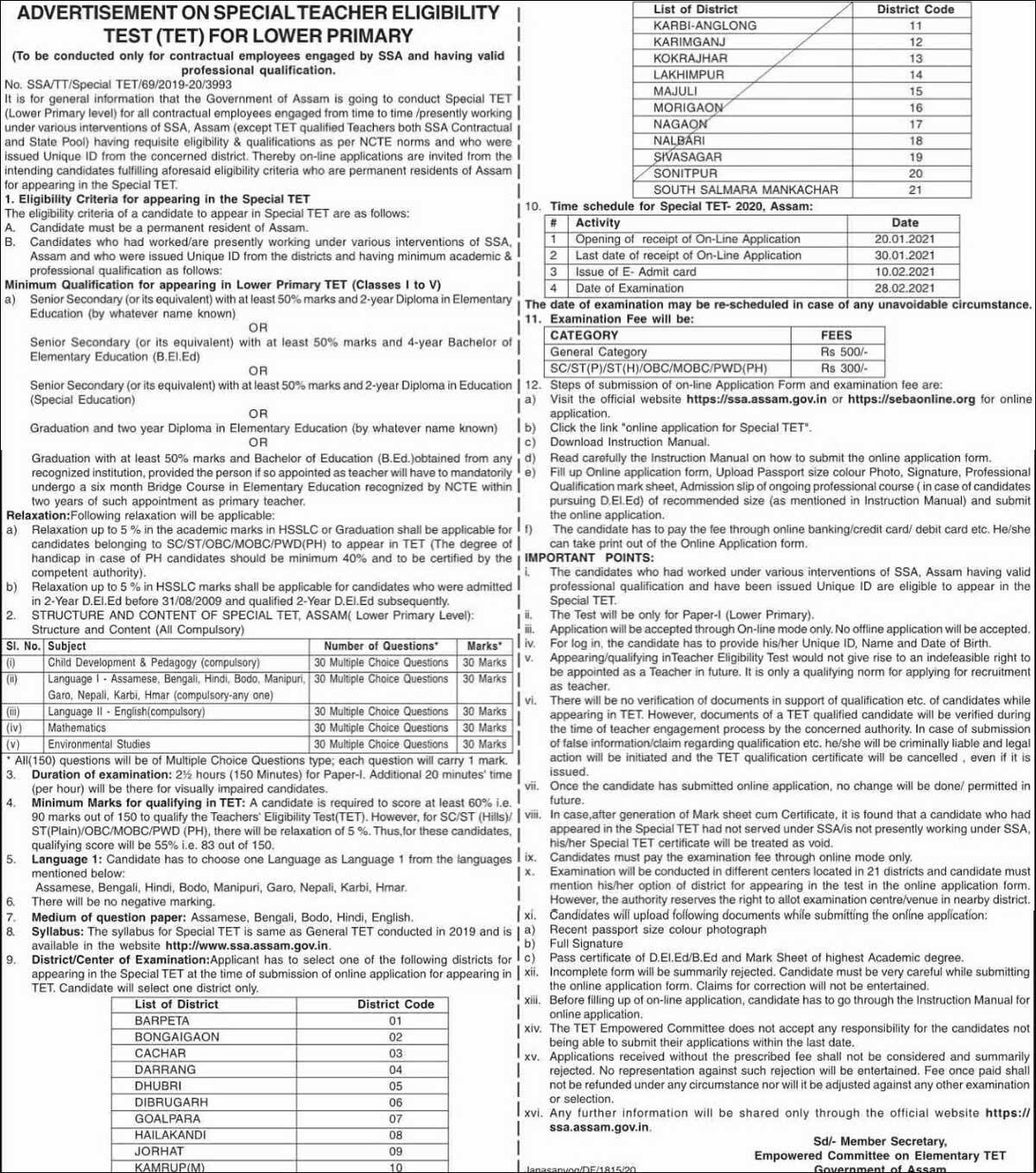 Centre approves financial package for Aligarh Muslim University
ALIGARH: The Union government has sanctioned a financial package for the Aligarh Muslim University to take care of its pressing monetary needs, an AMU official said on Thursday. The University authorities, however, did not give the exact quantum of the package approved by the Centre for the varsity, saying the same is being calculated.
The Centre has also decided to pay a sum of over Rs 14 crore of the varsity's House Tax to the Aligarh Municipal Corporation, which had got the AMU's SBI bank account seized due to the default in its payment, AMU Registrar Abdul Hamid said.
"The university received an official communication from the Ministry of Education and the University Grants Commission on Wednesday," said Hamid.
"The communication informed the varsity that all its requirements pertaining to the retirement funds and allowances of its teaching and non-teaching staff have been fully restored," he added.
The university's academic programmes have been facing a major threat due to the financial cuts as funds meant for salaries for junior and senior resident doctors of its hospital too had been blocked for several months, the varsity registrar said.
These funds too now have been sanctioned in the present relief plan, he added.

The registrar expressed gratitude to Prime Minister Narendra Modi and Education Minister for conceding this long-standing demand of the university.
Prime Minister Modi had last month attended the AMU's virtual centenary celebrations. He is the first prime minister in 56 years to attend an AMU event and address the varsity.
When contacted, AMU spokesman Prof Shafay Kidwai told that the issue pertaining to arrears in different retirement benefits to employees had been in the limbo for about three years and the university had been urging the government to release these funds.
"The letter received by the AMU yesterday has mentioned that the ministry had in principle agreed to the demand pertaining to arrears of teaching and non-teaching staff besides those pertaining to the junior and senior residents employed in medical faculty," he said.
"The exact amount of the financial package is being worked out and the university will immediately release these arrears funds as soon as it is received by it," he added.
ICFAI to organize 11th Foundation Day lecture
HYDERABAD: The ICFAI Foundation for Higher Education (IFHE) will be organizing the 11th Foundation Day Lecture virtually on the topic "Living in the World of Exponential Technology and Diigitalization" on January 22.
The lecture will be delivered by Venu Srinivasan, Chairman, Sundaram-Clayton Group, which includes TVS Motor Company, one of the largest two-wheeler manufacturer in India, and also among companies that manufacture automotive components in India. He was the President, Confederation of Indian Industries (CII) for the year 2009-10.
Srinivasan has an engineering degree from the College of Engineering, Chennai and a Master's Degree in Management from the Purdue University, USA. In recognition of his contribution to management, he was conferred with "Doctor of Management" by his alma-mater, Purdue University in 2014. Srinivasan had also received Doctor of Science honors from the University of Warwick in 2004 for his contribution to manufacturing, R&D, technology and quality excellence. IIT Kharagupr conferred him 'Doctor of Science' in 2009.
The event will be presided by C Rangarajan, Chancellor, IFHE, and Former Chairman, Economic Advisory Council to the Prime Minister of India.