Bengaluru Tech Summit: India could tap into software skills to realise its EV ambitions, say industry experts at BTS
Bengaluru: India could harness its software technology prowess to fulfill e-mobility ambitions. Developing solutions using local technology and manufacturing software driven vehicles to adapt to the Indian conditions aligns with the government's vision for Atma Nirbhar (self-reliance) in the manufacturing sector,
industry experts
said at a panel discussion on future of e-mobility at the
Bengaluru Tech Summit
– 2020, on Friday.
"The country needs a lot of hyper local solutions in the EV space because of unique market conditions, temperature, road and dust. We will need local software architects to come up with ideas unique to India. Since India is a powerhouse of software, we are in a good position to develop localised solutions," said Dattatri Salagame, managing director, Robert Bosch Engineering and Business Solutions, India.
He said that while some states like Karnataka, Tamil Nadu and Telangana have been enthusiastic in giving a push for EV, the governments need to do a lot more to boost the investors and buyers sentiment. States can offer incentives such as waiving toll charges and providing free parking for e-vehicles, and offer subsidised charging stations, he said.
Speaking about the future of EV in India and early adopters, Pankaj Vyas, CMD, Siemens Technology India said e-rickshaws and two-wheelers are taking the lead since they need not struggle with range and route — the two factors that are crucial for electric vehicles. "Public transport comes next, followed by utility vehicles like garbage pickup trucks in the city since they move on a predictable route," Vyas said.
Passenger vehicles and luxury vehicle segments will be the last one to adopt in the e-mobility space, said Vinay Shenoy, MD, Infineon Technologies India, while outlining the 10-year roadmap for EV in India.
The session was held in collaboration with the German Consulate General.

Govt plans to set up charging infrastructure across 69,000 petrol pumps
New Delhi: The government is planning to set up at least one e-charging kiosk at around 69,000 petrol pumps across the country with an aim to accelerate the uptake of
electric vehicles
, Union minister
Nitin Gadkari
said on Monday.
The Road Transport and Highways Minister while addressing a virtual conference said that the government has taken several steps to promote electric vehicles which include reduction in GST to 5 per cent, allowing delinking of battery cost of 2-3 wheelers from vehicle cost as it accounts for nearly 30 per cent of the cost etc.
"Battery charging ecosystem is very important…government is planning set up at least one electric vehicle charging kiosk at around 69 thousand petrol pumps across the country to induce people to go for electric mobility," the minister was quoted as saying in a release. Stressing that India is poised to become a global automobile manufacturing hub in the next five years, Gadkari asked the automobile industry to push for manufacturing flex engines which have versatility to use petrol or ethanol/CNG as fuels.
"Our auto industry has made significant strides in terms of development of different designs and models, robust R&D, huge market, stable government frame-work and bright and young engineering minds. India already is the largest manufacturer of two-wheelers in the world," he said.
suzuki v-strom: Suzuki V-Strom 650XT BS6 launched at Rs 8.84 lakh
NEW DELHI: Suzuki Motorcycle India on Tuesday launched the BS6 variant of
V-Strom 650XT
ABS at Rs 8.84 lakh (ex-showroom).
The V-Strom 650 XT ABS was showcased at 2020 Auto Expo.
Suzuki V-Strom
650 XT ABS is equipped with four-stroke, liquid-cooled, DOHC with 645-cc displacement, 90° V-twin engine.
The motorcycle has adopted the Suzuki Easy Start System enabling a secure and stress-free start with the push of a button. The middleweight adventure tourer comes with a lightweight Anti-lock Braking System (ABS) offering a controlled grip.
V-Strom 650XT's three-mode traction control system (2 Mode + OFF Mode), ensures superior control over the engine and is effective in difficult road conditions, preventing rear wheel spin.
Koichiro Hirao, Managing Director, Suzuki Motorcycle India Pvt. Ltd. said, "V-Strom has made its own following in India. The ultimate adventure tourer has proved its mettle in the highway touring capabilities while exploring different terrains. It is truly a masterpiece with the ultimate balance provided by the natural riding position, comfortable seat and the flexible engine character. This is our first BS6 compliant big bike and we are confident that this cleaner and greener motorcycle will continue to win people's hearts with its performance and maneuverability as it hit the Indian roads".
tata harrier review: 2020 Tata Harrier review: Jack of all trades
NEW DELHI:
Tata
Motors as a brand has always stood for consistency and reliability but now the automaker has earned a reputation for pampering the country with dashing new-age homemade offerings that not only perform well but have been proven to be the safest too. The
Tata Harrier
BS6 is an example of just that as it packs of all of the automaker's philosophies and has ended up becoming one of the most popular C-segment SUVs in India.
TOI Auto got its hands on the BS6 version of the Tata
Harrier
and we took the SUV for a test run to see if it's better than the outgoing model or if the hype shouldn't bother us at all.
The Harrier BS4 started at Rs 13 lakh while the BS6 starts at Rs 13.84 lakh (ex-showroom). The price hike ranges between Rs 34,000 – Rs 69,000. And we help you determine whether the extra Rs 84,000 you shell out is worth the deal or not.
Looks the same yet stronger-hearted
Retaining the looks through the modification year is not always a bad thing and when it is a car like Harrier, the ahead of its time bold and quirky looks still reflect that audacity and confidence as before. We can never get enough of the Harrier's looks and the SUV is still ages away from a mid-life refresh.
The most talked-about change during the transition has been the automatic gearbox and a full-blown engine. With that same imposing road presence, the Harrier BS6 now comes with an enhanced 2.0-litre Kryotec turbo diesel engine that offers 170 PS of power and 350 Nm of torque. While the torque remains the same, the BS6 offers 30 PS more power than the outgoing model. Paired with either a 6-speed manual or 6-speed auto derived from Hyundai, the SUV packs a performance punchier than ever. Harrier has nothing for petrolheads though.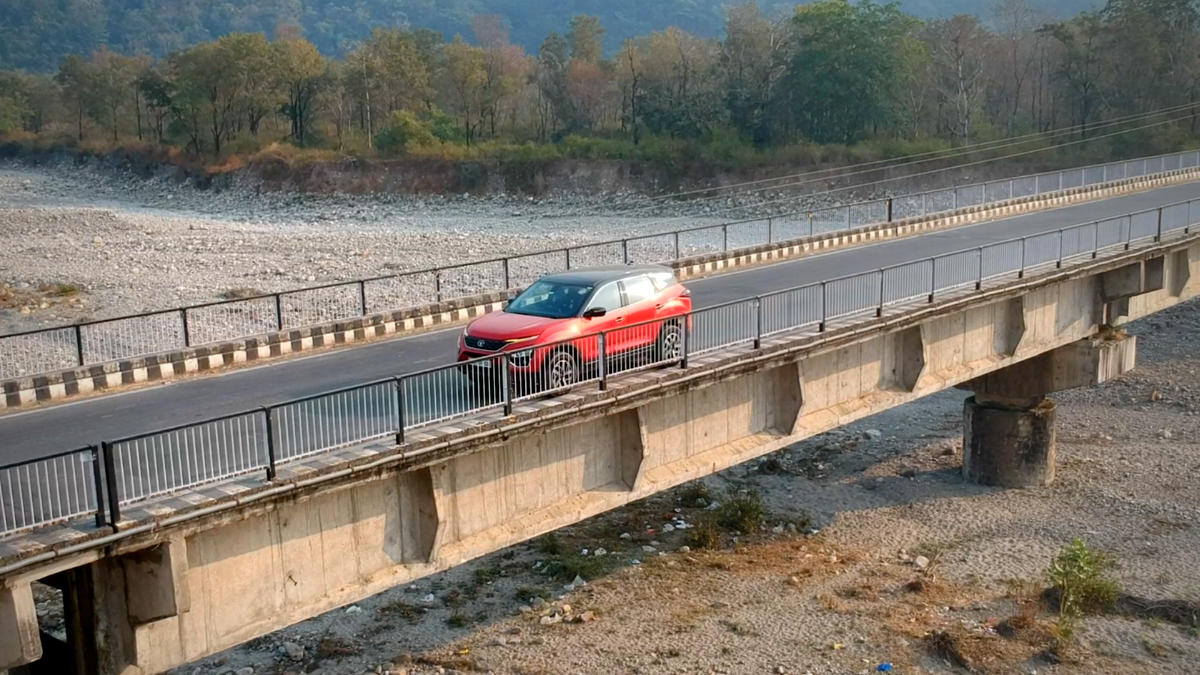 Now, in the cities, there is hardly a noticable change in how the engine behaves. Take it on the empty motorways, and Harrier doubles up a competent mile-munching machine, with well-spread torque band over 2,000-rpm. Moreover, since day one, engineers had pulled off a brilliant task in creating a well-insulated cabin, keeping NVH levels (other than diesel chatter beyond 4,000rpm) out of the window.
Adopting the OMEGARC architecture, derived from Land Rover's D8 platform, the SUV is a treat to the eye with features like diamond cut alloys, sleek xenon headlamps, sharp LED headlamps, chrome finishing, aerodynamic ORVMs complement the muscular and bold look of the SUV. We have no complaints about this part and we're pretty sure the SUV will not disappoint you either. Alloy design and compact outside rear view mirrors, which have greatly cut down blind spots, are latest additions.
Spirited driving experience
The Tata Harrier muscles its way through and with the engine's full power unleashed, the 6-speed auto seems quite convenient too. It's not just a spirited experience for the driver but the passengers will enjoy the punch too. The steering is hefty and quite engaging and paired with the automatic, it reduces the chances of driver fatigue. Even though it isn't a 4×4, the 3 drive modes- Eco, City and Sport – can help you adapt to varied situations. Tata Motors' partnership Jaguar Land Rover seemed to have benefited Harrier to a great extent. Electronic stability programme now comes as standard and what sweetens the deal are the three selectable modes (normal, wet and rough), which is a part of terrain response system, derived from JLR. The riding and handling are a big plus and the credit partly goes to the OMEGARC platform as it makes the SUV feel more planted. That's not it.
Even when the roads get tough, the Harrier gets going and takes on the undulations with ease with the least lateral movement inside the cabin. The overall spirited performance amazes you and the strong and punchy engine becomes the unsung hero. Although the turbo engine is lazy to get going under 2000 rpm, it just springs to life when it hits 2500-3000 rpm. The best part in this domain is the effortless cruising and again we have no complaints here and the enhanced engine's character will wow you too.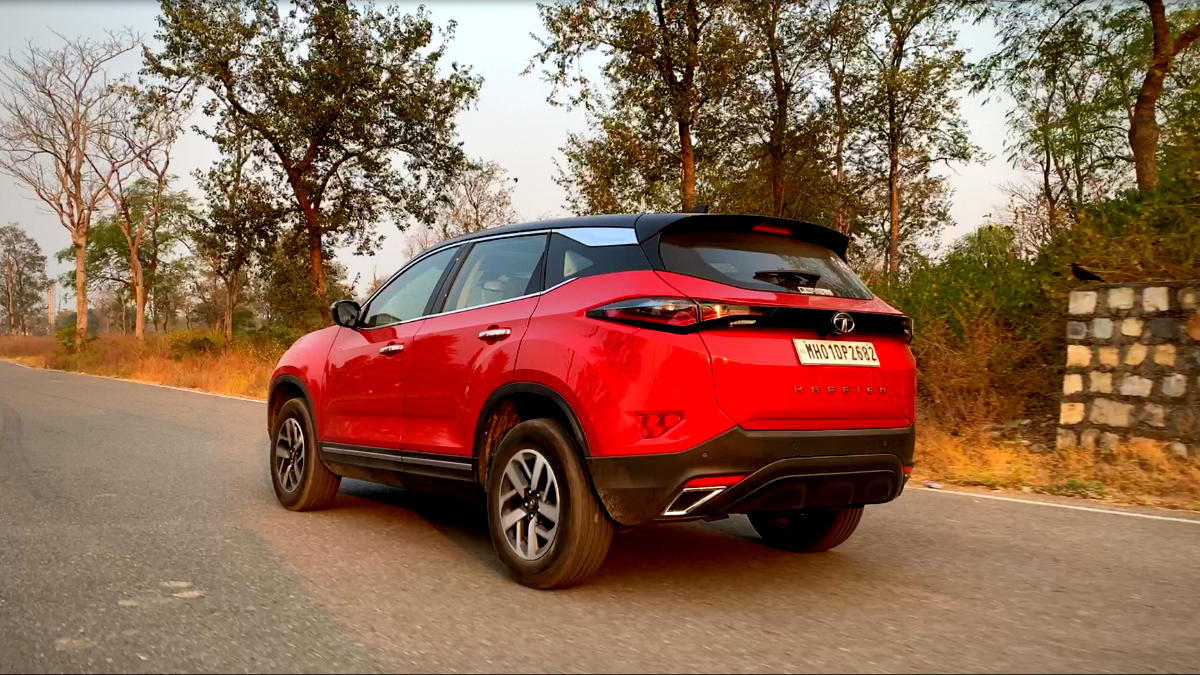 Plush interiors that reflect the maturity
Tata Harrier is as tantalizing inside as it is outside. When you step inside, the SUV dumps its young and uber-cool image and flaunts an unrecognizable mature look that sweeps you off your feet. The Harrier boasts a signature oak brown dashboard, seats covered in oak brown upholstery and, leather-wrapped steering and gear knob.
It doesn't stop there as the Harrier has to prove that is still keeping up with the times on the inside too.
Couple of key changes Tata has undertaken keeping customer feedback in mind are the massive panoramic sun roof and powered driver's seat. The SUV 8.8-inch floating island infotainment system, 9-speaker system with JBL-tune acoustics, steering mounted controls, 26 native voice commands, and a 7-inch instrument cluster. Definitely not the segment-best features but it does outdo its BS4 version and we can ignore the rivals here. The touchscreen may seem a bit undersized and the tactile response isn't always instantaneous, we believe the entertainment bit is surely going to improve in days to come, more so with the Nexon BS6 becoming a connect SUV.
The perfectionist's flaw
The only place where the Harrier is flawed is the powertrain options. A strictly diesel and no petrol SUV might look quite good on paper but it does reduce the practicality a tad bit in the real world. It definitely is a smart move by the automaker, since the trends have been suggesting that the demand is inclined towards diesel-powered offerings, but a petrol option would've helped the SUV increase its market share a bit even if it was a small margin.
Does this new red shade suit the Harrier? At least the new colour enhances the SUV's persona.
Verdict
Apart from the missing petrol option, nothing has managed to prove to be a deal-breaker and we settle with the fact that automatic transmission with a diesel unit isn't a common sight to see in the segment. Tata Harrier is a no-nonsense SUV, that remains a bit old-school in terms of tech, but looks good and feels great and it shows in its spirited performance too. The highways are a playground for this homebred beast and you can blindly go for the Harrier if you aren't a literal 'petrol-head' and we guarantee that it won't be a disappointment at all. Do you wish to see a 7-seater Harrier? Do hit the comment box to reach out to Tata Motors directly.