Australia vs India: South Australia lockdown gives CA best chance to host 1st Test against India: Public Health Officer | Cricket News
ADELAIDE: The six-day lockdown in
South Australia
to contain
Covid-19
cases has improved
Adelaide
's chances of remaining the venue of the first day-night Test between India and
Australia
from December 17 even though the situation remains fluid, the state's top medical officer has said.
South Australia has closed its borders after a sudden surge in Covid-positive cases, which stand at an overall 551 right now; and cricketers, including Test skipper Tim Paine, have been airlifted to New South Wales.
South Australia's chief public health officer Nicola Spurrier, during a press conference, admitted that there are no guarantees.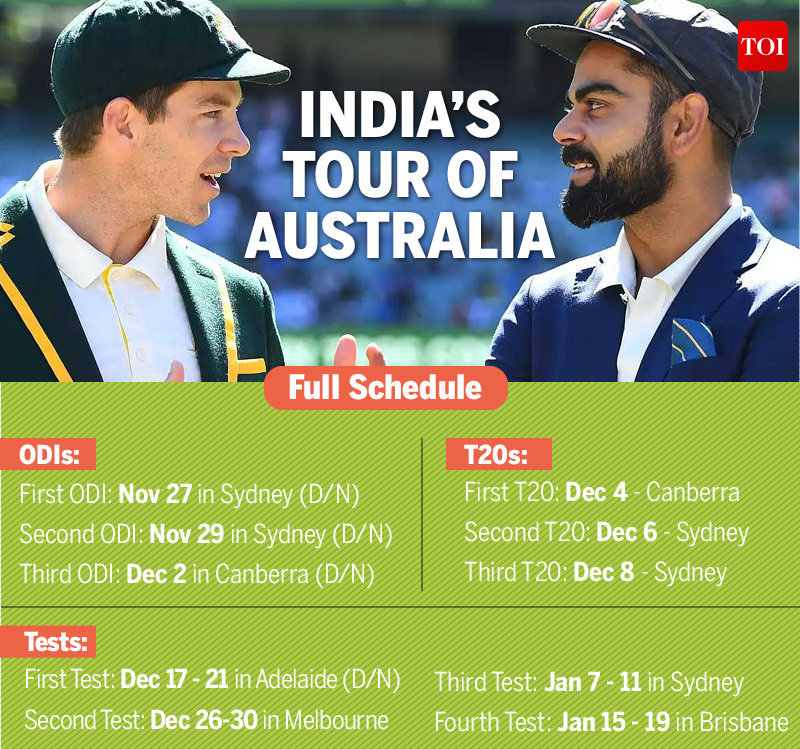 "I can't tell you exactly…I don't have a crystal ball," Spurrier told reporters during a media conference. "But what we are doing now is putting us in the best position possible to be able to have that cricket match," she said with a note of positivity.
A lockdown will help get back to normal life, including having a cricket match of great significance.
"The reason we are doing what we are doing, which is pretty drastic,…is because we want to get back to the state of having just a few restrictions and to be able to do things like have the cricket."
Before the Tests, India and Australia will lock horns in a limited-overs series, starting November 27 and comprising three ODIs and as many T20 internationals.
Goal-shy Man City ease into Champions League last 16 | Football News
PIRAEUS, GREECE: Manchester City booked their place in the last 16 of the Champions League but there were more concerns for Pep Guardiola over his side's lack of ruthlessness in a 1-0 win at Olympiakos on Wednesday.
Phil Foden's low strike nine minutes before half-time ensured City deservedly kept up their 100 percent record in Europe this season.
But a one-goal margin of victory was scant reward for the visitors' dominance even with a heavily-rotated side.
Guardiola made five changes to the team beaten 2-0 at Tottenham on Saturday to see City off to their worst league start since the first few months of the club's Abu Dhabi-backed ownership.
Scoring goals has been City's big problem in the
Premier League
, but they had scored three in each of their opening three Champions League wins over Porto, Marseille and Olympiakos in Manchester three weeks ago.
The lack of killer edge was in clear evidence in Piraeus. City had 21 efforts on goal, 10 of which were on target, but again missed
Sergio Aguero
's presence in the final third.
Aguero started on the bench as his former father-in-law Diego
Maradona
was remembered with a minute of silence before kick-off.
Maradona, whose daughter Giannina was married to Aguero, died at the age of 60 on Wednesday.
Once the action got underway, City soon settled into their stride.
Jose Sa denied
Gabriel Jesus
when the Brazilian was clean through on goal and twice made good saves to deny
Raheem Sterling
from outside the area.
Sterling turned creator for the only goal with lovely backheel into the path of Foden, who drilled home his fourth goal of the season.
Chances continued to come and go for City after the break. Ilkay Gundogan blasted inches wide before Joao Cancelo and Bernardo Silva shot straight at Sa with the goal at their mercy.
But one goal was enough as Olympiakos failed to muster a single shot on target, complicating their chances of reaching the knockout stages.
The Greek champions trail second-placed Porto, who travel to Marseille later on Wednesday, by three points.
City just need a point from their final two matches to secure top spot in Group C.
Australia vs India: India-Australia series will kick off the road to T20 World Cup | Cricket News
The India-Australia series will kick off with the ODIs but it's the T20 internationals that both the teams will be observing more keenly. International sports teams tend to prioritize World Cups, and the ICC will stage two back-to-back T20 World Cups, Covid-permitting, in India (October-November 2021) and
Australia
(2022).
The T20 format is also evolving at speeds which sometimes tend to overwhelm even the keenest coaching expert and backroom data cruncher. This makes long-term planning for events like World Cups both fraught with danger and an absolute necessity. With only a sprinkling of T20 Internationals in each bilateral series, it is imperative that optimum use is made of each game.
Australia opener David Warner even sounded peeved the other day that the ODIs would be played at all, saying, "Our white-ball teams are relevant to the World Cups. Given there's a
T20 World Cup
coming up in India, the preference will be the T20 stuff first."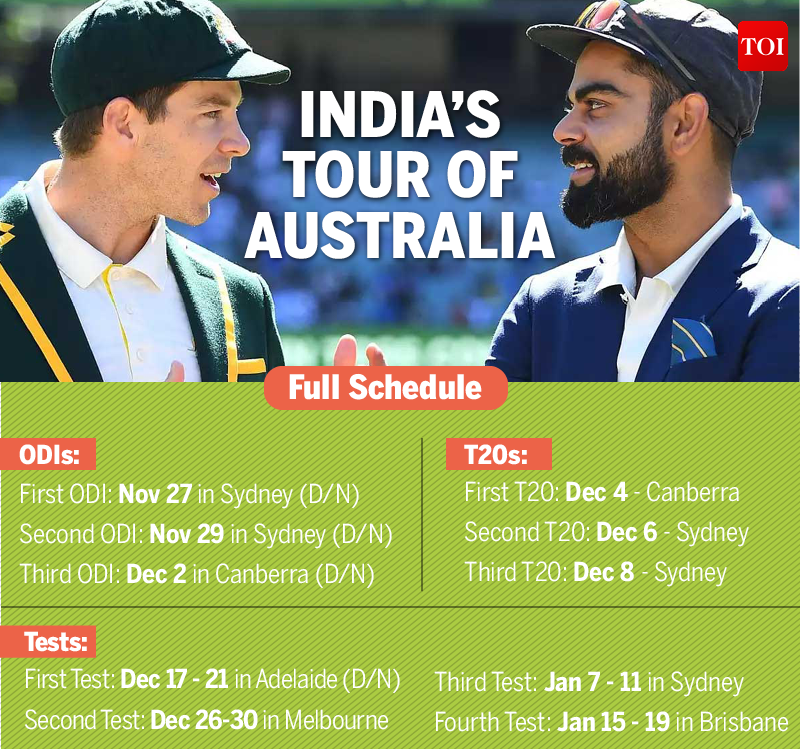 There's, of course, another way of putting this: Warner's mind-space is all about T20 right now, given that he and many other leading players have been playing in the IPL since September 19.
Cricket's leading minds have spent two months in their bio-bubbles playing and discussing strategies and combinations 24-7 and helping T20s evolve. Despite some obvious limitations to the format, it all made for popular viewing. The IPL is now the theme song of the T20 format and the gold standard of T20 strategizing.
So where does that leave T20 Internationals? For the fans, can multi-format focused international teams, with slightly different selection parameters, still offer a T20 package as exciting and delightfully complicated as the IPL? Do international teams need to shed the idea of picking players of pedigree for all formats and instead build completely T20-focused squads?
Last year, before the pandemic struck and derailed the World Cup, coach Ravi Shastri had said how ODIs and T20Is have "vastly different identities and one cannot look at it through the mere lens of white-ball cricket. T20 is a wholly different ball game and that is how we are going to pursue it. I don't see more than four or five players in the ODI team as permanent fixtures in T20."
Shastri is all too aware of some other issues the Indian team needs to address in the lead-up to the World Cup, starting with the question of split captaincy, and not just because of Rohit Sharma's supposedly superior tactical acumen.
The best in the world are going head-to-head! Check out the ODI stats between Australia & India ahead of the Dett… https://t.co/O40YHwJ2rf

— cricket.com.au (@cricketcomau) 1606341960000
Kohli may not be a lesser T20 captain, having won 68.57% games as leader (though only 33.33% against Australia) and scored 1137 runs (SR 142.48) from 37 matches. However, will yielding the T20 captaincy just ease the pressure on Kohli to lead in all three formats, and benefit India in the long run?
India also need to address a dipping T20 win record while batting first (77.78% won chasing as opposed to 64.52% won batting first) if they want to get their hands on the one trophy that has eluded them since 2007.
This is a format which requires specialization, and right now IPL franchises may be delivering more value per player than international teams. Most T20 innovations in recent times have also come from franchise cricket. International teams, including India, may need to pick a leaf out of the IPL guidebook to implement Shastri's plans of pursuing a "wholly different ball game".
"Unparralled Magician", says Ronaldo, "Eternal Great" for Messi | Football News
BARCELONA/TURIN: Cristiano
Ronaldo
hailed an "unparalleled magician" whom he could call "friend" while arch rival
Lionel Messi
remembered an icon with an "eternal appeal" as the two modern day geniuses joined the world in mourning Diego
Maradona
's untimely death on Wednesday.
Maradona, 60, considered the greatest footballer of all time alongside Brazil's Pele, died following a cardiac arrest, two weeks after undergoing a surgery to remove a blood clot in his brain.
"Today I say goodbye to a friend and the world says goodbye to an eternal genius. One of the best ever. An unparalleled magician. He leaves too soon, but leaves a legacy without limits and a void that will never be filled," the Portugal and
Juventus
superstar wrote in his twitter handle.
Hoje despeço-me de um amigo e o Mundo despede-se de um génio eterno. Um dos melhores de todos os tempos. Um mágico… https://t.co/iDzWqujpuL

— Cristiano Ronaldo (@Cristiano) 1606325771000
"Rest in peace, ace. You will never be forgotten.Folded hands," Ronaldo added.
Maradona died two weeks after he was released from a Buenos Aires hospital following brain surgery.
Messi, who played under Maradona managership in the 2010 World Cup in South Africa, termed his illustrious predecessor's death as "sad for the beautiful game."
"A very sad day for all Argentines and football. leaves us but he he doesn't leave, because Diego is eternal," Messi wrote in an Instagram post.
"I take the cute moments lived with him and wanted to take an opportunity to send condolences to all his family and and friends. RIP."