Australia vs India: Ricky Ponting gets busy with Australia nets just days after IPL final | Cricket News
NEW DELHI: Less than a fortnight after he led
Delhi Capitals
to the final of the Indian Premier League (
IPL
) as coach of the franchise,
Ricky Ponting
is already back at the nets guiding the Justin Langer-coached Australian
cricket
team inside their Sydney quarantine hub.
The former Australia captain has not wasted time and is working right from the start of the session to the end of it, throwing balls at the nets and guiding the players ahead of their white-ball series against India, which begins on November 27 with the three-match ODI series.
"Ponting is in the hub and quarantine; he is so generous with his time. He has thrown balls right from the start of the sessions to the end of the sessions and he probably gets a little tired, then he has a few anti-inflammatories and then goes to bed," said Australian all-rounder Marcus Stoinis on Saturday.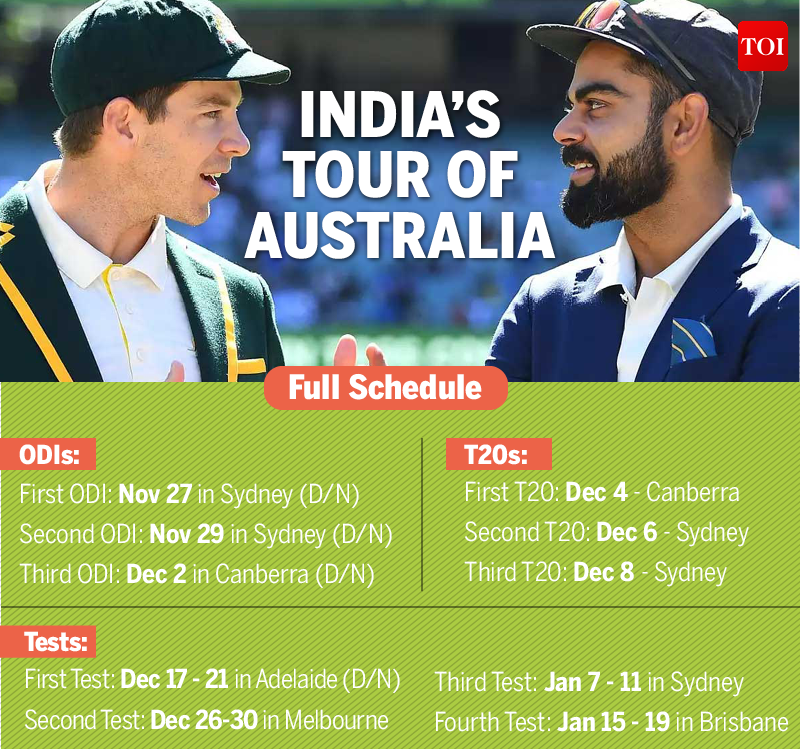 Stoinis as a player and Ponting as coach had combined to take Delhi Capitals to the final of the IPL earlier this month. The Australian all-rounder said he got plenty of confidence and backing from Ponting.
"He is as good as it gets…We all have heard stories how good he is. When you get to know him as a person, you understand why he is so good and why he was so good as a player — the confidence he instills in you," explained Stoinis, adding that Ponting's biggest strength as a coach is that he does not unnecessarily tinker with your style of play.
"He has helped and guided me. I have known him for a while and he has been more generous with his time with me. I think he is also not someone who will sit down and tell you. He will either show you the way or speak only when he feels he has something to tell you or to help you.
"He is not in the business of changing people but (is) like all good coaches, who you don't realise are coaching (something) but when you look back you think that was bloody important."
Staying in bio-secure bubbles a big sacrifice, says Trent Boult | Cricket News
WELLINGTON: New Zealand pace spearhead
Trent Boult
feels living out of a suitcase in bio-secure bubbles is going to play a "big role" in the way cricketers plan their schedules as the international calendar picks up.
Bolt, who joins a list of big names voicing concerns about life in bio-secure bubbles amid the COVID-19 pandemic, called it "a big sacrifice".
"I can't speak for everyone but it's definitely going to play a big role in the game," Boult was quoted as saying by 'ESPNcricinfo'.
"Having to come back to New Zealand you have to spend two weeks in a hotel before you can even be let out. It's crazy what the world is facing at the moment, it's almost surreal, and it's going to be a hard one to say what guys are feeling and what they're able to do."
The New Zealander played a big part in Mumbai Indians' fifth title triumph in the IPL recently.
"Speaking from playing in the IPL I've just been to, it's brilliant to be back out on the field and offer something for everyone to watch and it was closely followed all around the world," he added.
Prior to Boult, the likes of David Warner, Mitchell Starc and Kagiso Rabada expressed their apprehensions with the South African fast bowler comparing bio-bubbles with luxury prisons.
Boult is currently undergoing a 14-day quarantine in Christchurch after returning from the IPL in the UAE.
New Zealand's next assignment is a home T20I series against West Indies, starting November 27, for which Boult has been rested.
The pacer, however, will be part of the Test matches starting December 3 in Hamilton.
"Yeah, I think it's going to be a tough one to forecast. Having experienced three and a half months away from my young family.
"I have two young boys and a wife back home whom I haven't seen – so you can imagine it's a big sacrifice to just pack up and leave for a quarter of the year and looking at potential tours next year, there's potential to be away for nine to ten months," Boult said.
India vs Australia: Steve Smith feels he is back to his best | Cricket News
His returns were moderate — 311 runs from 14 outings — for the
Rajasthan Royals
in the recently-concluded IPL-13, but
Steve Smith
is keen to make amends in the upcoming series against India which starts with the first ODI on November 27. What will come as a massive boost for Australia ahead of the marquee series is that their star batsman seems to have found his mojo again.
"I think in the last few days, people who know me well, said that I have found my hands and I am excited about it. So, I plan to have a few more hits at the nets and get started in a few days' time," said Smith on Tuesday in a virtual chat with a select group of journalists.
Delving further on the point of regaining his rhythm, Smith said, "It's just getting that feel of the bat behind my toe the right way, the way my hands come up the bat. It just hadn't quite been right until two days ago where I found a little something and everything just clicked in."
Smith endured a patchy form in the IPL and the 31-year-old revealed how altering his natural game during the tournament provided limited success. "I got caught up trying to be a bit more powerful and that's not my game. There are players in the world who can hit sixes at will, but I am probably not one of those. It is about playing the cricketing shots and manipulating the gaps available. So now, I am keeping the thoughts clear that I will only hit the balls in my areas," Smith said.
Over the years, Smith has taken a liking for the Indian attack as seven out of his 26 Test hundreds have come against the Virat Kohli-led side. He rates the clashes against India and the Ashes as the two biggest series for the Australians. "In a big series, I try to stand up and get the best out of myself. Ashes and India series are the two biggest and as an Australian cricketer, there is something inside me that comes out," he said.
As Smith looks for another fruitful outing against India, the visitors will be devising plans to stop Smith early. The Indian team management would have looked closely at how New Zealand left-arm pacer Neil Wagner exploited a chink in Smith's armory — troubling the latter with short ball — during their series last year. Wagner had dismissed Smith on 4 occasions out of 5 innings in that series. While Smith heaped praise on Wagner, he felt a similar approach by the Indian pacers may not offer the same result. "It's not the same as what Neil does, the way he bowls it. I think what you're alluding to is a short-pitched bowling sort of approach that others might take, and people can go for that. In a way it's a bit of flattery if people believe that's the only way they can get me out because they've exhausted so many more options," Smith stated.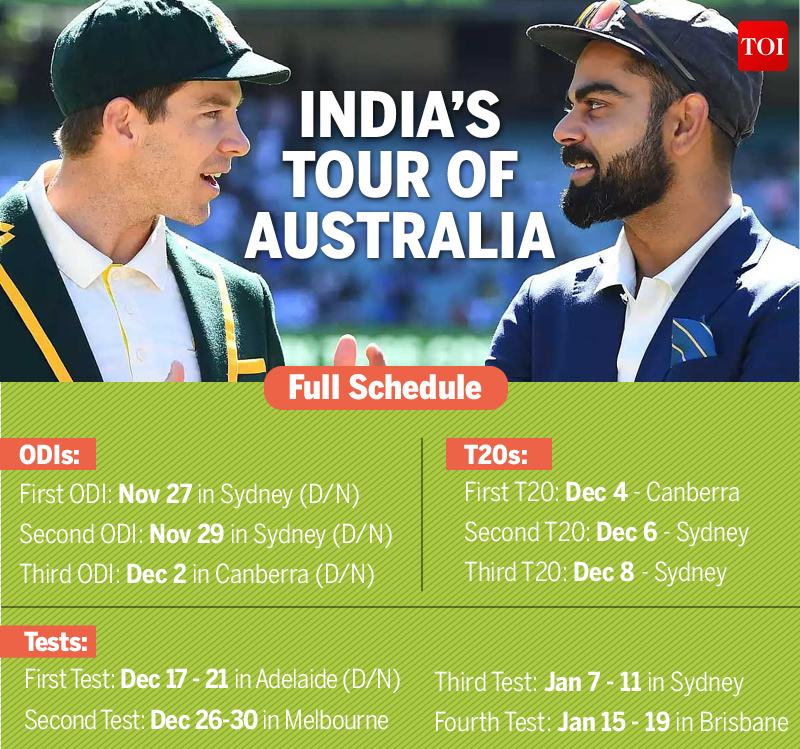 Does he see himself leading Australia again? Smith chose to reply with a straight bat. "It's something I haven't given much thought. (I am) just backing up Tim (Paine) and (Aaron) Finchy as they have done a good job during the last two years. My job is to score runs at the moment," Smith said.
Staying in a bio-bubble may be the go-to option for players at the moment, but Smith doesn't see it as a viable option in the longer run. "I don't think bio-bubble is sustainable for a long period of time. We know mental health is important and we have seen guys being able to come out and talk about it. It is important to do that," he said.
India's home series against England to feature four Tests instead of five | Cricket News
MUMBAI: England's tour of India next year will comprise four Tests instead of the regulation five to accommodate the limited-overs series that had to be postponed earlier this year due to the
COVID-19 pandemic
.
BCCI President
Sourav Ganguly
confirmed the schedule for the series planned in February-March while speaking at an online event.
"England is touring India for four Test matches, three ODIs and five T20s, it is a lot easier having bi-laterals because the number of people are less," he said.
"When it gets to 8 teams, 9 teams, 10 teams, then it becomes a bit more difficult…we have to keep assessing the situation…lot of them are talking about a second wave," he said.
The limited-overs series originally comprised three T20s and as many ODIs and was scheduled to be held in September this year but had to be postponed due to the pandemic.
The number of T20s has been increased in the revised schedule as the Board took into account the World T20 to be held in October-November next year in India.