Australia vs India: Australia sells out India matches, positive news on Adelaide Test | Cricket News
SYDNEY: Tickets for six short-format matches between
Australia
and India in November and December were all but exhausted on Friday,
Cricket
Australia said, while there was also some good news about the opening match in the Test series.
Fears that the first of four Tests would have to be moved from
Adelaide Oval
were heightened when South Australia went into a strict lockdown on Wednesday after a cluster of Covid-19 cases in the state.
State officials said on Friday that they had based the decision to go into lockdown on misleading information, however, and announced that measures would be eased at midnight on Saturday.
Cricket Australia said on Tuesday that it was committed to holding the first Test at Adelaide Oval from December 17 but did take the precaution of moving some international players out of South Australia ahead of the lockdown.
Australia will host the tourists in three Twenty20 matches and three one-day internationals in Sydney and Canberra before the Test series and fewer than 2,000 tickets for one of those matches remained available after two days of sales.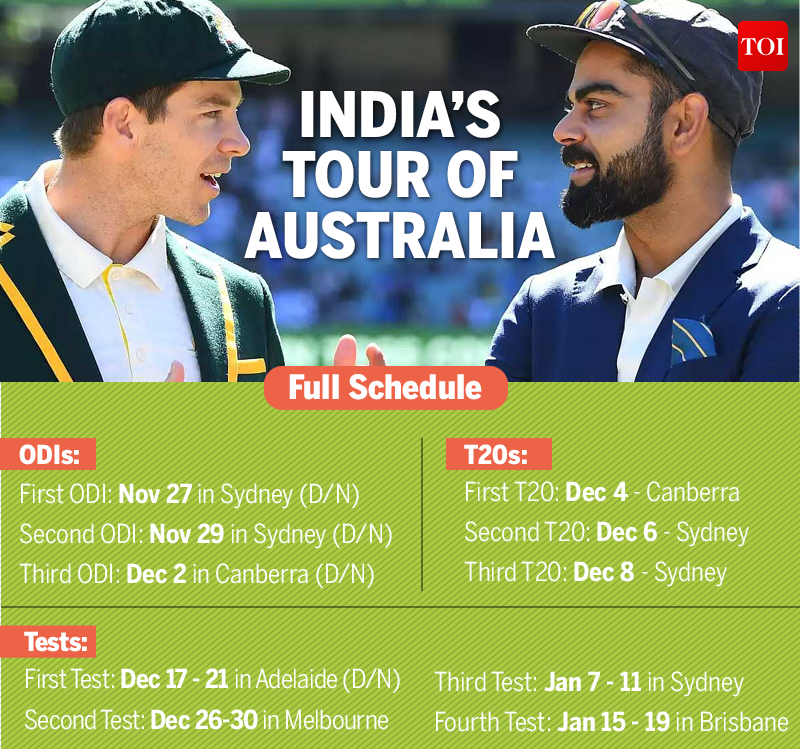 The capacities of Sydney Cricket Ground and Manuka Oval have been reduced by 50 percent because of rules on social distancing, although they may yet be loosened as New South Wales approaches two weeks since the last reported community case of Covid-19.
Australia's large community of people with South Asian heritage has always meant bumper crowds whenever India tour and the rapid sales will be a boon to the finances of Cricket Australia, which were strained by the global health crisis.
"The rivalry between the Australian and Indian men's cricket teams is one of the greatest in international sport and this series is shaping up as an epic," Cricket Australia's Anthony Everard said in a statement.
Australia vs India: India-Australia series will kick off the road to T20 World Cup | Cricket News
The India-Australia series will kick off with the ODIs but it's the T20 internationals that both the teams will be observing more keenly. International sports teams tend to prioritize World Cups, and the ICC will stage two back-to-back T20 World Cups, Covid-permitting, in India (October-November 2021) and
Australia
(2022).
The T20 format is also evolving at speeds which sometimes tend to overwhelm even the keenest coaching expert and backroom data cruncher. This makes long-term planning for events like World Cups both fraught with danger and an absolute necessity. With only a sprinkling of T20 Internationals in each bilateral series, it is imperative that optimum use is made of each game.
Australia opener David Warner even sounded peeved the other day that the ODIs would be played at all, saying, "Our white-ball teams are relevant to the World Cups. Given there's a
T20 World Cup
coming up in India, the preference will be the T20 stuff first."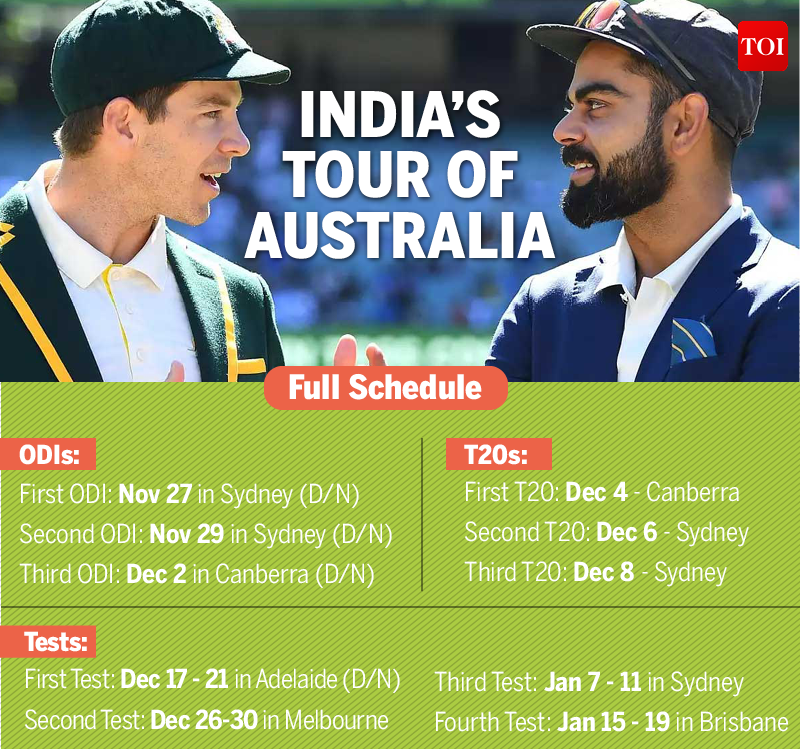 There's, of course, another way of putting this: Warner's mind-space is all about T20 right now, given that he and many other leading players have been playing in the IPL since September 19.
Cricket's leading minds have spent two months in their bio-bubbles playing and discussing strategies and combinations 24-7 and helping T20s evolve. Despite some obvious limitations to the format, it all made for popular viewing. The IPL is now the theme song of the T20 format and the gold standard of T20 strategizing.
So where does that leave T20 Internationals? For the fans, can multi-format focused international teams, with slightly different selection parameters, still offer a T20 package as exciting and delightfully complicated as the IPL? Do international teams need to shed the idea of picking players of pedigree for all formats and instead build completely T20-focused squads?
Last year, before the pandemic struck and derailed the World Cup, coach Ravi Shastri had said how ODIs and T20Is have "vastly different identities and one cannot look at it through the mere lens of white-ball cricket. T20 is a wholly different ball game and that is how we are going to pursue it. I don't see more than four or five players in the ODI team as permanent fixtures in T20."
Shastri is all too aware of some other issues the Indian team needs to address in the lead-up to the World Cup, starting with the question of split captaincy, and not just because of Rohit Sharma's supposedly superior tactical acumen.
The best in the world are going head-to-head! Check out the ODI stats between Australia & India ahead of the Dett… https://t.co/O40YHwJ2rf

— cricket.com.au (@cricketcomau) 1606341960000
Kohli may not be a lesser T20 captain, having won 68.57% games as leader (though only 33.33% against Australia) and scored 1137 runs (SR 142.48) from 37 matches. However, will yielding the T20 captaincy just ease the pressure on Kohli to lead in all three formats, and benefit India in the long run?
India also need to address a dipping T20 win record while batting first (77.78% won chasing as opposed to 64.52% won batting first) if they want to get their hands on the one trophy that has eluded them since 2007.
This is a format which requires specialization, and right now IPL franchises may be delivering more value per player than international teams. Most T20 innovations in recent times have also come from franchise cricket. International teams, including India, may need to pick a leaf out of the IPL guidebook to implement Shastri's plans of pursuing a "wholly different ball game".
"Unparralled Magician", says Ronaldo, "Eternal Great" for Messi | Football News
BARCELONA/TURIN: Cristiano
Ronaldo
hailed an "unparalleled magician" whom he could call "friend" while arch rival
Lionel Messi
remembered an icon with an "eternal appeal" as the two modern day geniuses joined the world in mourning Diego
Maradona
's untimely death on Wednesday.
Maradona, 60, considered the greatest footballer of all time alongside Brazil's Pele, died following a cardiac arrest, two weeks after undergoing a surgery to remove a blood clot in his brain.
"Today I say goodbye to a friend and the world says goodbye to an eternal genius. One of the best ever. An unparalleled magician. He leaves too soon, but leaves a legacy without limits and a void that will never be filled," the Portugal and
Juventus
superstar wrote in his twitter handle.
Hoje despeço-me de um amigo e o Mundo despede-se de um génio eterno. Um dos melhores de todos os tempos. Um mágico… https://t.co/iDzWqujpuL

— Cristiano Ronaldo (@Cristiano) 1606325771000
"Rest in peace, ace. You will never be forgotten.Folded hands," Ronaldo added.
Maradona died two weeks after he was released from a Buenos Aires hospital following brain surgery.
Messi, who played under Maradona managership in the 2010 World Cup in South Africa, termed his illustrious predecessor's death as "sad for the beautiful game."
"A very sad day for all Argentines and football. leaves us but he he doesn't leave, because Diego is eternal," Messi wrote in an Instagram post.
"I take the cute moments lived with him and wanted to take an opportunity to send condolences to all his family and and friends. RIP."
Diego Maradona: Argentine football genius Maradona saw heaven and hell | Football News
World football great Diego Armando Maradona, who died on Wednesday less than a month after his 60th birthday, was worshipped like a god for his genius with the ball, but his demons almost destroyed him.
Maradona had died after suffering a heart attack at his home in the suburbs of Buenos Aires, those close to him confirmed.
Rising to stardom from a grimy Buenos Aires slum to lead Argentina to World Cup victory, Maradona was a rags-to-riches story in his soccer-mad homeland and gained the iconic status of fellow Argentines Che Guevara and Evita Peron.
One of the most gifted soccer players in history, Maradona's pinnacle of glory came when he captained Argentina to win the World Cup in 1986 before plunging to misery when he was kicked out the 1994 World Cup for doping.
Years of drug use, overeating and alcoholism truncated a stellar career and altered his appearance from the lithe athlete who could slalom effortlessly through teams to a bloated addict who nearly died of cocaine-induced heart failure in 2000.
But he reinvented himself in a stunning comeback in 2008 as coach of the Argentina team, persuading managers that with sheer charisma he could inspire the team to victory, despite a lack of coaching experience.
A magician with the ball – deceptively quick and a visionary passer – Maradona is considered by some as the greatest soccer player ever, edging out that other great, Brazil's Pele. In Argentina, he was worshipped as 'El Dios' – The God – partly a play on words on his number 10 shirt, 'El Diez.'
He was largely responsible for Argentina's World Cup victory in 1986 in Mexico, scoring two famous goals in one game against England in the quarter-finals.
The first was a notorious goal scored with his fist, and the second, where he dribbled past half the England team, is often called the goal of the century.
"It was partly by the hand of God and partly with the head of Maradona," he said of his opener in the 2-1 win.
ON THE BALL FROM THE START
Born on October 30, 1960 in the Buenos Aires working class suburb of Lanus, the fifth of eight children of a factory worker, Maradona grew up in the Villa Fiorito shanty town.
His mother Dalma, known to his fans as "Dona Tota," saw a star reflected on the floor in the church where her son was baptized and imagined a bright future as an accountant.
But Maradona's love affair with soccer was apparent from the start. Given his first football as an infant, he slept with it under his arm.
Discovered in street kickabouts by the scout for first division club Argentinos Juniors, the prodigy made his league debut at 15.
At 17 he just missed inclusion in Argentina's 1978 World Cup-winning squad at home. In the 1982 tournament in Spain, a sending-off against Brazil was a fitting prologue to two unhappy seasons at Barcelona, marred by hepatitis and injury.
But then came liberation, and triumph. In 1984, he moved to Napoli for a then world-record $7.5 million contract. Maradona helped underdogs Napoli to the Italian title twice – creating a whole new set of adoring fans in the process.
And, after the 1986 World Cup triumph in Mexico, he also coaxed a mediocre Argentine team to a second successive World Cup final in Rome in 1990.
But by 1991, drugs and alcohol began taking over his life.
That year Maradona was handed a 15-month suspension from football worldwide for doping and was called to trial in Naples over alleged links with a vice ring.
He was banned again for 15 months after testing positive for drugs at the 1994 World Cup in the United States.
The compact, 5-foot 4-inch (1.65m) player with dark curly hair and a pugnacious set to his jaw surrounded himself with an entourage of yes-men and became known for his sharp-tongued confrontations with reporters and critics.
Through the years he reflected publicly on his greatness and on his weaknesses, publishing books of photos and quotes about himself and hosting a television show.
"Soccer is the most beautiful and healthy sport in the world. Soccer shouldn't have to pay for my mistakes. It's not the ball's fault," he said.
SLOW-MOTION SUICIDE
Maradona retired from professional soccer in 1997 and after his brush with death in 2000 he underwent drug rehabilitation, living off-and-on in Cuba between 2000 and 2005, where he often spent time with Fidel Castro. He had a tattoo of the Cuban leader on his leg – and one of fellow revolutionary Che on his arm.
For many, his off-pitch sins overshadowed his genius.
"My main doubt is whether he has the sufficient greatness as a person to justify being honored by a worldwide audience," Pele said after a popular vote gave Maradona the FIFA century award in 2000, leaving Pele in second place.
Argentine media obsessed over Maradona's addictive personality, with blanket coverage of his 2005 gastric bypass operation to lose weight and his 2007 hospitalization for life-threatening alcohol-induced hepatitis.
Drug and alcohol experts called Maradona's abuse of one substance after another a slow-motion suicide.
But Maradona cleaned up and bounced back. In 2008 he talked himself into a position as the coach of Argentina's national team.
Many Argentines doubted he could get a talented squad of players to act as a coherent unit, and they seemed justified when the team barely squeaked through the qualifiers for the 2010 World Cup in South Africa, finally crashing out in the quarter-finals.
Spells coaching in the United Arab Emirates were followed by a stint in charge of Mexican second division club Dorados de Sinaloa, before returning to Argentina to take over Gimnasia y Esgrima in La Plata in 2019.
All the while, Maradona was never far from the front pages.
During a rest cure in Italy, tax police confiscated his trademark diamond earring to help pay back taxes. In 2010 he was rushed to a hospital in the middle of the night for reconstructive surgery after one of his own dogs bit his lip.
With his knees causing him increasing pain and his weight fluctuating, his mobility was hampered and his famous speed long gone.
But fans remained devoted. From China to Europe, Argentines found they could make friends just by mentioning Maradona's name.
Some created the Maradoniana Church, complete with its own religious imagery and 10 Commandments, one of which is, 'Make Diego your middle name and name your first son Diego.'
Maradona was an antidote to upheaval for Argentina as it suffered successive economic crises and humiliating defeat to England after the 1982 conflict over the Falklands, or Malvinas Islands.
And he was balm for the wounded soul of Argentines, obsessed with their country's perpetual failure to live up to its potential on the world stage.
"In our collective imagination Diego Maradona represents a certain glorious past, he's a symbol of what we might have been," popular culture professor at Buenos Aires University and Maradona expert Pablo Alabarces has said.
"He will always be forgiven," said Maradona fan Marcelo Pose, a Buenos Aires attorney.