Australia experience holds key for spinners Ashwin, Yadav | Cricket News
NEW DELHI: The current Indian Test team is a bit fortunate to tour Australia within two years of their previous tour. Earlier, the tours were separated by a few years and that would make things difficult for players, especially spinners. By the time, they would adjust to the conditions and pitches, the tour would be over.
Past generations of spinners suffered from this. But when either
Kuldeep Yadav
or
R Ashwin
, or both, take the field on December 17 for the first Test in Adelaide, they will have an advantage and confidence to draw from their recent successes.
Both had performed well in the last Tests they played in Australia during India's tour of 2018-19. While Yadav picked five wickets in the first innings at the Sydney Cricket Ground (SCG) in January 2019, Ashwin got six across two innings in Adelaide a month before that. Ashwin didn't play the next three Tests due to injury.
But this time with him being fit, Ashwin will be in competition for a spot with Yadav who, being a wrist spinner, could be the preferred choice on Australian wickets that have been harsh for spinners from the sub-continent.
Harbhajan Singh, the former India off-spinner who toured Australia in 2003-04 and 2007-08 and played 103 Tests, and had great success against Ricky Ponting, explains why Australia was a tough place to bowl.
"It was difficult to bowl in Australia because by the time you would adjust to the wickets, the tour would be coming to an end. You would tour every four-five years. Their spinners would get more success because they knew the conditions better and well since it was their home," Harbhajan told IANS, adding that adjusting to the lengths is the key.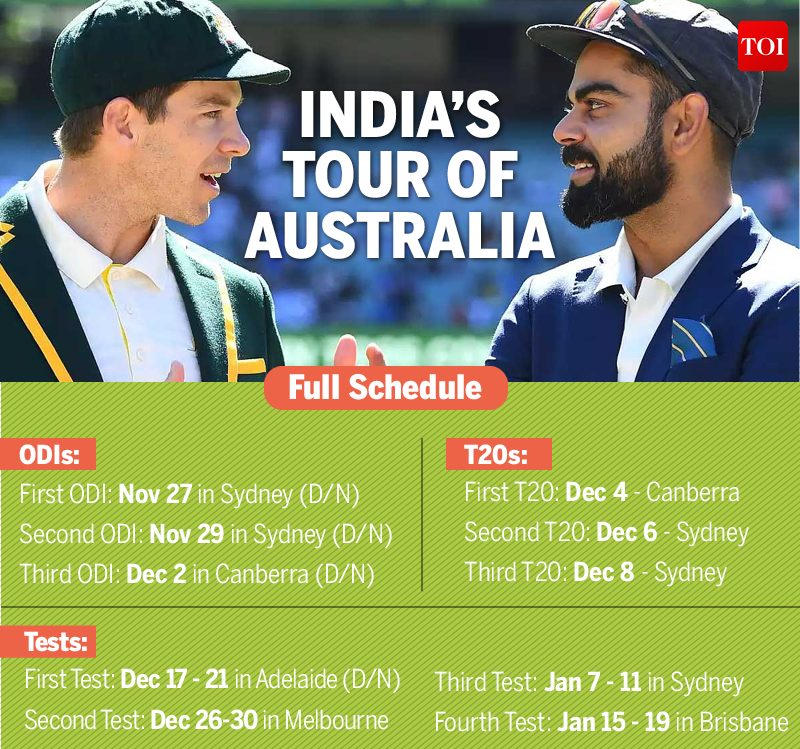 Both finger spinner Ashwin and wrist spinner Yadav had reaped rich hauls last time also because the Aussies, missing David Warner and Steve Smith in that series as they were serving a ban, had packed their side with left-handers. Four of Ashwin's six victims and three of Yadav's five were left-handers. They found it hard to adjust to deliveries going away.
However, neither Marcus Harris nor Usman Khawaja and nor Shaun Marsh find a place in the squad for the current series. There are just Travis Head and Mathew Wade apart from the returning David Warner and only one of Head and Wade will get a look-in since the top-order, dominated by right-handers, is largely settled.
It could make things difficult. Prior to that Adelaide Test, Ashwin had taken 21 wickets in six Tests at an average of 54.71 in Australia. The six wickets in Adelaide helped him improve an average to over 48.
But against a settled Australian line-up, there is however still a way out — rely on bounce and not on side-spin.
Harbhajan has an advice: "The spinners need to adjust to the lengths very quickly. Also, they shouldn't rely on sidespin, because you won't get it. If it is happening, it is an advantage, but don't rely too much on it. Indian spinners need to bowl a little slower to get the bounce."
Having toured Australia so recently, it should not be an issue for Ashwin and Yadav.
TT player Mouma Das, six other sportspersons awarded Padma Shri | More sports News
NEW DELHI: Veteran table tennis player
Mouma Das
was among seven sportspersons awarded the prestigious Padma Shri by the Government of India on the eve of the country's 72nd Republic Day.
Besides Mouma,
P Anitha
,
Madhavan Nambiar
,
Sudha Hari Narayan Singh
,
Virender Singh
, Anshu Jamsenpa and KY Venkatesh have also been awarded the prestigious award in the sports category for the year.
Every year, the award winners are announced on the eve of Republic Day. The Padma awardees are felicitated by the President of India.
Ashwin ready to shave half moustache if Pujara goes over the top against any spinner in England series | Cricket News
NEW DELHI: India spinner
Ravichandran Ashwin
has challenged teammate
Cheteshwar Pujara
to step down the track and go over the top against any spinner in the upcoming Test series against England.
In a conversation with India's batting coach
Vikram Rathour
on his official YouTube channel, Ashwin said he will shave half his moustache and come out to play if Pujara completes the challenge.
It started with Ashwin asking the batting coach, "Will we ever see Pujara hit an off-spinner over the top?"
"Work-in-progress. I'm trying to convince him that at least once go over the top. He is still not convinced, He is giving me great reasons," Rathour replied.
Let me tell a Kutti Story: Shubman Gill, He's got the skill | Ind vs Aus | Vikram Rathour | E4
"If he goes over the top against Moeen Ali or any other spinner stepping down the wicket in this English series that we gonna play, I will take half my mustache out and come to play the game. This is an open challenge," Ashwin said jokingly.
"That's a great challenge to put across. Let's hope that he takes it up. I don't think he will take it up," Rathour said.
Pujara was recently seen in action in the Border-Gavaskar Trophy against Australia. The batsman's grit and determination was there for everyone to see in the final Test as he stood tall even after receiving numerous body blows.
Often criticised for his defensive approach, Pujara batted like a warrior in the fourth Test against Australia last week. He took blows to the body, fingers, and head, but did not flinch. He stood tall, defying the Australia bowlers who looked for one opportunity to break into the Indian lower-order.
"Because for some reason you really sledge him. I don't know why. What the deal there? You really go after him all the time. And him being one of my favourite players in the team. I love his attitude. The way he bats, the way he prepares actually he is a coach's dream actually. So, I have to defend him against you. I think no praise is enough for the way he batted in the last Test match. The way he responded to all those short balls and all injuries that he had," Rathour said.
Ashwin explained why he sledges Pujara in the team, he said, "Because what happens is, every time an opponent like Nathan Lyon is bowling, Pujji makes it so heart throbbing for me. Every time the ball goes up in the air, I am like 'You know what? Nobody plays like this man. You are making him look like unplayable.' And eventually, everybody will think that I'm not able to make the other batsmen bat like this."
"He does not. I mean, he handles him really, really well. And the numbers show that. he is averaging 50 plus against him. So, he has done well against him and that's his way of playing. … He has a very set method. He is a stubborn character and that is his strength as well," Rathour said.
Both Ashwin and Pujara will now be seen in action in the four-match Test series against England. The first Test is set to begin in Chennai on February 5.
World Test Championship final dates reworked, to take place from June 18-22
The start of the inaugural
World Test Championship
final has been pushed back by eight days and will now begin at Lord's on June 18, keeping in mind the proximity with the next
IPL
's summit showdown. The
final
of the inaugural championship was tentatively scheduled to begin on June 10 at the iconic venue in London.
However, since the Indian Premier League final is also expected to be played around the same dates, it could have complicated the quarantine schedule of the participating players.
"The WTC Final will now be played from June 18-22 and June 23 will be the reserve day. As background we pushed it back to allow for any quarantine that may be imposed, particularly given the close proximity to the end of the IPL and the original dates) so driven by quarantine," a BCCI source told .
The IPL schedule has not been finalised as yet but it is expected to conclude towards the end the May.
There is a close fight between India, Australia and New Zealand to compete for the title. India are leading the table with 430 points (PCT 71.7), followed by New Zealand (420, PCT 70) and Australia (332, PCT 69.2).
India recently jumped to the top of the table, following their 2-1 win in the four-match series in Australia.