Anrich Nortje aims Shoaib Akhtar's record after delivering fastest ever IPL ball | Cricket News
DUBAI (UAE): South African and
Delhi Capitals
' pacer
Anrich Nortje
is eyeing to break the fastest recorded delivery in all of the cricket after clocking a speed of 156.22 km/h against
Rajasthan Royals
on Wednesday.
Interestingly, Nortje had bowled the second and third-fastest delivery in this season of IPL as well after recording a pace of 155.21 and 154.74 respectively.
The fastest delivery record (161.3km/h) is currently held by former Pakistan pacer
Shoaib Akhtar
during the 2003 World Cup match against England.
"Hopefully it's something I've got in me and it's definitely something I've wanted to do," Nortje told his IPL teammate R Ashwin on the latter's YouTube channel.
Kannum Kannum Nortje | I want to breach 160 KPH | Anrich Nortje | Hello Dubaiahh | R Ashwin | E17
"Maybe a good wicket, some adrenaline, the right combination and I can do it this IPL or maybe in the future," he added.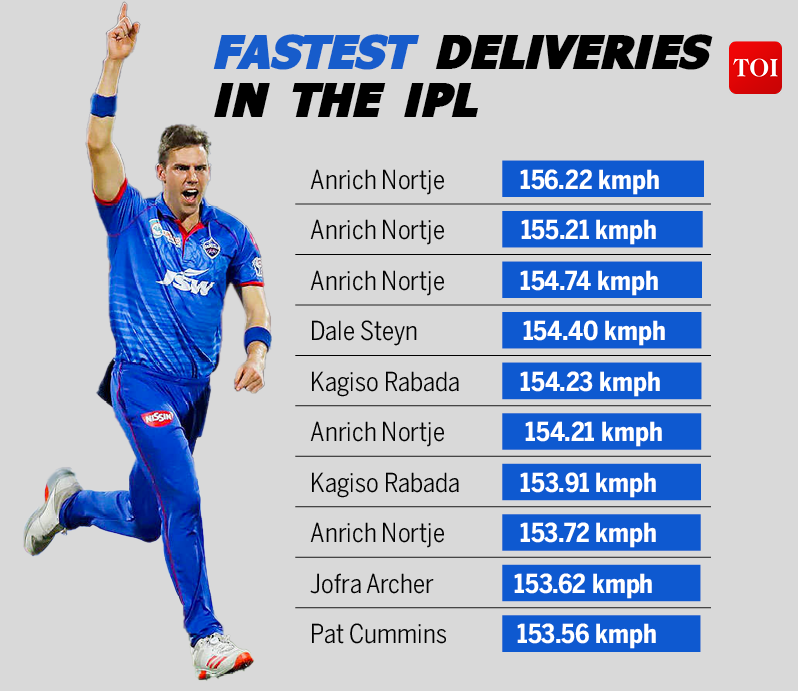 In the match against the Royals, Nortje cranked up the speeds in his very first over, but Rajasthan Royals' Jos Buttler played two scoops off him to register boundaries. However, the Proteas pacer came back and he clean bowled Buttler on the final delivery of his first over.
"I don't know. It's on the day," Nortje said when Ashwin asked about the record.
"I didn't know about the 156kph until after the game. Obviously, there was nothing on the scoreboard. It would've been a bit of a help to get the blood flowing. But, I've got no idea," said Nortje.
Delhi Capitals are currently at the top of the points table with 12 points. The Shreyas Iyer-led side will face Chennai Super Kings (CSK) later in the day.
Sunrisers Hyderabad 137/1 in 11.4 Overs | IPL 2020 Live Score, SRH vs DC: Wriddhiman Saha slams fifty after David Warner departure
11.5 overs
4Sunrisers Hyderabad- 141/1
Axar Patel to Wriddhiman Saha, FOUR! Excellent from Saha! He is toying with the Delhi bowling. Short around off, Saha punches it away to the left of sweeper cover. Rabada there gives it a chase and puts a dive but his effort is not enough to save it from going to the fence. 
Sunrisers Hyderabad 96/0 in 8.1 Overs | IPL 2020 Live Score, SRH vs DC: David Warner, Wriddhiman Saha off to flying start
5.6 overs
4Sunrisers Hyderabad- 77/0
Kagiso Rabada to David Warner, FOUR! DEFT! This is Hyderabad's best Powerplay this season! No Bairstow, no problem! Good length ball around off, Warner waits for it and places it fine and away from third man for a boundary. 22 off the final over of the Powerplay. Hyderabad are 77/0!
Mitchell Johnson opens up on his battle with depression since retirement | Cricket News
MELBOURNE (Australia): Former Australia pacer
Mitchell Johnson
has opened up on his battle with
depression
after retiring from
professional cricket
.
Johnson revealed that he has had mental health issues while playing as well, but his battle got tougher once he retired from international cricket.
"I've found it tougher since retiring from cricket. All of a sudden, you're not doing as much. You sort of lose your purpose a little bit. I struggle with, probably, confidence at times. I'm in that transition now where I've been out of playing cricket for about two years," Johnson told Channel 7's SAS Australia.
The former
Australian pacer
had retired from professional cricket in 2018. The pacer finished his international career with 313 wickets in 73 Test matches.
He was also a part of the World Cup-winning squad in 2015.
"I found out I've got depression … but I think the depression was something I've had even from a younger age. It [cricket] sort of blocked things out in a way. It sort of hid the depression, but there were a lot of times where you would go back to your room, you're away from family and you start to dwell on things," said Johnson.
"Through my cricket career, I actually just dealt with it [depression]. It's just about me now actually moving forward and taking it upon myself to be active with certain things, to keep my mind going," he added.
The pacer also said that he found the going tough during international tours and he even admitted that during the 2011 Ashes tour, he was not enjoying cricket that much.
"You have your moments where you struggle with it really bad and it can be tricky when you've got a lot of time to think about things. You've just got no control whatsoever and your mind starts playing those tricks on you, you start thinking of the worst," said Johnson.
Johnson is remembered for his heroics during the 2013-14 Ashes series, where he bowled with lethal pace and England batsmen were left searching for answers. In the five-match Test series, he finished with 37 wickets at an average of 13.97.