A Facebook Executive Who Shared An Anti-Muslim Post Has Apologized
A top Facebook executive in India has apologized to Muslims in the company for sharing a post on her Facebook page that called India's Muslims a "degenerate community" for whom "nothing except purity of religion and implementation of Shariah matter."
"Dear friends – The intent of my personal Facebook post was not to denigrate Islam," Ankhi Das, Facebook's policy director for India and South and Central Asia, wrote in an internal message to employees obtained by BuzzFeed News. "It was to reflect my deep belief in celebrating feminism and civic participation. I value all perspectives I have heard over the past days about how the post was received and as a result I have deleted the post. I genuinely regret any hurt it may have caused, including to my Muslim colleagues in the company."
The post she shared in late 2019 was written by a former Indian police officer in response to protests against a discriminatory citizenship law that fast-tracks Indian citizenship for South Asian immigrants belonging to most major religions except Islam.
However, Das did not comment directly on a Wall Street Journal story earlier this month that reported that she had shielded T. Raja Singh, a member of India's ruling Bharatiya Janata Party, and at least three other Hindu nationalists, from punishment for violating Facebook's hate speech rules, telling staffers that doing so would be bad for Facebook's business in India. Singh, a BJP politician from the Indian state of Telangana, is known for anti-Muslim hate speech. In posts on Facebook, he reportedly called for Muslims to be slaughtered, for Rohingya Muslim immigrants to be shot, and mosques to be razed.
In comments on Das's post, some Muslim Facebook employees pushed back and called for Facebook to do better.
"Thank you for acknowledging that the post was hurtful to the Muslim community. It is a first step in the right direction," one person said. "As a company, we now need to do an honest reflection of hate speech and Islamophobia against Muslims on our platform. In a market where public figures like T. Raja Singh engage in blatant hate speech, as well as incites [sic] violence, against the Muslim community, we need to do more to protect the vulnerable." The person also demanded that Facebook designate the Hindu supremacist organization Bajrang Dal, and others like it, as "dangerous," which can lead to organizations and individuals being kicked off Facebook platforms.
Do you work at Facebook or another technology company? We'd love to hear from you. Reach out at

[email protected]

or via one of our tip line channels.
"[As] a company we need to examine what transpired in India more closely not to lay blame but to reform our processes," said another Muslim Facebook employee. "Laying blame doesn't do anything, making structural changes does and I feel we owe it to ourselves, our colleagues, our company, our users, and the world to do so as this will help us bring the world closer together and build better communities."
The comments echoed sentiments expressed in a letter sent to Facebook's leadership last week from members of an internal Facebook board for Muslim employees. The letter, first reported by Reuters, called on Facebook to revamp its structure to combine the teams responsible for content policy and lobbying the government, include Muslim staffers in its policy team in India, and designate Hindu extremist organizations as dangerous organizations under the company's hate speech rules.
Facebook did not respond to BuzzFeed News' request for comment.
The Journal story about one of Facebook's most influential executives, who has been with the company since 2011, set off a political firestorm in India. On Tuesday, a committee with members from both the BJP and the New Delhi's Aam Aadmi Party will question Das on Facebook's role in riots in New Delhi in February where two-thirds of the more than 50 people killed by Hindu mobs were identified as Muslim. An Indian parliamentary panel will also question Facebook executives about the company's speech regulation policies in India on Sept. 2.
Hours after the report was published, Das received abuse and death threats on her Facebook and Instagram accounts, as well as on Twitter. In a police complaint, Das named six Facebook and Twitter accounts, including one belonging to a journalist, and asked police to investigate them and provide her with protection at her home.
Moonpig confirms £1.2 billion float as London awaits more tech IPOs
LONDON — Online card retailer Moonpig has confirmed that it plans to go public on the London Stock Exchange in a £1.2 billion ($1.6 billion) float next month after demand for its cards surged during the coronavirus pandemic.
Moonpig, which also operates the Greetz brand in the Netherlands, said Tuesday that it will list at least a quarter of the company on the exchange's main market through an initial public offering.
U.S. investors BlackRock and Dragoneer have agreed to spend £130 million on Moonpig shares when shares start trading in February.
Moonpig Chief Executive Nickyl Raithatha is expected to make £11 million from the IPO, according to The Guardian newspaper, while chair Kate Swann is likely to make £7 million.
"As leaders of a market undergoing an accelerating shift online, we're delighted to bring Moonpig Group to the public market. Our data-powered technology platform makes it incredibly easy for our customers to create more special moments for the people they care about," said Raithatha in a statement.
Moonpig, which has around 450 employees, is expected to publish its full IPO prospectus next week.
Founded in 2000, Moonpig is the clear online market leader in cards, holding a 60% market share in the U.K among online card specialists in 2019, according to estimates by consulting firm OC&C.
The London-headquartered company announced its intention to float last week, saying that it had amassed 12.2 million active customers by Oct. 31.
The Moonpig website features over 20,000 cards and a range of gifts including flowers, mugs, and chocolates. Customers order 46 million cards a year and 7 million gifts, Moonpig said.
For the financial year ending Apr. 30, 2020, Moonpig Group's revenue was £173.1 million, with £126.5 million contributed by the Moonpig segment and £46.6 million contributed by the Greetz segment. The company said its revenue grew 44% between the financial year of 2019 and 2020.
Moonpig is the first U.K. tech IPO of the year but there are a queue of other companies preparing to go public.
Food delivery service Deliveroo is reportedly planning to list in April at a valuation of between $8 billion and $13 billion, while currency exchange app Transferwise may also go public. Elsewhere, cybersecurity firm Darktrace and pension pot provider Pension Bee are also looking at potential stock market listings.
Many of the U.K.'s biggest tech firms have traditionally opted to list on the tech-focused Nasdaq market or the New York Stock Exchange in the U.S. However, the London Stock Exchange has been trying to convince them to list at home in recent years.
China's pivot to Europe in light of the tech war with the U.S.
SINGAPORE — China's agreement with the European Union could pave the way for Beijing's "dual circulation" strategy of being self-reliant in technology while still remaining a part of the global supply chain, an academic told CNBC.
Last year, the Chinese government came out with a batch of policy terms to bolster its economy, putting them under a vague umbrella term of "dual circulation." The phrase refers broadly to two circles of economic activity — internal and external — with greater emphasis than before on business at home.
"Dual circulation is such an important point in the middle of this China-U.S. tech war," said Winston Ma, an adjunct professor of law at New York University.
The two superpowers continue to fight for technological dominance and superiority. Reuters recently reported that in its final days, the Trump administration notified Huawei suppliers that it was revoking certain licenses to sell to the Chinese tech company. Huawei had been caught up in ongoing tensions between the U.S. and China as sanctions from Washington seriously hindered its ability to do business globally.
Ma told CNBC's "Squawk Box Asia" on Tuesday that a EU-China investment treaty, if passed, may potentially give Beijing an option to circumvent the United States altogether.
"You can see this dual circulation is balanced by focusing on domestic innovation and at the same time to try and find somewhere, other than the U.S., to get to the external circulation such that the global supply chain, the global innovation dialogue can still happen in the middle of China-U.S. tension," he said.
The European Union's executive arm, the European Commission, last month announced an investment deal with Beijing that followed seven years of negotiations. The deal would still have to be approved by the European Parliament before implementation and lawmakers have already raised major concerns with the agreement. Ma expects it to be approved by this year.
Experts have said that tensions between the U.S. and China fosters disconnect between the technology development in both countries — the situation is frequently referred to as tech "decoupling."
Ma said some of that split is already happening and pointed to China's focus on bolstering its domestic semiconductor industry by putting funds into local research and development. Early last year, U.S. lawmakers also proposed funding to develop 5G alternatives to Huawei. "What we are really seeing is both countries are promoting innovation but promoting innovation in a way to be independent from each other. To that extent, the decoupling is really happening," he added.
It is not clear that President-elect Joe Biden's administration would reset relations with Beijing, according to Ma. "I would say there's a lot of uncertainties," he said.
While the Biden administration has the power to suspend U.S. sanctions already in place, Ma said they could also choose to keep them "and they can even put on more restrictions to these Chinese companies."
Smartphone maker Xiaomi, for example, was recently added to a blacklist of alleged Chinese military companies by the Trump administration. Biden could potentially add the Chinese firm to the Entity List that can restrict American companies from exporting technology to Xiaomi, Ma said.
Galaxy Buds Pro review: Samsung's AirPods Pro-beating earbuds | Samsung
Samsung's latest Galaxy Buds Pro earbuds add noise-cancelling, virtual surround and improved sound, making them a challenger to Apple's AirPods Pro.
At £219, they are the new top-of-the-range earbuds from Samsung, sitting above the £179 Galaxy Buds Live and £159 Galaxy Buds+.
The Buds Pro have silicone ear tips and a general shape similar to the Buds+ but look more like the Buds Live. They are stored in an excellent, compact, square charging case that easily fits into the money pocket of a pair of jeans.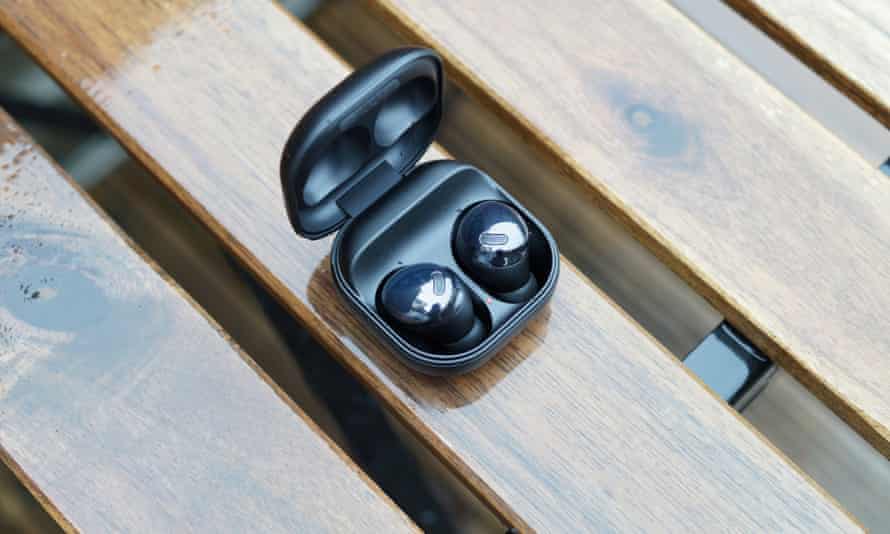 The new earbuds are bigger and heavier than the Buds+ and do not twist to fit in the concha of your ear in quite the same way, protruding slightly further, but are still small compared with rivals. They do a good job of avoiding putting pressure on the delicate parts of the ear, held in place by the oval ear tips – of which there are three sizes in the box.
They were comfortable and stayed securely in my ears but you can twist a small lip of the earbud under the cartilage of your ear to lock them in place if needed. The earbuds are water resistant to IPX7 standards, which means they can be submerged in up to one metre of water for up to 30 minutes, making them some of the most water-resistant earbuds available.
Specifications
Water resistance: IPX7 (one metre up to 30 minutes)

Connectivity: Bluetooth 5.0, SBC, AAC, SSC

Battery life: five hours ANC on (up to 18 hours with case; 28 hours with ANC off)

Earbud dimensions: 19.5 x 20.5 x 20.8 mm

Earbud weight: 6.3g each

Driver size: 11mm woofer + 6.5mm tweeter

Charging case dimensions: 50 x 50.2 x 27.8 mm

Charging case weight: 44.9g

Case charging: USB-C, Qi wireless charging
Connectivity and controls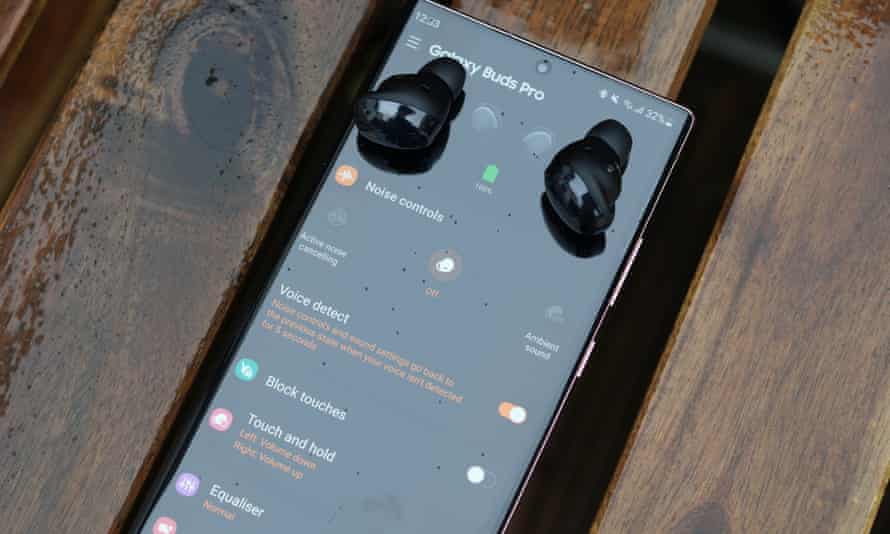 The Buds Pro support Bluetooth 5 with both the universal SBC and AAC audio standards used by most devices. But they also support Samsung's own "scalable audio codec", which can provide higher-quality audio but only works with Samsung devices. They are compatible with all standard Bluetooth devices and support automatic pairing with Samsung and other Android devices via the Galaxy Wearable app plus Swift Pairing with Windows 10 PCs. Unlike their predecessors, the Buds Pro are not supported by the Galaxy Buds app on an iPhone, so iOS users can use the earbuds but will not be able to change settings or update them.
The earbuds only connect to one device at a time but support seamless switching (so you don't have to manually disconnect) and a new auto-switch system that can be used with Samsung devices running OneUI 3.1 or higher such as the new Galaxy S21 series. Either earbud can be used on its own.
Connectivity to a Galaxy Z Fold 2, iPhone 12, MacBook Air M1 and other devices was excellent.
The exterior of the earbud is touch sensitive. Tap once for pause/play, twice and thrice for track skip. A tap-and-hold gesture can be set to control the volume (left for down, right for up), control noise-cancelling settings, activate the voice assistant or trigger Spotify on compatible phones. Take both earbuds out and the music pauses; take only one out and ambient sound mode activates on the other. The controls work well with good audible feedback.
Battery life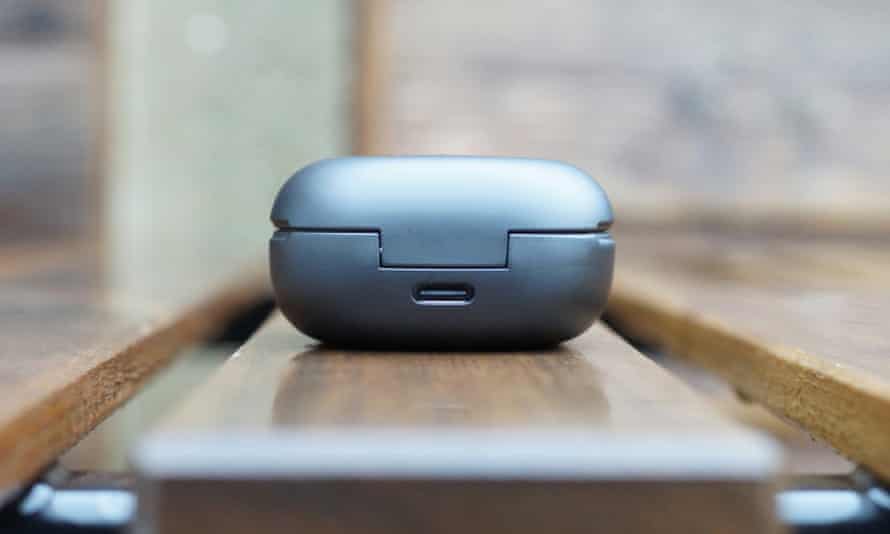 The earbuds last for up to five hours with noise-cancelling active and can be charged 2.6 times in the case for a total of 18 hours. Turn off noise-cancelling and the earbuds last up to eight hours and up to 28 hours with the case. Five minutes charging will add up to one hour of playback.
The case is charged via a Qi wireless charging coil in its base or the USB-C socket in the back. A cable is included in the box but not a power adaptor.
Sustainability
Samsung does not provide an estimate of the number of full-charge cycles the batteries in the case or earbuds should last. Batteries in similar devices can typically last for 500 cycles while maintaining at least 80% of their original capacity.
Samsung does not sell individual replacement buds or cases. The Buds Pro are repairable but unlike previous Samsung earbuds the battery cannot be replaced, ultimately making them disposable.
The earbuds and case are made from 20% post-consumer recycled materials. Samsung operates recycling and trade-in schemes for smartphones but not for its earbuds. The company publishes annual sustainability reports but not impact assessments for individual products.
Excellent sound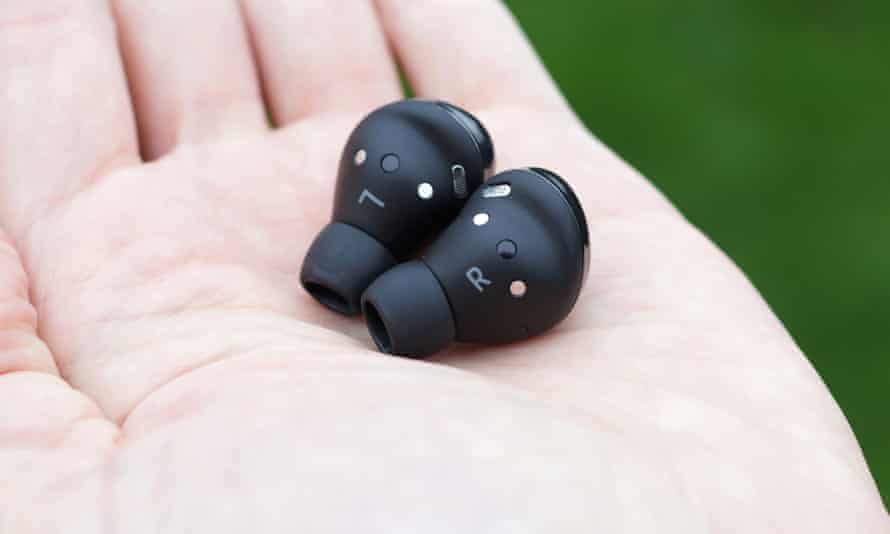 The Buds Pro take the easy-listening, everyday sound of the Buds+ and improve the audio quality in all dimensions. They produce rich and well-controlled bass, warm mids and precise high notes that make them some of the best-sounding true wireless earbuds available.
They handle many music genres well, with a wider soundscape than most earbuds. Acoustic, guitar-based tracks such as the live version of the Eagles' Hotel California sound warm, inviting and full of detail. There's plenty of punch and raw energy in grunge or rock tracks, while high-tempo electronica sounds suitably energised. The earbuds do an admiral job of rendering really deep bass, while even orchestral scores such as Holst's Planet suite sound grand and full of nuance.
Occasionally, you can get hit with a little too much treble, such as overly prominent trumpets at higher volumes, but overall they sound really great, matching top rivals such as the Jabra Elite 85t. There's a limited equaliser that can switch between preset modes such as "dynamic" or "bass boost" in the companion app.
Active noise cancelling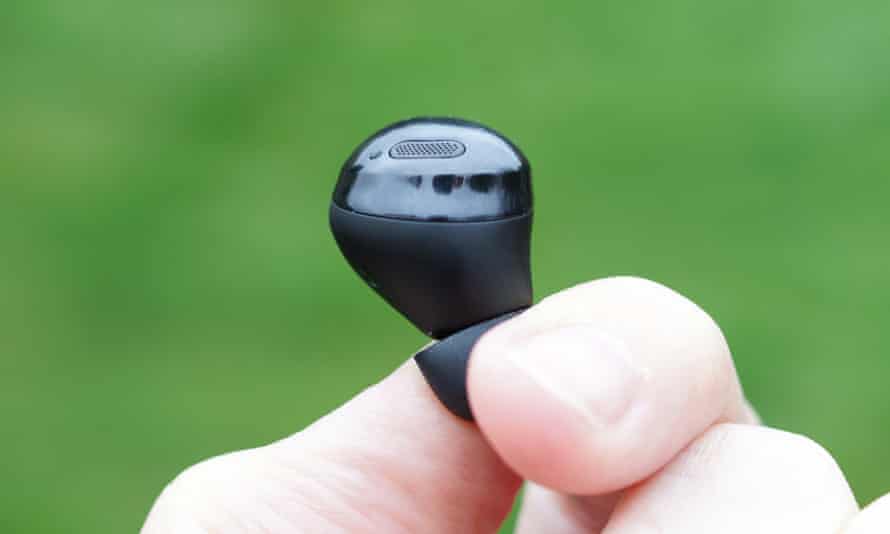 The Buds Pro have several active noise-cancelling and ambient sound modes. There are two levels of noise-cancelling available. On high, the noise-cancelling is effective at reducing low rumbles and some mid-frequency sounds but falls slightly short of the effectiveness of the Elite 85t and AirPods Pro. The Buds Pro were also affected to a greater extent by the fit of the earbuds – twisting and locking them in place against the inside of my ear significantly improved the amount of noise they blocked out.
The ambient sound mode, which pipes the noise of the outside world into your ears, has four levels and can be automatically triggered when the earbuds detect you speaking. It works pretty well for quick conversations or hearing announcements but doesn't sound as natural as the best available.
The earbuds also have Dolby technology that tracks the movements of your head in relation to a phone or tablet to create a virtual surround sound Samsung calls 360 Audio. It only works with devices running Samsung's latest software OneUI 3.1 but, unlike rival systems from Apple and others, it is able to create the virtual surround effect for any video, not only those with Dolby soundtracks, anchoring the sound to the screen. The effect is surprisingly good.
Observations
You can set Samsung's Bixby voice assistant to listen for the wakeword "Hey Bixby".

Game Mode reduces latency for audio that is in sync with the action on screen for games with Samsung devices.

Call quality was reasonable: my voice was clear and background noise was minimised but I sounded a little distant and not as crisp as the best rivals.

Sneezing, blowing my nose and coughing triggered the auto-ambient sound mode when active.
Price
The Samsung Galaxy Buds Pro cost £219 and are available in black, silver or purple, shipping on 28 January.
For comparison, the Galaxy Buds Live have an RRP of £179, the Galaxy Buds+ cost £129, the Jabra Elite 85t cost £219.99, the Bose QC Earbuds cost £249.95, the Sony WF-1000XM3 cost £149 and the Apple AirPods Pro cost £249.
Verdict
The Galaxy Buds Pro are Samsung's best true wireless earbuds yet.
They pack excellent sound with solid noise-cancelling into small and comfortable earbuds without stalks, which have good battery life and a great, compact case – a combination that's still hard to find. They are also water-resistant to a high standard, which can't be said for most competitors, and are made with recycled materials.
They are not cheap, costing £219, which puts them in the top end of the market, beating Apple's AirPods Pro on sound but falling short of the Jabra Elite 85t on noise-cancelling. If other Samsung earbuds are any indication, you should be able to find them with a reasonable discount if you shop around in the near future.
Unlike previous Samsung earbuds, the batteries in the Buds Pro cannot be replaced, which is a disappointing step back and ultimately makes them disposable, similar to most other true wireless earbuds, losing them a star. Samsung does not recycle the earbuds either. They can be used with an iPhone but are not supported by the Galaxy Buds app, so you can't change the settings or keep them up to date.
The Galaxy Buds Pro are Samsung's true AirPods Pro-beaters for Android – an excellent set of premium everyday true wireless earbuds.
Pros: great sound, solid noise-cancelling, seamless switching, good controls, comfortable fit, excellent case, solid battery, no stalks, IPX7 water resistance, made of recycled materials.
Cons: expensive, battery cannot be replaced, some features restricted to Samsung devices, can only connect to one device at a time.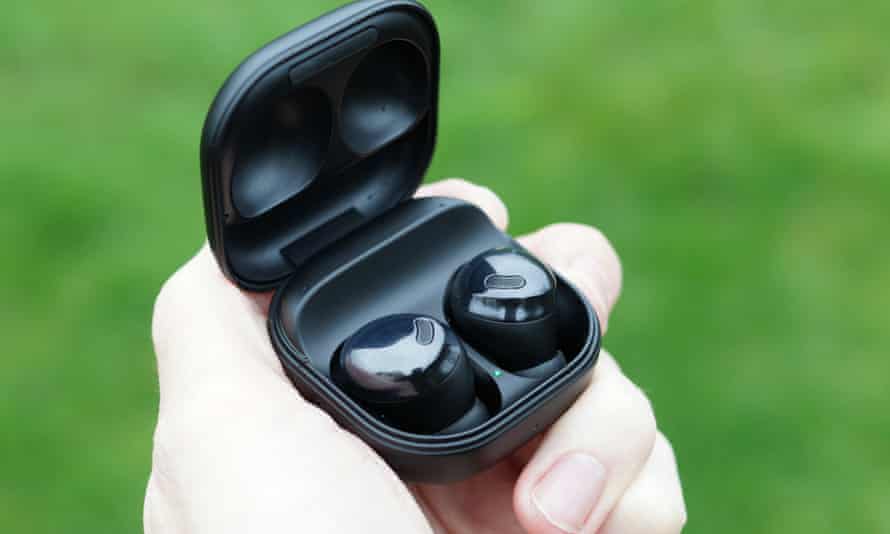 Other reviews