A Facebook Executive Protected Hate Speech In India. Now She Wants Police Protection.
One of Facebook's top executives in India wants police to investigate death threats and abuse she's received on the social network after a news story revealed she herself had intervened to keep anti-Muslim hate speech online from politicians of India's ruling Bharatiya Jana Party.
On Monday, Ankhi Das, Facebook's public policy director for India, South and Central Asia, filed a police report in New Delhi that named six Facebook and Twitter accounts she said were making threats against her, asking police to arrest the people behind the accounts and provide her with protection.
The move came after the Wall Street Journal reported that Das had shielded T. Raja Singh, a state-level politician with the BJP, and at least three other Hindu nationalists, from punishment for violating Facebook's hate speech rules. In posts on Facebook, Singh reportedly called for the slaughter of Muslims, which led the social network's security staff to determine that he should be banned under its policy on "Dangerous Individuals and Organizations."
But because Das reportedly determined that punishing BJP officials would be bad for business, Singh has been allowed to continue using the platform.
Das did not respond to a request for comment.
The claims about Facebook's preferential treatment of India's conservative party comes after BuzzFeed News reported that her colleagues on the company's policy team intervened to prevent right-wing organizations in the United States from being punished for sharing misinformation. Those reports have caused outrage among Facebook's employees, who have asked CEO Mark Zuckerberg why executives including Joel Kaplan, Facebook's vice president of global public policy and Das's boss, have helped conservative pages including Breitbart News and PragerU skirt their rules.
While Kaplan has already been under pressure, Das — who has been at Facebook since 2011 — is now the subject of scrutiny. On Tuesday, members of the Congress party, India's main opposition, wrote a letter to Zuckerberg demanding an investigation into the company's India operations. Members of the Aam Aadmi party, which governs Delhi, said that they would summon Das and other Facebook executives to question them about the Journal's report.
That inquiry could expand nationally: On Sunday, Shashi Tharoor, a Congress party member of Parliament and the head of India's parliamentary information technology committee, tweeted that the committee would "certainly wish to hear from Facebook."
In addition to threats on Twitter, Das has also become the subject of abuse on Facebook's own platforms.
"Since the evening of 14 August 2020, I have been receiving violent threats to my life and body."
"Since the evening of 14 August 2020, I have been receiving violent threats to my life and body, and I am extremely disturbed by the relentless harassment meted out to me by the accused persons," Das wrote in her police complaint. "The content, which even includes my photograph, is evidently threatening to my life and body and I fear for my safety as well as that of my family members. The content also maligns my reputation based on a news article and I am subjected to name-calling, cyber bullying and [sexual harassment] online."
As of Tuesday morning, some of the tweets seemed to have been deleted, but some of the Facebook accounts behind the abuse were still active. Das's Instagram account was also targeted by people calling for her to be hanged.
"Even women's rights groups and the feminists won't be able to save you if you don't mend your ways," one of the threats on Facebook said in Hindi.
Anyesh Roy, who heads the Delhi Police's cyber crime department, did not respond to a request for comment from BuzzFeed News.
Facebook spokesperson Andy Stone declined to comment for this story, but shared an earlier statement that didn't specifically name Das.
"We prohibit hate speech and content that incites violence and we enforce these policies globally without regard to anyone's political position or party affiliation," he said.
One of Facebook's top policy executives outside of the US, Das is tightly connected to the BJP, helping oversee one of the company's most important and populous markets with more than 300 million users. A 2016 Guardian article about Facebook's controversial internet access program, Free Basics, which India banned in 2016 for violating net neutrality, described her as enjoying "uncommonly good access in Delhi's corridors of power."
Former employees who worked with Das directly in the past and who did not wish to be named described her to BuzzFeed News as a "tough boss." For years, Das and her team operated nearly independently of the rest of the company in the country, reportedly working out of a $40,000-a-month collection of suites in a five-star hotel in central Delhi, miles away from Facebook's Indian headquarters in the city of Gurgaon.
"She's a strong personality," a person familiar with Das told BuzzFeed News. "She may not be the easiest boss to work with, but I do think her words carry a fair bit of weight within the company."
"She's actively involved in Facebook's business decisions in India," another person familiar with Das's work said.
People close to Das who spoke to BuzzFeed News under the condition of anonymity said that keeping politicians happy was part of her job.
"Facebook won't be allowed to function in India if they stand up to the government."
"Unlike the US, it is not possible to stand up to the government and have your business survive," one of them said. "A Ben & Jerry's can be openly anti-Trump and still not be hit with crazy lawsuits or have their CEO arrested. However broken that country might be, the rule of law there is still strong. Facebook won't be allowed to function in India if they stand up to the government."
"That said," they added, "I can't say I am not disappointed by what happened."
Part of the anger directed toward Das stems from the fact that she has also shared anti-Muslim content on her own Facebook page. On Friday, the Journal reported that Das republished a post from Najmul Hoda, a former police official, that called India's Muslims a "degenerate community" for whom "nothing except purity of religion and implementation of Shariah matter."
The post "spoke to me last night," Das wrote on Facebook last December. "As it should to [the] rest of India."
BuzzFeed News found it wasn't the only anti-Muslim post that she's shared from Hoda. In April, the former police official wrote a long note suggesting that the Muslim community "act responsibly" to prevent the spread of the coronavirus in the country. While the post did not contain specific instances of misinformation linking Muslims to the pandemic, it came around the same time as far-right Indian politicians and news channels were vilifying Indian Muslims for spreading the virus, sparking a wave of anti-Muslim hate speech across the country.
"Najmul Hoda – thank you for being a voice of reason and sanity," Das wrote after reposting his note on her page, which features a cover photo of herself in conversation with Zuckerberg. "Hopefully this will lead to the right kind of awakening and voluntary collective action to thwart this epidemiological nightmare."
Seeks valuation of up to $30 billion
A DoorDash Inc. delivery person places an order into an insulated bag at Chef Geoff's restaurant in Washington, D.C.
Andrew Harrer | Bloomberg | Getty Images
Leading food delivery app DoorDash is looking to raise up to $2.8 billion in its IPO, giving it a valuation of up to $30 billion on a fully diluted basis, the company revealed in a new filing Monday. Its last private valuation was $16 billion.
DoorDash plans to list 33 million shares at a price between $75 and $85 per share.
The company will list its shares on the New York Stock Exchange under the symbol DASH. DoorDash released its first filing to go public with the Securities and Exchange Commission about two weeks ago.
DoorDash will offer three classes of stock with different voting and conversion shares. Class A common stock will grant owners one vote per share. Class B shares will come with 20 votes per share, while Class C shares will have no voting rights.
DoorDash reported $1.9 billion in revenue for the nine months ended Sept. 30. That's up from $587 million during the same period last year. As its revenue grew, DoorDash also narrowed its net loss to $149 million over the same period in 2020. In 2019, DoorDash had a net loss of $533 million over the nine-month period.
DoorDash is set to join competitors GrubHub and Uber on the public market. DoorDash has the lead in U.S. market share among them, with 49% of meal delivery sales in September compared with Uber's 22% and GrubHub's 20%, according to analytics firm Second Measure.
The company is expected to make its public debut among a handful of other widely anticipated companies. Airbnb, Roblox and Wish are all expected to go public by the end of the year.
— CNBC's Lauren Feiner contributed to this report.
'To say, I saved the world – that's the magic of games': Bethesda's Todd Howard | Games
When you've got a discography like Todd Howard's, full of critically acclaimed games in the Elder Scrolls and Fallout series, it must be hard to pick a favourite. But there is one game he remembers more fondly than anyone else does: the first he ever worked on.
"Terminator: Future Shock," he says. "When [Bethesda] came to Fallout, people were saying, oh, you're doing a post-apocalyptic open world! In 3D! But we already did that in Terminator. It's an underrated game that not a lot of people played. I think Quake came out right afterwards, that might have had something to do with it, and understandably so … Future Shock was made with eight or 10 people and it did a lot of things that no game had done. I remember it got critiqued at the time, which annoyed me to be honest. But now the things it did are commonplace."
Howard is speaking to the Guardian ahead of the Develop:Brighton Digital conference, where he gave a keynote speech and accepted the Develop:Star award. Having spent the 90s and 00s leading the development of genre-defining open-world role-playing games in The Elder Scrolls, he now oversees all of Bethesda Game Studios' many projects, and has a more hands-on role as director on forthcoming sci-fi epic Starfield. He has a considered, measured way of speaking; he's never likely to get chatty and let slip any longed-for details about Bethesda's forthcoming games, but he's insightful about what makes them tick.
"Over the last generation, open-world games became very popular as [developers] got used to making them, and saw the impact they could have on players," he says. "I think this is what games do best. They do geography well, they put you in another world. A lot of mediums can tell good stories, and some linear games do fantastic things. But for us, putting you in another world asking, what would you do here? What are the possibilities? That's really what sets gaming apart from other forms of entertainment."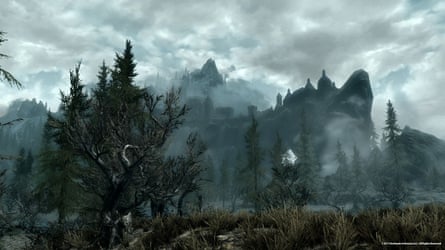 Bethesda's games have always been famous for the possibilities they offer the player. Set out on a quick jaunt to kill some giant spiders in The Elder Scrolls: Oblivion (2006) and you could end up running away from the vampires who lived at the top of a mountain. Their huge worlds offered 100-plus hours of exploration and bizarre self-directed adventures. Throughout the 00s Bethesda's games pushed the boundaries of what was possible in video game worlds – but now, if anything, open-world is overdone. It's now become almost the default for expensive action games and role-playing games alike.
Will the next generation of consoles – the PlayStation 5 and Xbox Series X – bring anything revolutionary to the genre? For Howard, it's not about bigger is better; games are big enough already. Graphics will get better, AI will get better, but Todd believes the biggest change that's coming is accessibility.
"Let's just cast forward to the next five to 10 years of gaming – for me, it's more about access than clock cycles," he says. "Just the time it takes to even turn [a console] on and load up some of these games is a barrier – it's time that you're not enjoying being in that world … The kind of games we make are ones that people are going to sit down and play for hours at a time. If you can access a game more easily, and no matter what device you're on or where you are, that's what I think the next five to 10 years in gaming is about.
"I'd like to see more reactivity [in game worlds], more systems clashing together that players can express themselves with. I think chasing scale for scale's sake is not always the best goal."
If that sounds vaguely familiar, it might be because Phil Spencer, the head of Xbox, has been saying similar things for years. Given that Microsoft has just bought Bethesda's parent company Zenimax for $7bn, this alignment of vision is to be expected; it's an acknowledgment that the way people play games has changed dramatically in recent years. When the PlayStation 4 and Xbox One were released back in 2013, livestreaming was still in its infancy and Fortnite didn't exist, but games such as Minecraft and 2011's Skyrim were pointing the way. "Previously, someone might play a game for a few months, [and] a long-term play would be say six months. Now, they're playing them for years," says Howard.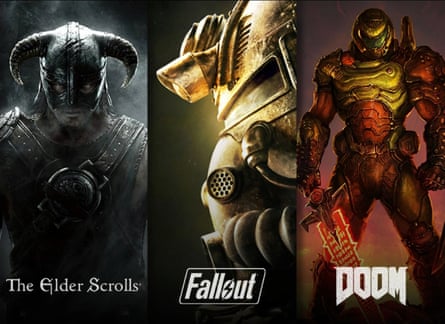 Bethesda's games have made attempts to lean into this change. The Elder Scrolls Online and Fallout 76 are both massively multiplayer, propped up by a drip-feed of new content from Bethesda's designers and subscription fees from its players, as opposed to the sprawling single-player games that made the developer famous. Fallout 76 especially launched in a rough state – "We let a lot of people down," says Howard – but thanks to its evolving nature, has had the opportunity to redeem itself over the years. Does Howard see a future for those single-player games, or should Bethesda games from now on be designed to be live for years, playable with other people?
"Obviously, we're big fans of single player and we've had some success with some multiplayer-focused games," says Howard. "We have found that even if it's multiplayer, whether it's Elder Scrolls Online or Fallout 76, a large number of our players want to play it like a single-player game and not have the other players distract from it. Games handle multiplayer in different ways, and I think it all has merit."
Todd still plays all sorts of games himself, and watches more on Twitch when he doesn't have time to play. "There are only a few games that I will deep dive into; I do my best to try as many things as possible. The game I've played most lately is Among Us – I looked at it for creative reasons and then for social and personal reasons, I just loved it." What he looks for in a game, he says, is a world he wants to be in – and opportunities to tell his own story.
"In our games whenever we go really linear, when we say, 'Here's the thing you must get, here's where you must go', it's not as successful. When we give the player a short-term, medium- and long-term goal and then make sure they have a lot of options, and make sure that the game is reacting to them, that's where I think the real magic happens. That's when the player feels like, 'Look what I did!' Rather than a creator giving something to you and you consuming it, you gave something to the game. You come away with a sense of pride. You've accomplished something for the week.
"That's one of the things people who don't play a lot of games never quite understand. When you play a game and you accomplish something, that's real. It's a real accomplishment in your life, or it has been to me, and to other people I meet who love gaming. You can finish the week and say, 'I saved the world', and you legit feel that way. That's the magic."
Eric Schmidt backing Firstminute's new European venture capital fund
Eric Schmidt, chairman of Alphabet Inc.
David Paul Morris | Bloomberg | Getty Images
LONDON — Eric Schmidt, the former CEO of Google, is one of several tech executives backing a new early-stage European venture capital fund.
The tech billionaire — who has a net worth of $20 billion, according to the Bloomberg Billionaire Index — has invested an undisclosed amount into a $111 million fund that was announced Monday by London-headquartered VC firm Firstminute Capital.
Firstminute was founded in 2017 by Lastminute.com co-founder Brent Hoberman and former Goldman Sachs analyst Spencer Crawley. It launched with a $60 million fund I (that grew to become $100 million) and this second fund brings total assets under management up to $211 million.
RTI Capital Partners is the second fund's main investor, but Chinese tech giant Tencent, venture firm Atomico, and private equity firm Vitruvian have also invested.
The founders of big data firm Palantir, gaming firm Supercell and e-commerce platform Zalando have also backed Firstminute. It remains much smaller than well-established VC firms in London like Index Ventures and Accel Partners, however.
"European technology is reaching escape velocity, and it's fantastic to enable so many global serial entrepreneurs to give their experience to the next generation," said Hoberman in a statement. "Seed venture investing is attracting ever higher quality backers which will help more founders succeed."
While the continent never used to be known for its start-up scene, today it boasts a growing number of successful tech firms with music streaming giant Spotify, payment platform Klarna and food delivery company Deliveroo among the biggest names. In another sign of growing interest in the region, U.S. venture heavyweight Sequoia is also getting itself set up in Europe with a new London office.
Despite this, Europe still lags behind the U.S. and China, which have both produced a number of companies that are today worth hundreds of billions of dollars.
Hoberman at the helm
Hoberman is widely regarded as being one of the best-connected tech investors in Europe. Educated at Eton and then Oxford, Hoberman has close links to the Prime Minister and other government departments.
In addition to founding lastminute.com and Firstminute, he also co-founded furniture retailer Made.com, tech networking business Founders Forum, and start-up accelerator Founders Factory.
So far, Firstminute's team of 18 staff has invested the money from its first fund into 56 early-stage start-ups, including robotics start-up Karakuri and gaming start-up Klang. The firm says it initially invests around $1 to $2 million in start-ups, but follow-on investments can be higher.
Crawley, another Oxford graduate, said in a statement that Firstminute wants to back founders who are trying to create platforms "that will re-shape our world."
"Globally, outstanding technical minds are plotting how to solve the toughest societal and economic